Navigating the Perfect Present: The 10 Best Gifts for Travel Lovers
Looking for the ideal gift for the globetrotter in your life? Dive into our list of the 10 best travel gifts, from essential carry-on bags to fun gear that'll bring a smile to their face. Make their next adventure even more memorable!
As an Amazon Associate, Journey Fanatics may earn a commission from qualifying purchases, but we promise the prices are still the same for you!
Are you struggling to find the perfect gift for that travel-loving friend or family member in your life?
We've been there! As fellow globe trotters and adventure seekers, we understand that picking out a gift for someone who's always on the go can be a challenge. That's why we've put together a list of the top 10 travel gifts that every wanderlust enthusiast will love and appreciate.
From handy bags to fun and unique travel gear, each item on our list has been carefully selected for its quality, practicality, and the joy it can bring to future trips. So, whether they're a frequent flyer or a road trip devotee, let's dive into these travel gift ideas that are sure to make their next journey memorable!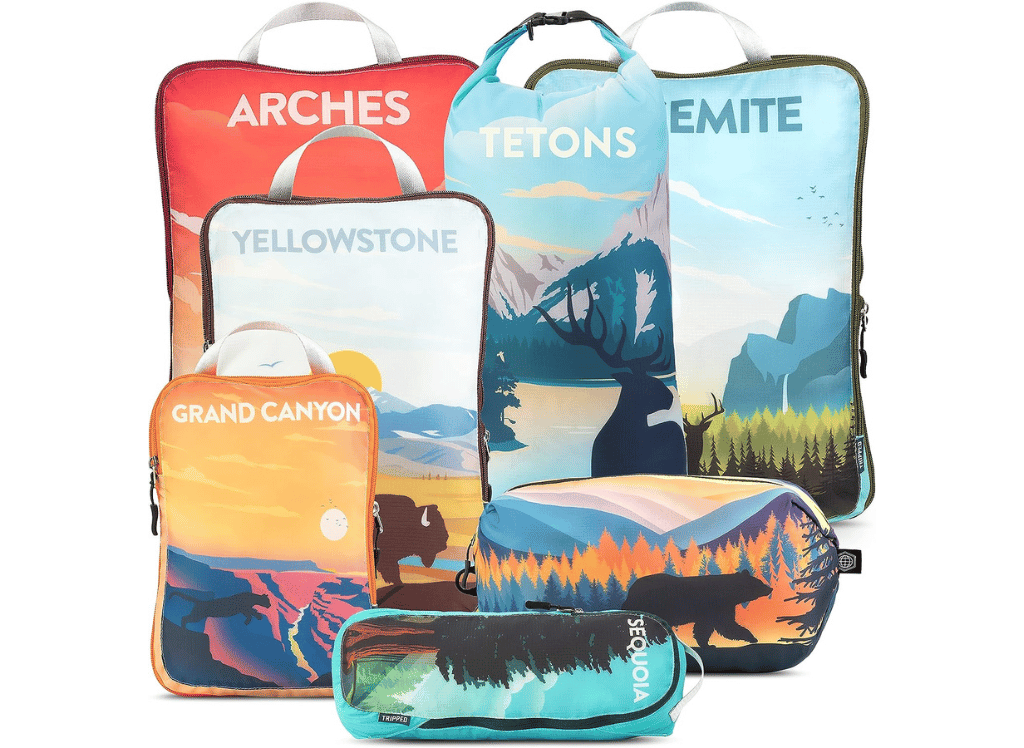 1. National Parks Packing Cubes 7pcs
Check Price on Amazon
Why We Pack It
Perfect for the outdoor adventurer or the organized jet-setter, these cubes keep your travel gear compact and your suitcase clutter-free. Whether you're packing bulky jackets or your favorite t-shirts, the variety in sizes caters to all your packing needs. Plus, the cubes come with a special compression zipper, allowing you to pack more or less, depending on your journey. Don't forget the handy tube cube for your electronics and toiletries, and the laundry bag for your dirty clothes or shoes. It's like having a mini closet in your suitcase, making packing and unpacking a breeze.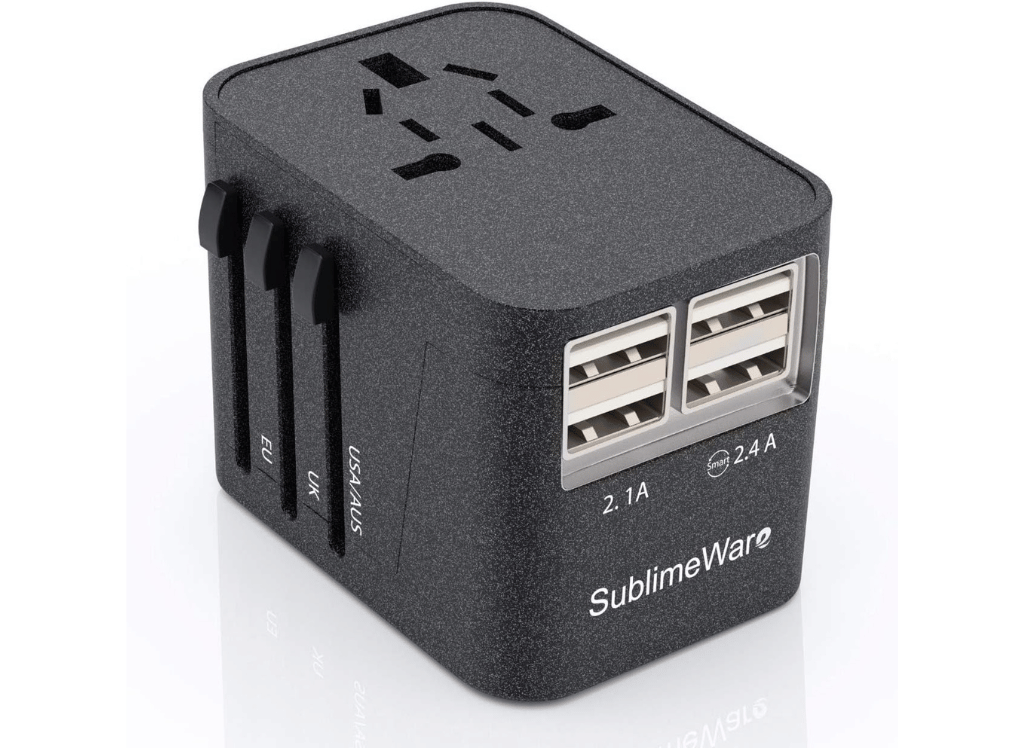 2. International Power Adapter for Travel
Check Price on Amazon
Why We Pack It
This nifty little device is the perfect solution to keep all your gadgets charged and ready, no matter where on the globe your adventures take you. With compatibility in over 150 countries, and four smart USB ports that adjust output for each connected device, say goodbye to the headache of juggling various chargers and adaptors. Whether you're capturing memories on your camera, navigating new cities on your smartphone, or catching up on your favorite e-books on your tablet, this power adapter ensures that low battery warnings won't interrupt your journey.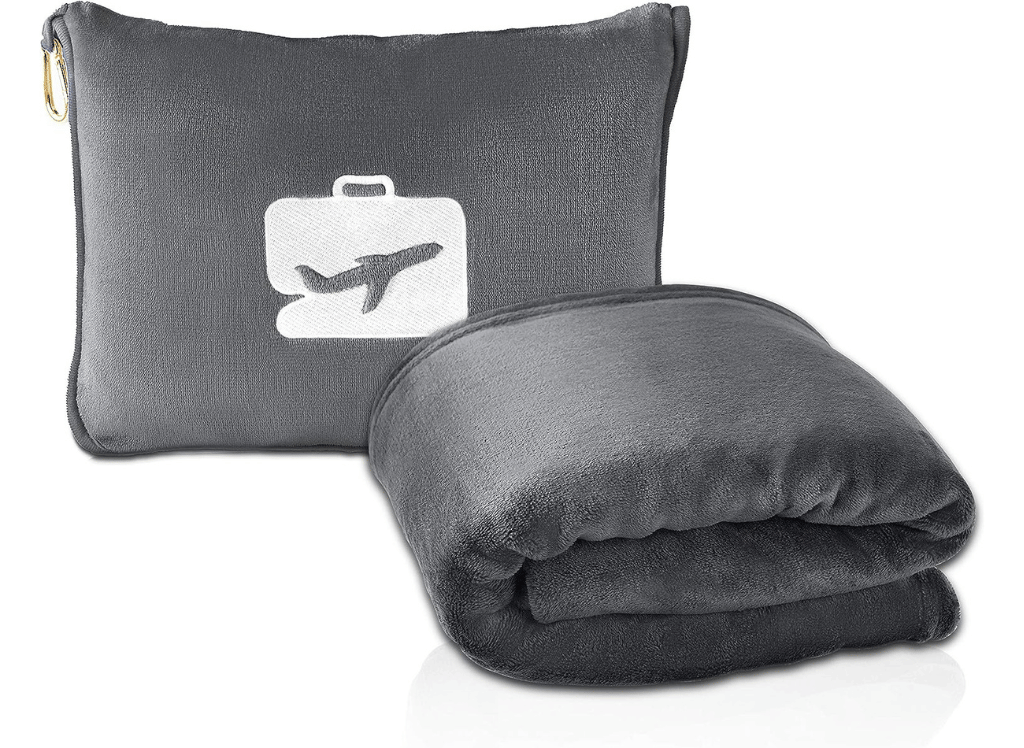 3. EverSnug Travel Blanket and Pillow
Check Price on Amazon
Why We Pack It
This dynamic duo ensures you'll never have to compromise on comfort, even when you're miles away from home. This cozy blanket is designed with premium micro plush fabric, giving you that "home away from home" feeling. In addition, the carrying case doubles as a pillow - now that's a smart design! And the best part? It comes with an attachable clip, so you can fasten it to your suitcase or backpack. No more fumbling for warmth on those chilly airplane or campsite nights.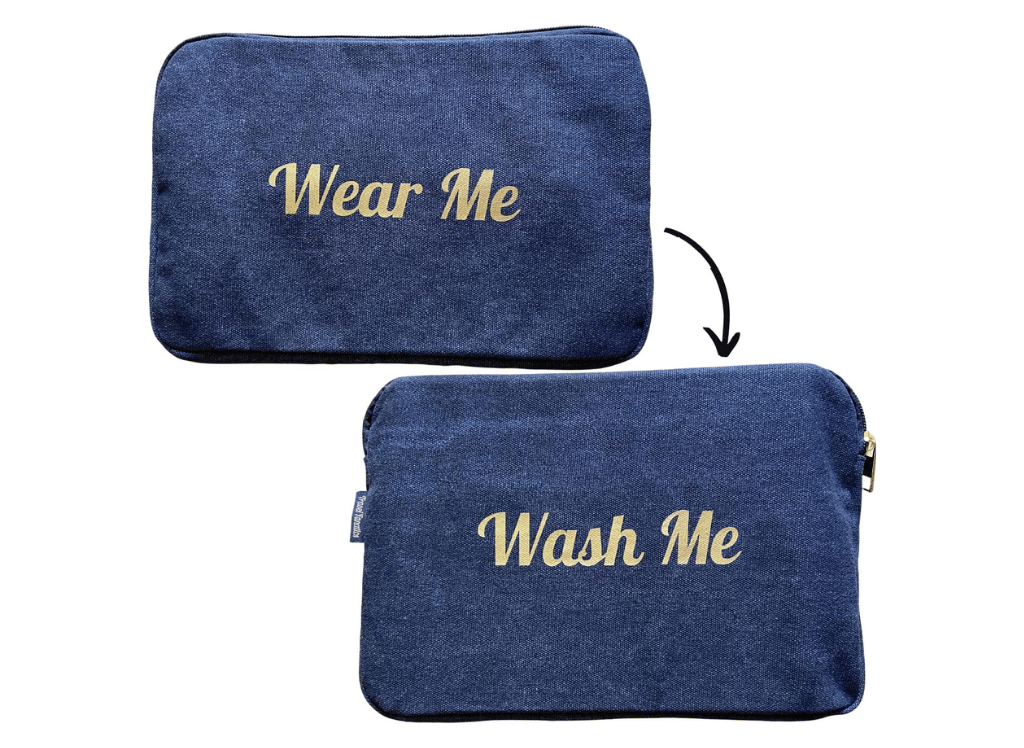 4. Travel Fanatics Canvas Two Sided Laundry Bag
Check Price on Amazon
Why We Pack It
This ingenious accessory is a godsend for avid travelers who love to keep things neat and tidy. One side of the bag is for your fresh clothes, and the other is reserved for the not-so-fresh ones. Its durable cotton canvas construction can withstand the wear and tear of any adventure, and when you're back home, just toss it in the washing machine to get it ready for your next journey.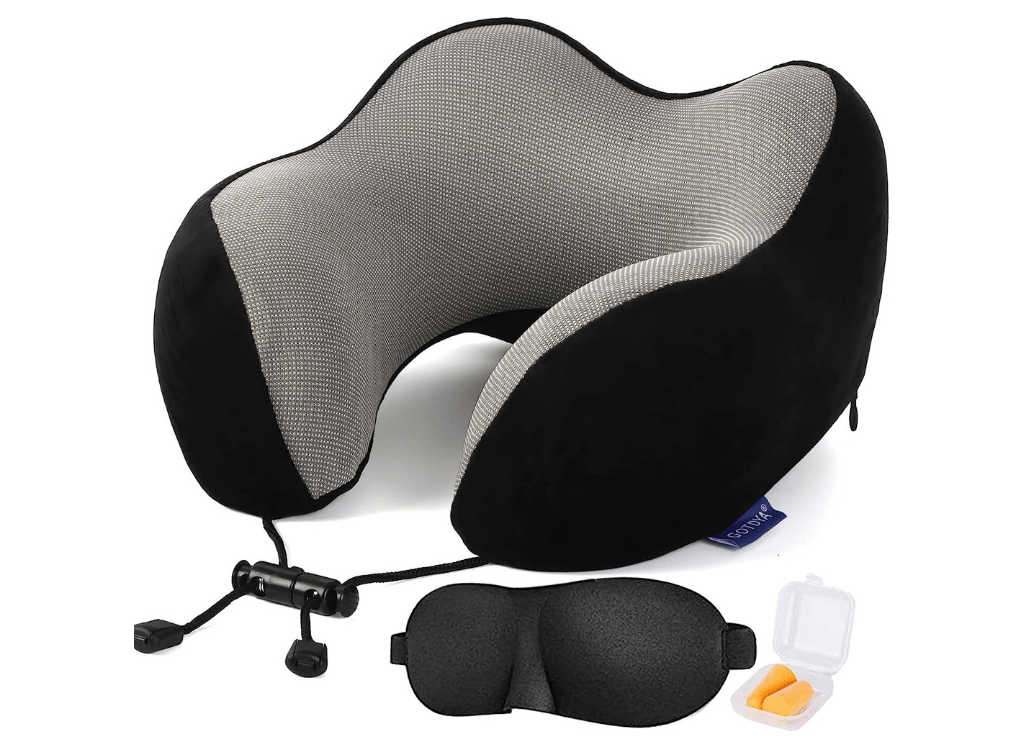 Check Price on Amazon
Why We Pack It
This innovative neck pillow, crafted with superior quality memory foam, provides unparalleled neck support and prevents your head from lurching forward during your journey. It's adjustable, catering to different neck sizes, ensuring you can rest comfortably in any position. And the best part? The pillow's cover is not just washable, but also crafted from a soft, breathable, and magnetic therapy cloth, promising utmost comfort. Lightweight and space-saving, this pillow compresses to half its size, making it a breeze to pack.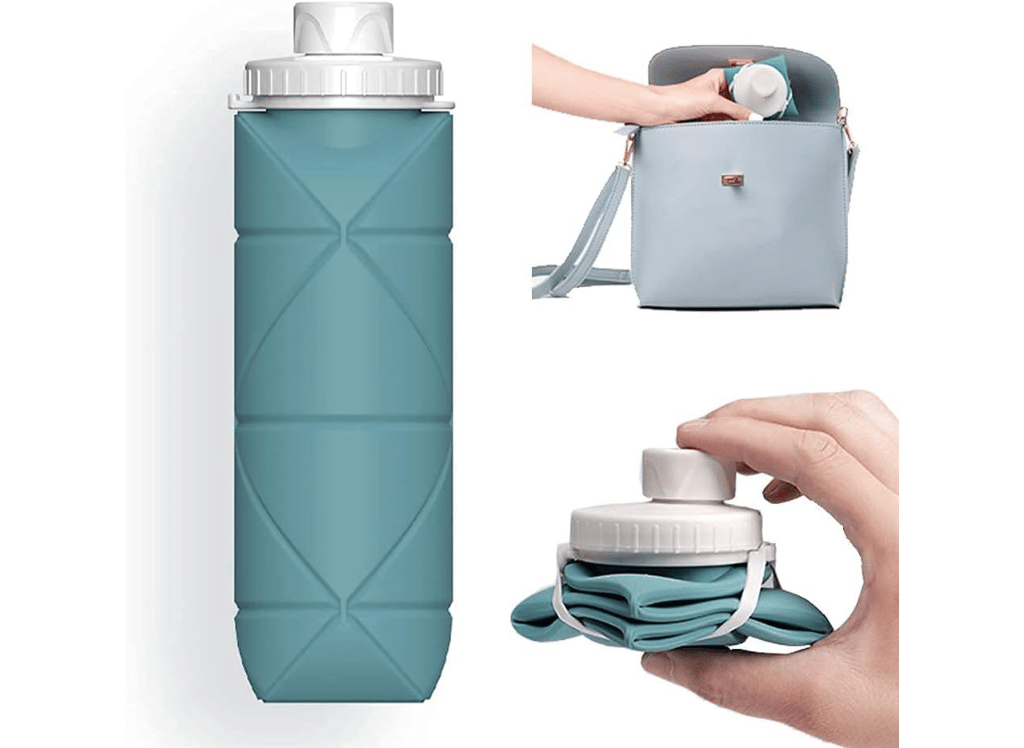 6. SPECIAL MADE Collapsible Water Bottles
Check Price on Amazon
Why We Pack It
Crafted from BPA-free food-grade organic silicone, these bottles are safe, odorless, and most importantly, collapsible. Imagine having the convenience of quenching your thirst on a sunny hike and then just folding the bottle away when it's empty, saving you precious luggage space. Not to mention its fantastic resistance to both cold and heat, ensuring your drinks stay just the way you want them, no matter the weather. Plus, its patented sealing screw cap makes sure your belongings stay dry and safe from potential leaks. With their wide-mouth design, cleaning is a breeze and adding in ice or lemon for a refreshing twist is simpler than ever.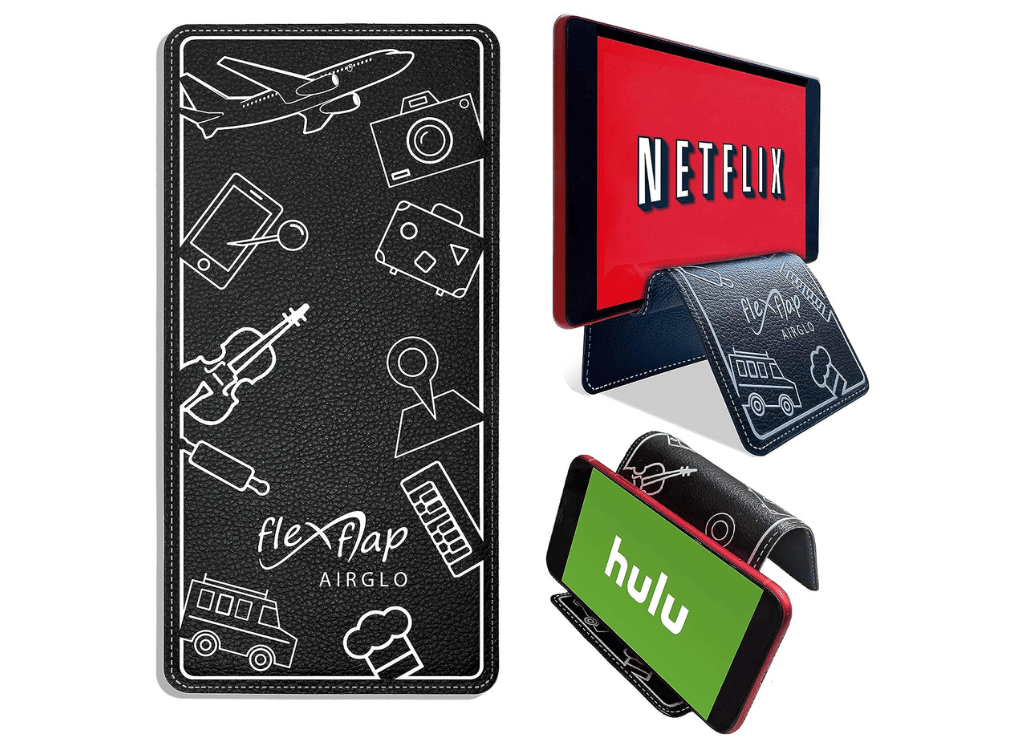 7. Flying Flex Flap Cell Phone Holder
Check Price on Amazon
Why We Pack It
Designed by a savvy flight attendant, this phone holder is all about making your travel experiences more enjoyable. Its flexible design can accommodate any device - whether an iPhone, iPad, or Android gadget - in any case, allowing you to leisurely enjoy your favorite movies and shows during long flights. Made from premium black leather and an aluminum alloy core, the Flex Flap guarantees durability while ensuring your device won't be scratched. Plus, it's super lightweight and easy to pack.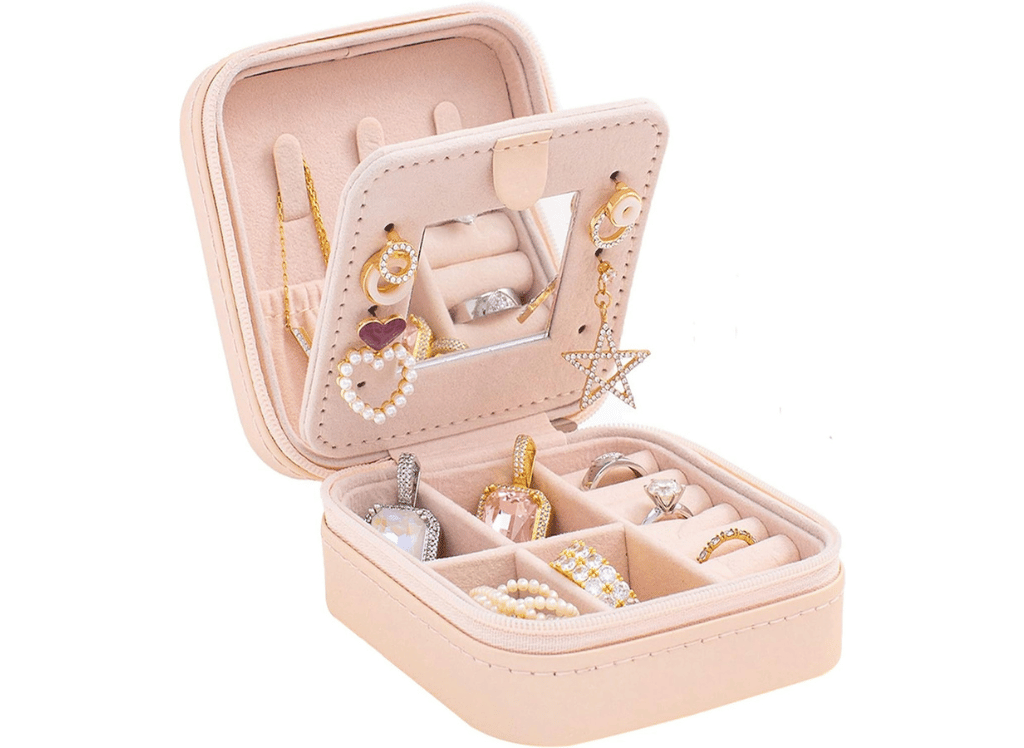 8. KElofoN Travel Jewelry Case
Check Price on Amazon
Why We Pack It
The KElofoN Travel Jewelry Case is every globetrotting gem lover's dream come true. This compact, multifunctional jewelry organizer slips effortlessly into your handbag, ensuring your precious blings stay secure and untangled, no matter where your journey takes you. Fitted with six ring rolls, three necklace hooks, a handy mini vanity mirror, and four divided compartments, your treasures are granted the royal treatment they deserve. Crafted with high-quality waterproof PU leather and a luxurious velvet interior, durability meets elegance in this travel-friendly case. The cherry on top? Its two removable dividers cater to your unique needs, while the built-in mirror doubles as a makeup assistant.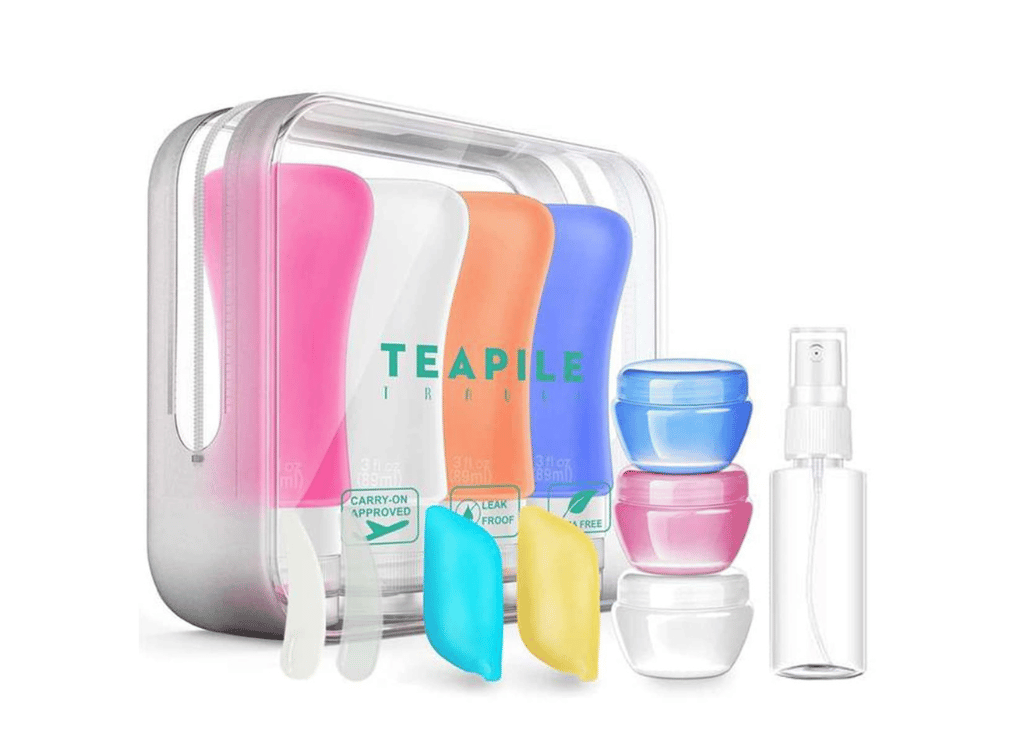 9. Teapile Travel Bottles 9pcs
Check Price on Amazon
Why We Pack It
Embrace the Teapile Travel Bottles 9pcs for your next escapade and bid adieu to your packing woes. These compact and leak-proof bottles are perfect companions for a hassle-free journey. Crafted with food-grade safety and BPA-free material, they readily accommodate your essential toiletries like shampoo, shower gel, or even your favorite edible soy sauce. The exceptional 3-layer leak detection design ensures no spillage, keeping your luggage pristine. Easy to refill and clean, they epitomize convenience. Their small size is perfect for a snug fit in your bag, making your travel experience a sheer pleasure.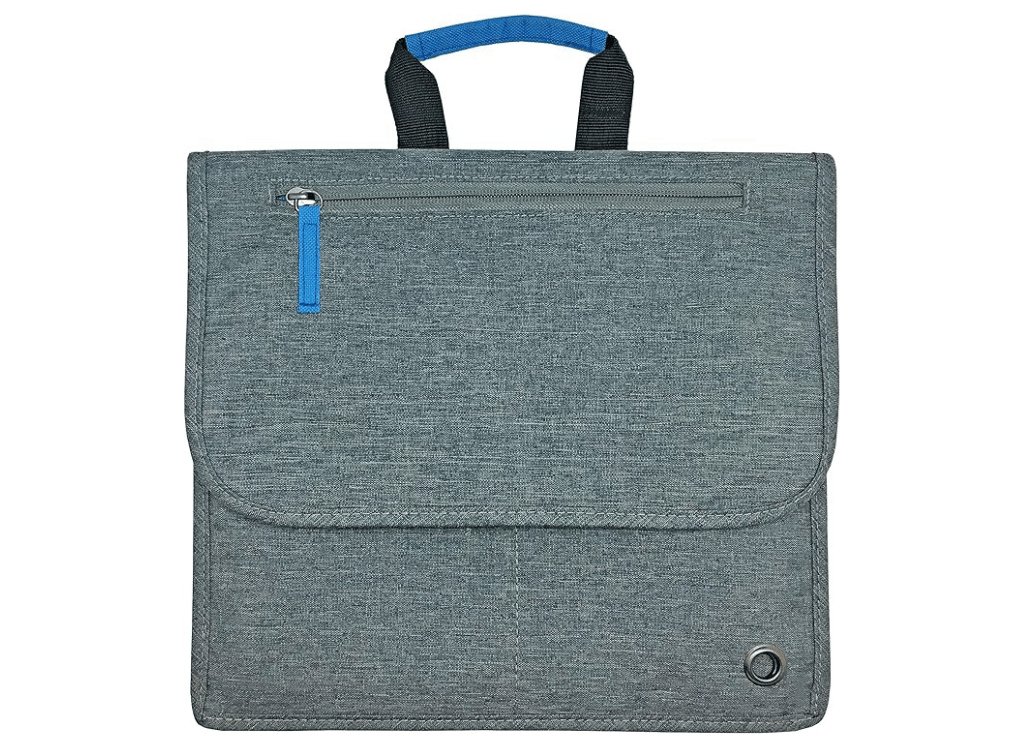 10. So-Mine Commuter Essential Bag
Check Price on Amazon
Why We Pack It
This ultimate organizing solution is brimming with pockets to keep all your valued items safely tucked away, ready for when you need them. Perfect for seasoned flyers, road trip enthusiasts, or parents on-the-go, this bag shines with a clever design that allows it to hang from various spots like airplane, train, and car backseat pockets. Not to mention, it's a cinch to fit into your carry-on bag.
Gifts for the Travel Lover FAQs
Ever found yourself in a pickle when choosing a gift for your travel-obsessed friend? We've all been there. It's tough to find a present that is not only unique and thoughtful but also practical and useful for someone who's always on the go.
We understand your struggle. You want to give something that will be truly appreciated, something that will make their travels easier and more enjoyable. Yet, with the multitude of items available in the market, it can be overwhelming to find the perfect gift that ticks all the boxes.
Breathe easy! Here are the answers to the most frequently asked questions about gifts for travel lovers. Find out why our selection of travel gifts is not only exciting but also practical, portable, and perfect for any kind of journey. We've carefully compiled this list based on quality, usefulness, and fun factors, making sure your gift will be a hit with any travel enthusiast. So sit back, relax, and let's embark on this FAQ journey together!
1. What are some unique gift ideas for someone who loves to travel?
If you're searching for a unique and great gift idea for someone who has a deep passion for travel, there are countless options that can enhance their wanderlust experience. Consider selecting items that not only cater to their adventurous spirit but also make their journey more comfortable, organized, and memorable.
For instance, packing cubes provide an efficient and space-saving solution for neatly organizing their belongings within their luggage. A collapsible water bottle ensures they stay hydrated throughout their travels without taking up too much space. A multi-country power adapter allows them to charge their electronic devices seamlessly, no matter where they are in the world. For a touch of personalization, a travel-themed piece of jewelry, such as a necklace with a globe pendant or a bracelet with tiny airplane charms, can serve as a constant reminder of their love for exploring new horizons.
By considering these thoughtful and practical gift ideas, you can truly delight and surprise the avid traveler in your life, making their adventures even more enjoyable and memorable.
2. What are some practical gift ideas for frequent travelers?
Consider items like portable chargers to keep their devices powered on the go, travel-sized toiletries for convenience and space-saving, noise-canceling headphones to block out distractions during journeys, travel pillows for added comfort during long flights or road trips, and personalized luggage tags to add a touch of style and easy identification. These thoughtful and functional gifts are sure to be appreciated by any globetrotter!
3. What can I gift someone who is always on the go?
When searching for the perfect gift for someone who is always on the go, it's important to consider their needs and preferences. Opt for items that are not only compact, light, and easily portable, but also practical and convenient for their busy lifestyle. For example, a collapsible water bottle that can be easily stowed away in a bag, a travel-sized laundry bag to keep their clothes organized while on the move, or a compact travel pillow that provides comfort during long journeys. These thoughtful and functional gifts are sure to be appreciated by the recipient and make their on-the-go adventures even more enjoyable.
4. What is a good gift for someone who loves outdoor adventures?
Consider these thoughtful options that are sure to enhance their outdoor experiences. How about a durable backpack with multiple compartments and adjustable straps, designed to withstand rugged terrains? Or a comfortable camping hammock that can be easily set up between trees, providing a cozy spot for relaxation in nature? For the camping enthusiasts, a portable camping stove that allows them to cook delicious meals even in the wilderness would be a great choice. And to capture all the breathtaking moments, a weather-resistant camera with advanced features will ensure they never miss a shot. These thoughtful and practical gifts are sure to bring joy and excitement to any outdoor adventurer!
5. What kind of gifts can help travelers stay organized?
Well, there are several options to consider. Travel packing cubes are a fantastic choice for keeping clothes and accessories neatly packed and easily accessible. Toiletry bags are also incredibly useful for organizing personal care items, ensuring that everything is tidy and in one place. Passport wallets can provide a convenient solution for keeping travel documents secure and accessible. Finally, luggage tags not only add a personal touch to suitcases but also help in quickly identifying luggage at airports and other travel destinations. These thoughtful gifts can make a traveler's life much more organized and hassle-free.
6. What are good gift ideas for someone who loves luxury travel?
If you're looking for gift ideas for someone who loves luxury travel, you can't go wrong with high-end travel accessories. Consider a top-notch travel pillow, delicately crafted from the finest materials for ultimate comfort during long journeys. Add a touch of elegance with a luxurious silk eye mask, ensuring a restful sleep even in the brightest environments. For added warmth and style, a cashmere travel blanket is the perfect choice, providing cozy comfort during flights or hotel room stays. And to complete the ensemble, a designer luggage set exudes sophistication and showcases their impeccable taste. These thoughtful and exquisite gifts are sure to delight any luxury traveler and enhance their travel experiences.
7. Are travel guidebooks a good gift idea?
Travel guidebooks can make a wonderful gift idea for someone who is planning a trip to a specific destination. Not only do they offer practical information on transportation, accommodation, and popular attractions, but they also provide valuable insights into the local culture, traditions, and culinary delights. With detailed maps, restaurant recommendations, and insider tips, these guidebooks can help travelers navigate their way through unfamiliar territories and make the most out of their adventures. Whether it's exploring hidden gems, trying out local delicacies, or immersing in the vibrant atmosphere of a foreign city, travel guidebooks serve as invaluable companions that enhance the overall travel experience. So, if you're looking for a thoughtful and practical gift for the travel enthusiast in your life, consider gifting them a travel guidebook to spark their wanderlust and help them create unforgettable memories on their journey.
8. What is a good gift for someone who loves camping?
When it comes to finding a perfect gift for someone who loves camping, there are a few options that can truly enhance their outdoor experience. Consider gifting them a lightweight camping hammock, which provides a comfortable and relaxing spot to rest amidst nature. A portable camping stove can also be a great choice, allowing them to cook delicious meals even in remote locations. And don't forget about a high-quality sleeping bag, ensuring they stay warm and cozy during those chilly nights under the stars. These thoughtful and practical gifts are sure to bring a smile to any camping enthusiast's face.
9. What kind of fun travel gifts would be good for kids?
When it comes to fun gifts for kids, there are plenty of options to consider. One idea is to go for travel-themed games that can keep them entertained during the journey. Another great option is to get them a backpack designed specifically for travel, with compartments and features that make it easy for them to carry their belongings. For those who enjoy writing or drawing, a travel journal can be a fantastic gift to help them document their experiences. Additionally, interactive maps that allow kids to explore and learn about different places can be both educational and enjoyable. With these thoughtful and engaging gifts, kids can have a memorable and enjoyable travel experience.
10. What are some travel gifts that can enhance the in-flight experience?
Consider these essentials: noise-canceling headphones to drown out the airplane noise, comfortable travel pillows for a restful journey, eye masks to block out light and help you sleep, and cozy travel blankets to keep you warm and cozy throughout the flight. These items can truly enhance your in-flight comfort and make your travels more enjoyable.
11. What are some best travel gift ideas for someone who loves to take photos?
For the avid traveling photographer, there are several fantastic gift ideas that would surely bring a smile to their face. How about a compact and lightweight portable tripod, allowing them to capture stunning shots with stability on the go? Or perhaps a comprehensive camera cleaning kit to keep their gear in top-notch condition, ensuring they never miss a perfect shot due to dirt or dust? For added comfort and style, a high-quality camera strap could be a thoughtful present, allowing them to carry their camera with ease while adding a touch of personality. To inspire their creativity and help them make the most of their destination, a photography guidebook tailored to their specific travel location would be an excellent choice. With these unique and practical gift ideas, you can be sure to delight the traveling photographer in your life!
12. What are some travel gifts for someone who loves food?
For the culinary traveler, you can consider gifting them a travel-themed cookbook filled with delicious recipes from around the world, allowing them to recreate their favorite dishes from their adventures at home. Another great option is a portable spice kit, complete with a variety of spices and seasonings that will add a burst of flavor to their meals no matter where they are. And why not go the extra mile by surprising them with a food tour in their next destination? This unique experience will not only satisfy their taste buds but also introduce them to the local culinary delights and hidden gems of the place they're visiting. With these thoughtful and food-focused gifts, you'll surely make their travel and culinary experiences even more memorable!
13. Are travel-themed decor items good gifts?
Travel-themed decor items such as beautifully crafted globes, intricate map-themed artwork, or unique destination-specific souvenirs can make extraordinary gifts for travel enthusiasts, especially during the holiday season. These thoughtful and visually captivating pieces not only add a touch of wanderlust to any space but also serve as constant reminders of the joy and adventure that comes with exploring the world. Whether it's a vintage globe that sparks curiosity or a framed map that ignites memories of past travels, these items are sure to delight and inspire the wanderer in your life. So go ahead and surprise your loved ones this holiday season with these special gifts that capture the essence of their travel dreams!
14. What kind of travel gifts are good for business travelers?
When it comes to selecting travel gifts for business travelers, there are several options that can enhance their travel experience. One great choice is a high-quality carry-on bag, which offers durability and functionality while keeping their belongings organized. Another practical gift idea is a portable charger, ensuring that their electronic devices stay powered up during their travels. Additionally, a travel-sized steamer can be a thoughtful gift, allowing them to keep their clothes wrinkle-free and presentable while on the go. These thoughtful and practical gifts are sure to be appreciated by business travelers.
15. What are some travel gift ideas under $20?
Here are some fantastic options to consider. How about stylish luggage tags to add a personal touch to their travel gear? Or travel-sized toiletries that are convenient and space-saving? For the adventurous souls, a travel journal can be a perfect companion to capture their memories along the way. And let's not forget about compact travel games to keep them entertained during those long journeys. With these thoughtful and practical choices, you're sure to find the ideal travel gifts without breaking the bank!
16. What are some gifts for someone going on their first international trip?
When it comes to choosing gifts for someone embarking on their first international trip, there are several thoughtful options to consider. A multi-country power adapter is an essential item that ensures their electronic devices stay charged no matter where they are. A passport wallet not only keeps their passport safe but also provides convenient storage for other travel documents like boarding passes and ID cards. Additionally, a guidebook specifically tailored to their destination can be a valuable resource, offering helpful tips, recommendations, and insights to enhance their travel experience. These practical and thoughtful gifts will not only demonstrate your support but also make their journey more enjoyable and stress-free.
17. Are luggage sets a good gift for travelers?
Luggage sets make for an excellent gift choice for travelers. With a good-quality luggage set, they will have the convenience and organization they need for their trips, whether it's a quick weekend getaway or a long adventure abroad. The multiple pieces in a set offer versatility and cater to different travel needs, ensuring that they are well-prepared and equipped for any journey. From spacious suitcases to convenient carry-ons, a luggage set is a practical and thoughtful present that will be appreciated by any avid traveler.
18. Are travel gadgets good gifts for travelers?
Travel gadgets such as portable chargers, travel adapters, or a compact camera can make excellent presents for travelers. These gadgets not only enhance their travel experience but also provide practical solutions to common travel challenges. For example, a portable charger ensures that their devices stay powered up while on the go, while a travel adapter allows them to use their electronic devices in different countries without any hassle. And let's not forget the joy of capturing stunning moments with a compact camera that fits perfectly in their travel bag. So, whether it's convenience, functionality, or capturing memories, travel gadgets are indeed thoughtful gifts that any traveler would appreciate.
19. What are some eco-friendly travel gift ideas?
Consider these thoughtful options for the eco-conscious traveler. How about a durable and stylish reusable water bottle to stay hydrated on the go? Or a sustainable bamboo travel utensil set, perfect for reducing single-use plastic waste while enjoying meals on the road. And don't forget an eco-friendly backpack made from recycled materials, combining practicality and sustainability in one. These gifts not only make a positive impact on the environment but also enhance the travel experience.
20. Can I gift experiences or activities for someone who loves travel?
Certainly! Gifting experiences or activities to someone who loves travel is a fantastic idea. Instead of material possessions, consider offering them a memorable experience that aligns with their passion for exploration. For instance, you could gift them a hands-on cooking class in the heart of Italy, where they can learn to prepare traditional Italian dishes from local chefs. Alternatively, you might consider a thrilling surfing lesson in the stunning waves of Hawaii, allowing them to ride the ocean's swells and embrace the adventurous spirit of the islands. Another option could be arranging a guided tour tailored to their interests in their upcoming destination, providing them with insights and hidden gems that only locals know. Platforms like Airbnb Experiences make it effortless to discover and book these unique activities, ensuring that their travel experiences are filled with unforgettable moments and cherished memories.
Final Thoughts About Gifts for Travel Lovers
The joy of traveling is not just about the destination, but also the journey. And with these top 10 best travel gift, you're sure to enhance that journey for your loved ones. Whether they're packing for an international adventure or planning a road trip, these travel essentials will add a dash of comfort, convenience, and fun to their travels. So the next time you're stuck thinking about the perfect gift for that special traveler in your life, remember that adventure is out there, and with these gifts, they'll be well-equipped to meet it!
Looking for a way to spice up your upcoming trip? Look no further than Amazon! With a free 30-day trial of Amazon Prime Music, you'll have access to over 2 million songs to soundtrack your adventure. Or, if audiobooks are more your speed, try out Audible Plus for two free books. And for those looking to streamline their packing process, a FREE 30-day trial of Amazon Prime ensures that everything will arrive in just two days - perfect for those last-minute additions. Don't miss out on these unbeatable offers and make your journey one that you'll never forget!
Happy Travels! :)