Sink or Swim: The 6 Top Camping Sink Picks That'll Have You Splashing into Adventure!
Sink or Swim: Journey into the wild with our top 6 camping sink picks! From sudsy dish parties to refreshing face splashes, these must-have basins will transform your campsite into a five-star wilderness suite. Dive in!
Looking for the perfect travel products to enhance your adventure? Look no further than our comprehensive list! From must-have vacation items to essential camping gear, we've got everything you need to make your next trip unforgettable. As an Amazon Associate, Journey Fanatics may earn a commission from qualifying purchases, but we promise the prices are still the same for you. No matter what your travel needs are, our list has got you covered. So pack your bags and get ready for the adventure of a lifetime with the best travel products on the market!
Attention all adventure junkies and camping enthusiasts! Ever had the struggle of doing dishes at the campsite or wished you could freshen up a bit before climbing into your sleeping bag?
Well, we've got some exciting news for you. We've compiled a list of the top 6 camping sinks that will revolutionize your outdoor experiences. Imagine turning your campsite into a deluxe wilderness suite.
Dive into our curated selection and take your camping game to the next level. Don't just survive in the wild - thrive with comfort and convenience. Once you've tried these out, camping will never be the same again. So, are you ready to make a splash on your next adventure?
How Journey Fanatics Chooses the Camping Sink
As an outdoor enthusiast, you're familiar with the challenges that come with washing dishes or freshening up at a campsite.
Living in the wilderness shouldn't mean you have to abandon comfort and hygiene. But up until now, you've had to make do with substandard solutions or forego washing up entirely, leading to a less than satisfactory camping experience.
Our selection of the top 6 camping sinks is a game-changer! Designed to be portable, practical and efficient, these sinks will transform your campsite into a deluxe wilderness suite. No more struggling with dirty dishes or feeling grubby – with these sinks, you can maintain a high level of cleanliness and comfort, even in the wild!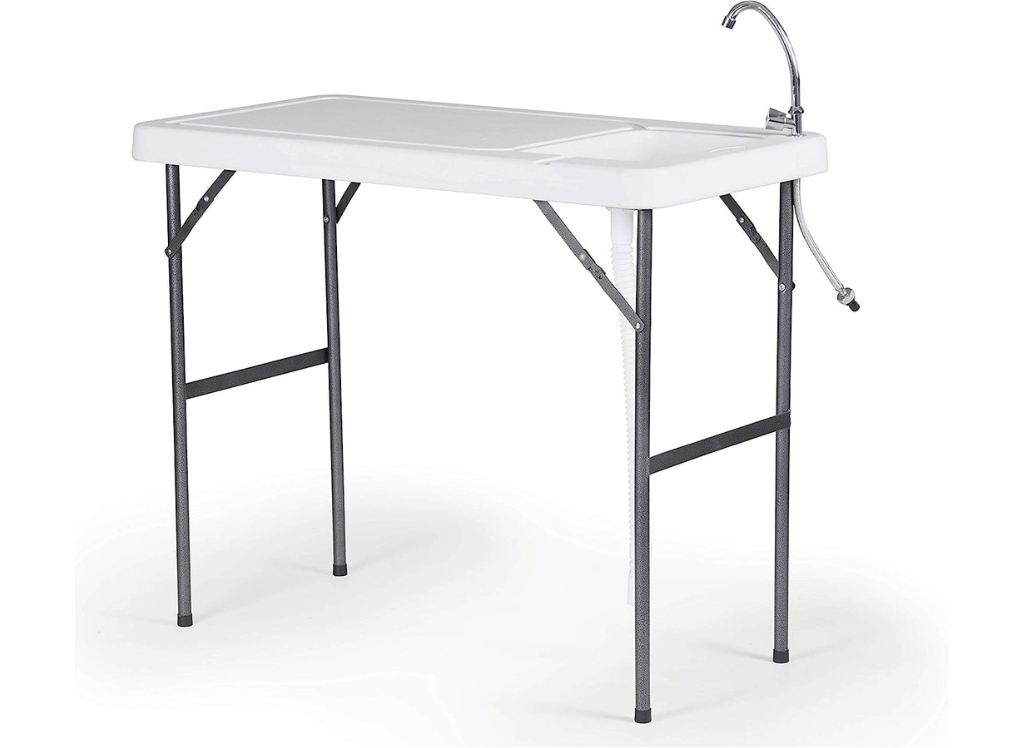 1. Old Cedar Outfitters Cleaning Station Table
Check Price on Amazon
Why We Love It
This go-to buddy for your wilderness adventures comes with a stainless steel faucet and a handy garden hose attachment. And guess what? It easily folds up for storage or transport. So, whether you're prepping your catch of the day or cleaning up after a hearty meal, this table is your trusty sidekick.
Things to Know
This amazing table is designed to make your camping experience even more enjoyable. First things first, let's talk about the food-grade plastic top – measuring a generous 44.75 inches by 23.5 inches, it offers plenty of space for all your fish cleaning needs. And here's the cherry on top: it stands at a convenient height of 36.5 inches, so say goodbye to backaches and hello to comfortable cleaning sessions.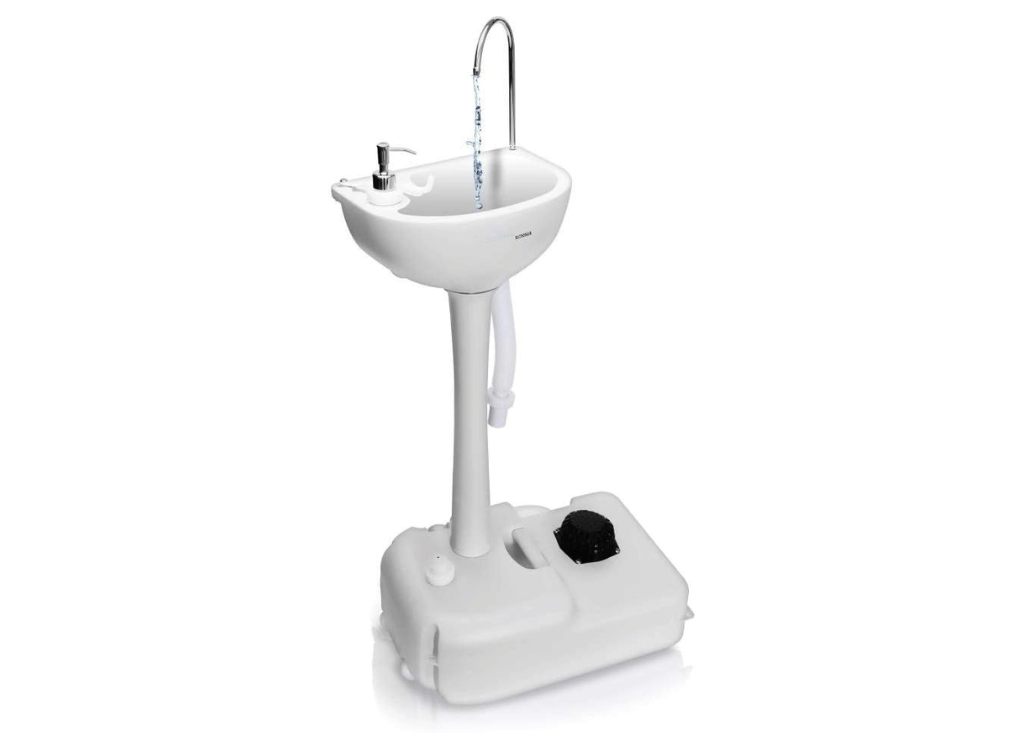 2. SereneLife Portable Camping Sink w/Towel Holder & Soap Dispenser
Check Price on Amazon
Why We Love It
This rugged little buddy is not your average camping gear. With its hands-free operation, you can easily wash your hands, food, and even drink from it. Its compact design and rolling wheels make it super easy to transport, even when filled with water! This portable sink also includes an integrated liquid soap dispenser, a stainless steel towel holder, and a flexible drainage hose for your convenience. And with a generous water capacity of 19 liters or 5 gallons, this sink guarantees to keep up with your camping crowd.
Things to Know
Crafted with the modern adventurer in mind, this sink is as versatile as it gets. It boasts a foot pump for hands-free operation - perfect for when your hands are full or just plain dirty. It's built with a nifty integrated soap dispenser and towel holder, ensuring you have all your washing essentials right at your fingertips. And the best part? It's delightfully portable! With rolling wheels for effortless transport and a compact design for easy storage, this sink is all set to hit the road whenever you are.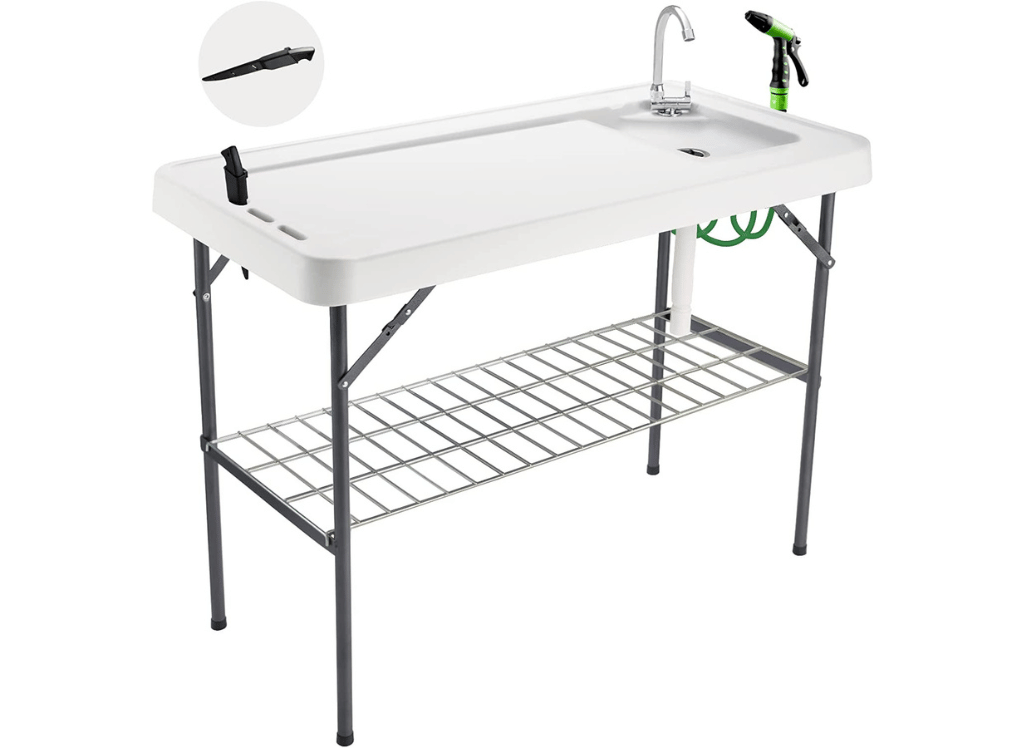 3. Avocahom Folding Portable Camping Sink Table
Check Price on Amazon
Why We Love It
Constructed from sturdy HDPE tabletop and powder-coated steel legs, this table is engineered to withstand your wildest wilderness escapades. The best bit? The camping sink faucet is foldable, adjustable, and hooks up to your garden hose. No more washing in a bucket, folks! And when it comes to portability, this bad boy folds down to fit any trunk, ready to go wherever the wind takes you.
Things to Know
This camping sink comes with a trusty faucet, a handy garden hose attachment, and features hands-free operation, ensuring you can maintain cleanliness with ease, even amidst nature. It's compact, portable, and super easy to transport! But here's the kicker - it also doubles as a drinkable water source. And to top it all off, it offers a whopping 5-gallon water capacity, ensuring it can keep up with your camping crew all day long.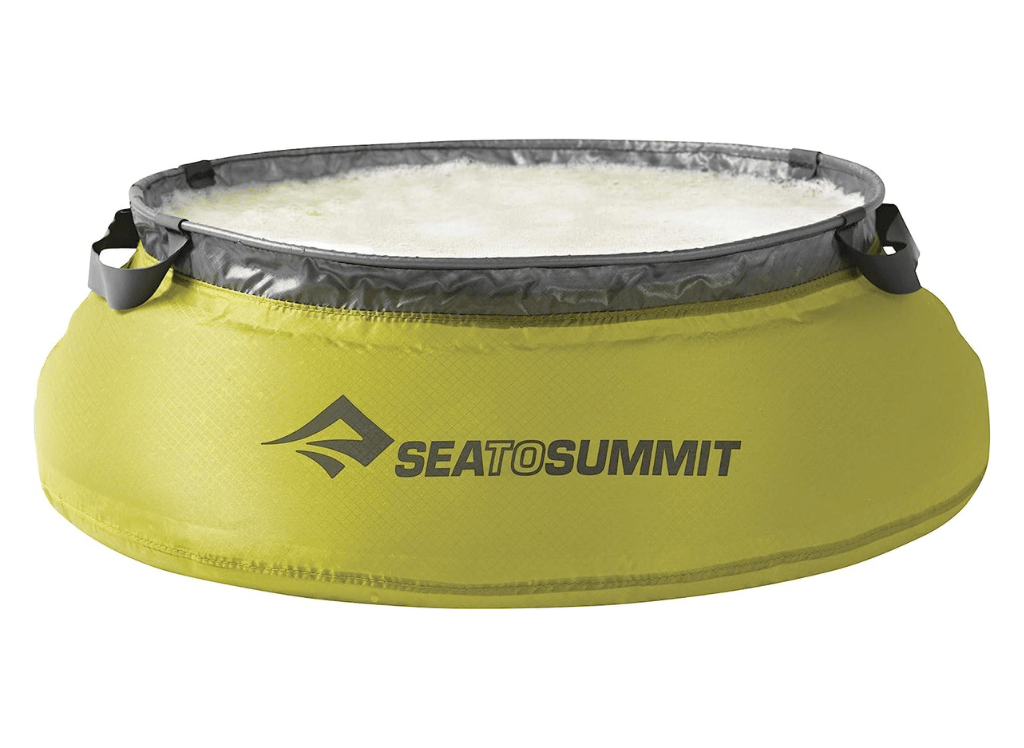 4. Sea to Summit Collapsible Ultra-Sil Kitchen Sink
Check Price on Amazon
Why We Love It
Crafted from 30D Ultra-Sil Cordura nylon, it's not only fully seam-sealed and leakproof but also durable enough to withstand all your outdoor escapades. But wait, there's more! This marvel collapses free-standing when filled, thanks to its wide base and stainless steel stiffening ring, no more sink collapses mid-wash! Plus, it comes with durable hypalon handles for easy carry and a stuff sack for convenient packing. With a generous capacity of 10 liters (2.6 gallons), this sink got you covered on all fronts.
Things to Know
The Sea to Summit Collapsible Ultra-Sil Kitchen Sink offers a practical and portable solution for outdoor activities. Designed with a wide base and a stainless steel stiffening ring, it remains sturdy even when filled. The sink's 10-liter capacity, along with its durable hypalon handles and compact design, makes it effortless to carry and pack. Not to mention, this sink is PVC-free and weighs a mere 1.7 ounces.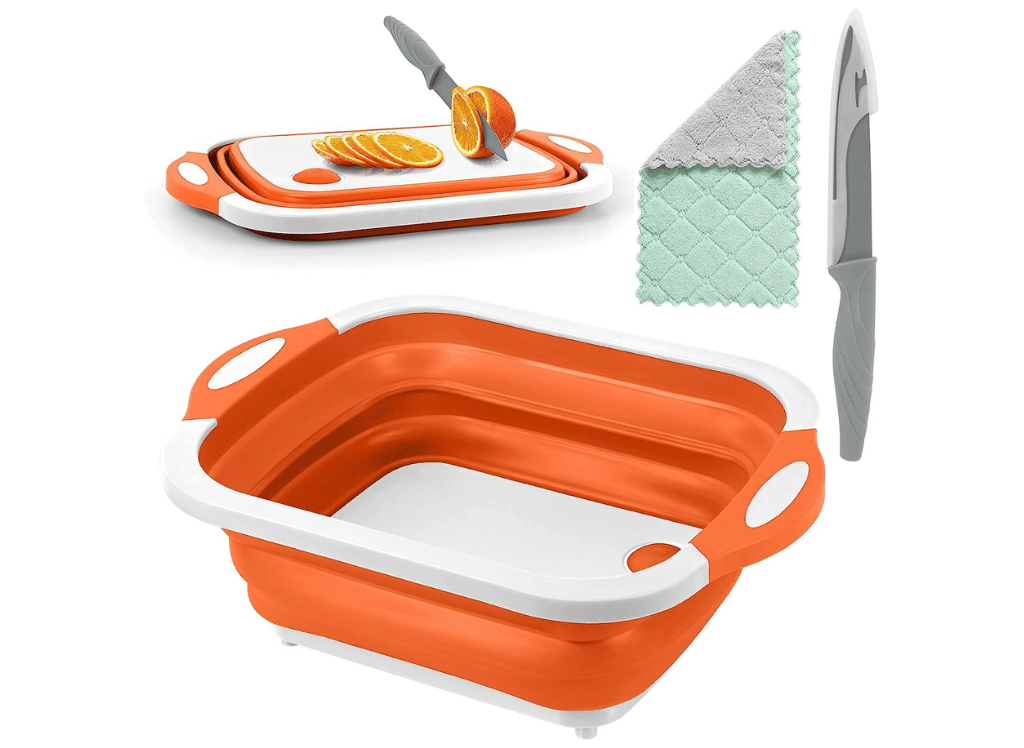 5. HI NINGER Collapsible Camping Dishes Sink
Check Price on Amazon
Why We Love It
With this 3-in-1 multi-function set, you'll have everything you need to make your camping experience a breeze. The foldable sink serves as a convenient washing tub for dishes and fresh produce, while the collapsible cutting board doubles as a storage basket for your favorite foods and drinks.
Things to Know
The NINGER Collapsible Camping Dishes Sink is a versatile and space-saving solution for outdoor and indoor use. Made of durable food-grade materials, it is easy to clean and dishwasher safe. With its folding design, it can be collapsed down to just 1.2 inches tall, saving up to 75% of space.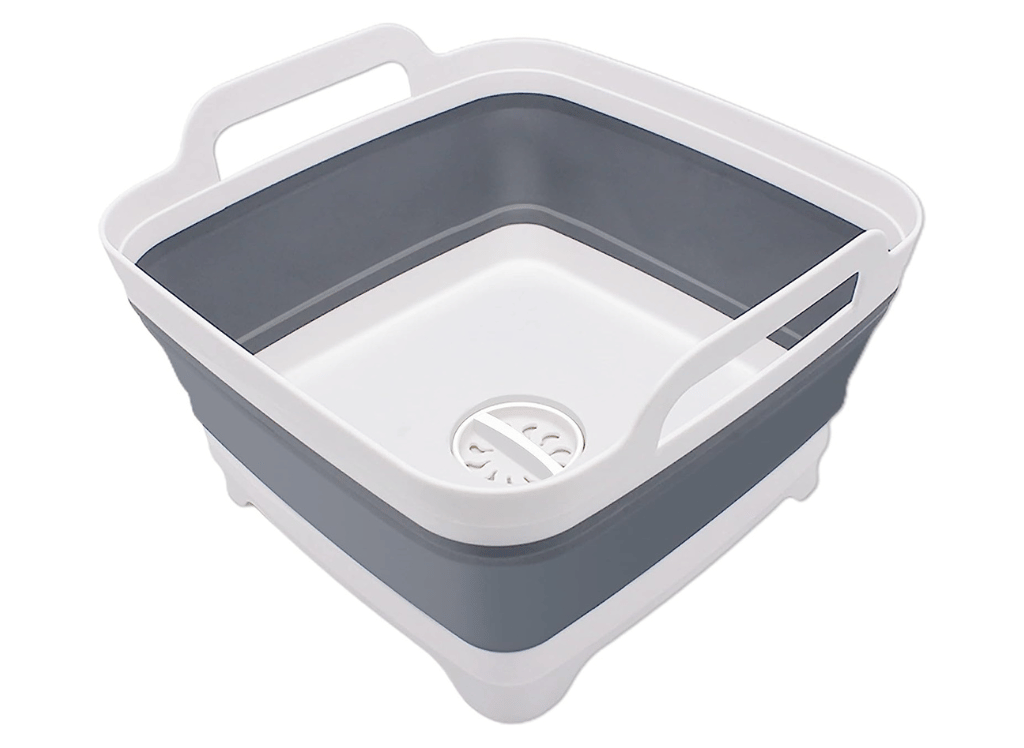 6. Goderewild 2.4 Gal(9L) Collapsible Dish Basin with Drain Plug
Check Price on Amazon
Why We Love It
This nifty little gadget is not just a dish basin, but also your portable kitchen sink and camping sink basin all rolled into one! With its unique removable drain plug, you won't have to lift a finger to drain it. Made for the outdoorsy folks like us, it's perfect for washing our favorite camping dishes, bowls, veggies, and more.
Things to Know
Imagine a dish basin, a portable kitchen sink, and a camping sink basin all rolled into one, lightweight, collapsible product. Say goodbye to the hassle of draining - just pop the removable plug and let gravity do the work. This outdoor buddy is perfect for washing everything from your go-to camping mug to fresh veggies for dinner.
Camping Sink FAQs
Camping offers an exhilarating experience, but maintaining cleanliness can pose a challenge. Traditional outdoor dishwashing methods can be cumbersome, potentially spoiling your camping trip.
Picture this: after a delightful day of hiking, you return to your campsite only to be faced with a pile of dirty dishes. Without a proper sink, you find yourself struggling to clean utensils, resorting to inadequate solutions like washing them in a bucket or, worse yet, a nearby creek. It's inconvenient and can cast a shadow over your entire adventure.
But fear not fellow campers! Journey Fanatics has compiled a comprehensive list of Frequently Asked Questions about Camping Sinks, ensuring that your next purchase is made with complete confidence. Say goodbye to worries and hello to a hassle-free camping experience!
1. What is a portable camping sink?
A portable camp sink is a compact and lightweight basin that provides a convenient way for campers to wash dishes, cookware, and freshen up. These sinks can be easily packed and transported, making them ideal for outdoor adventures.
2. How does a camping sink drain?
Most camping sinks come equipped with a drain hose that water flows out easily through the other end. Some models even feature a removable drain plug, eliminating the need to manually lift and empty the sink.
3. What should I consider when choosing a camping sink?
Important factors include portability, durability, capacity, and ease of setup. Features like a built-in soap dispenser or towel holder could be additional bonuses. Ultimately, the best camping sink is one that meets your personal needs and preferences.
4. Can I use a camping sink as a source of drinking water?
Some camping sinks are designed to double as a drinkable water source. However, always ensure the water is clean and safe for consumption before drinking.
5. How do I clean a camping sink?
Most camping sinks are made from materials that are easy to clean. Simply rinse with clean water and, if necessary, use a mild detergent. Always allow the sink to dry thoroughly before packing away to prevent mold and mildew.
6. What is a camping shower?
When venturing into the great outdoors for a camping trip, having a reliable camp shower is absolutely crucial to ensure your cleanliness and comfort throughout your wilderness experience. So, what exactly are camp showers? Well, camp shower systems come in various forms, but they generally involve a practical water container that can either hold gray water separately or a tank that can be suspended from a tree or any tall object, serving as a storage for hot or cold water. These versatile containers can then be equipped with a shower head and connected to hoses, providing you with a convenient bathing solution amidst the tranquil beauty of nature. For a comprehensive guide to the best camping shower options available, make sure to check out our carefully curated selection in this enlightening article!
Final Thoughts About Camping Sink

And there you have it, folks - our top six picks for the best camping sinks that are sure to elevate your outdoor adventures. Whether you're preparing a catch of the day, cleaning up after a delicious campfire meal, or simply freshening up, these portable sinks offer a solution to your wilderness washing woes. Remember, camping doesn't mean compromising on hygiene or comfort. With these game-changing camping sinks, you'll bring a slice of home comfort to the great outdoors, transforming your campsite into a wilderness suite. So, gear up, dive in, and get ready to make a splash on your next camping trip with these incredible finds!
Looking for a way to spice up your upcoming trip? Look no further than Amazon! With a free 30-day trial of Amazon Prime Music, you'll have access to over 2 million songs to soundtrack your adventure. Or, if audiobooks are more your speed, try out Audible Plus for two free books. And for those looking to streamline their packing process, a FREE 30-day trial of Amazon Prime ensures that everything will arrive in just two days - perfect for those last-minute additions. Don't miss out on these unbeatable offers and make your journey one that you'll never forget!
Happy camping! :)