7 Top-Rated Camping Fire Pit Options to Elevate Your Outdoor Experience
Discover the joy of outdoor living with our handpicked selection of 7 top-rated camping fire pits. Enhance your camping experience, create memorable moments, and savor the warmth under the starlit sky. Stay tuned!
Looking for the perfect travel products to enhance your adventure? Look no further than our comprehensive list! From must-have vacation items to essential camping gear, we've got everything you need to make your next trip unforgettable. As an Amazon Associate, Journey Fanatics may earn a commission from qualifying purchases, but we promise the prices are still the same for you. No matter what your travel needs are, our list has got you covered. So pack your bags and get ready for the adventure of a lifetime with the best travel products on the market!
Attention all outdoor enthusiasts! Are you looking to elevate your camping trips with the warm, inviting glow of a campfire? We've done the heavy lifting for you, scouring through Amazon to bring you the best portable camping fire pits. These top 7 choices not only provide heat and light for those chilly nights under the stars, but also serve as a perfect hub for campfire stories, s'mores making, and simply soaking in the serenity of the great outdoors.
Dive into our handpicked selection, featuring a range of options from compact, travel-friendly designs to larger, more robust fire pits for those grand camping gatherings. We'll provide you with all the essential details - heat output, portability, safety features and more - to help you make an informed decision.
Stay with us as we turn up the heat and ignite your passion for outdoor adventures with these exceptional camping fire pits. Because, at the end of the day, it's not just about the destination but the journey and the memorable moments created along the way.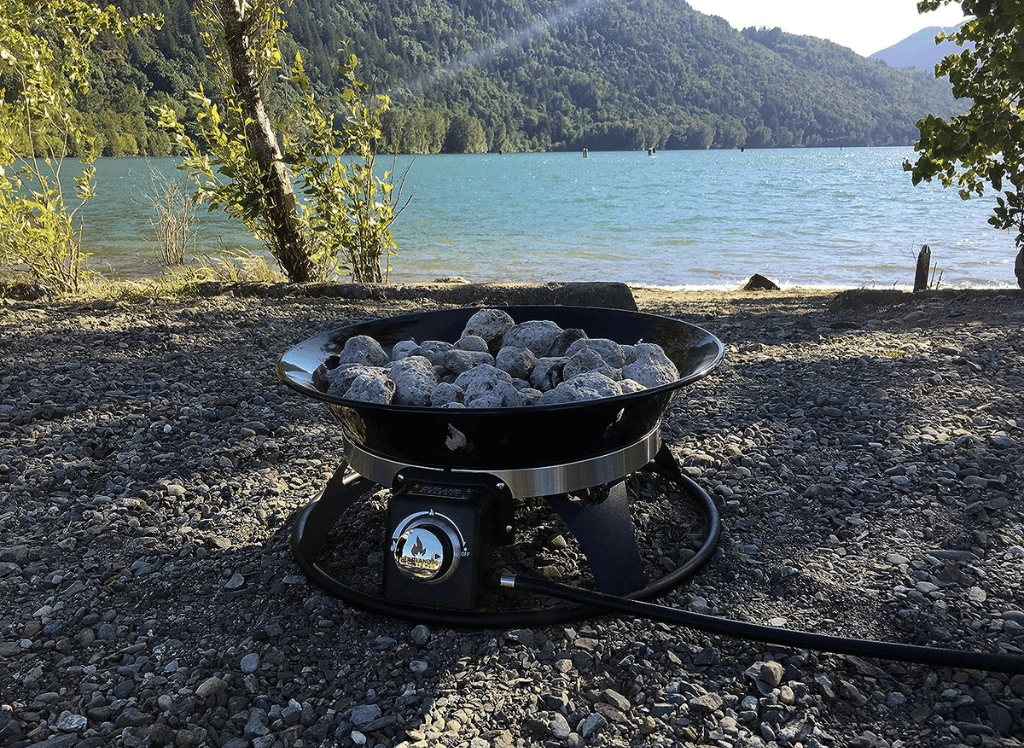 1. Outland Living 21-inch Portable Propane Fire Pit - 58,000 BTU
Check Price on Amazon
Why We Pack It
This fire pit offers a clean and realistic propane fire experience, perfect for outdoor adventures. It's compact, lightweight, and easy to transport, making it ideal for camping trips, RV travels, tailgating get-togethers, beach parties, and cozy family evenings on the patio. With its all-weather fire bowl and spark-free design, it's safe to use during most campfire bans. The complete fire pit kit includes a cover, carry kit, pre-attached hose, adjustable regulator, and a natural lava rock set for a mesmerizing flickering effect. Crafted with durable steel construction and a protective enamel finish, this fire pit is built to last.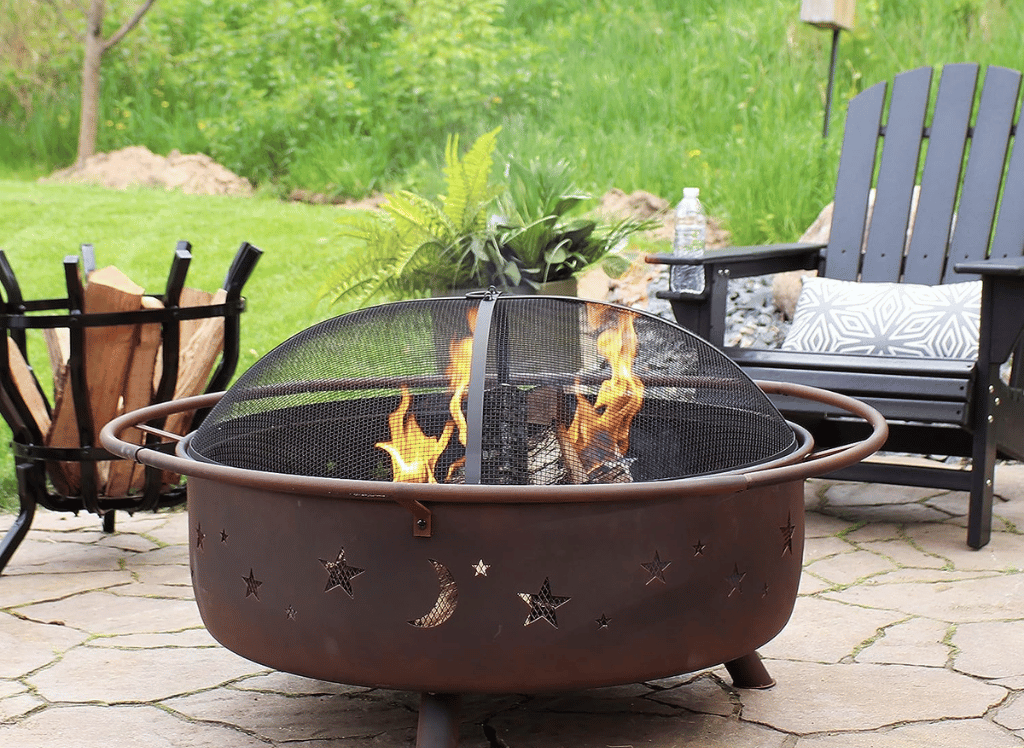 2. Sunnydaze Cosmic 42-Inch Wood-Burning Steel Fire Pit
Check Price on Amazon
Why We Pack It
This 41.5" diameter fire pit is perfect for bonfires in your patio, yard, or garden. With its durable steel construction and rustic patina finish, it's built to last. The portable design and decorative star and moon cutouts add a touch of style to any outdoor space. Stay safe with the spark screen, wood grate, and poker tool included. Setting it up is a breeze, so you can start making memories in no time. Whether in your backyard or on a camping trip, this fire pit is a must-have for creating a warm and inviting atmosphere.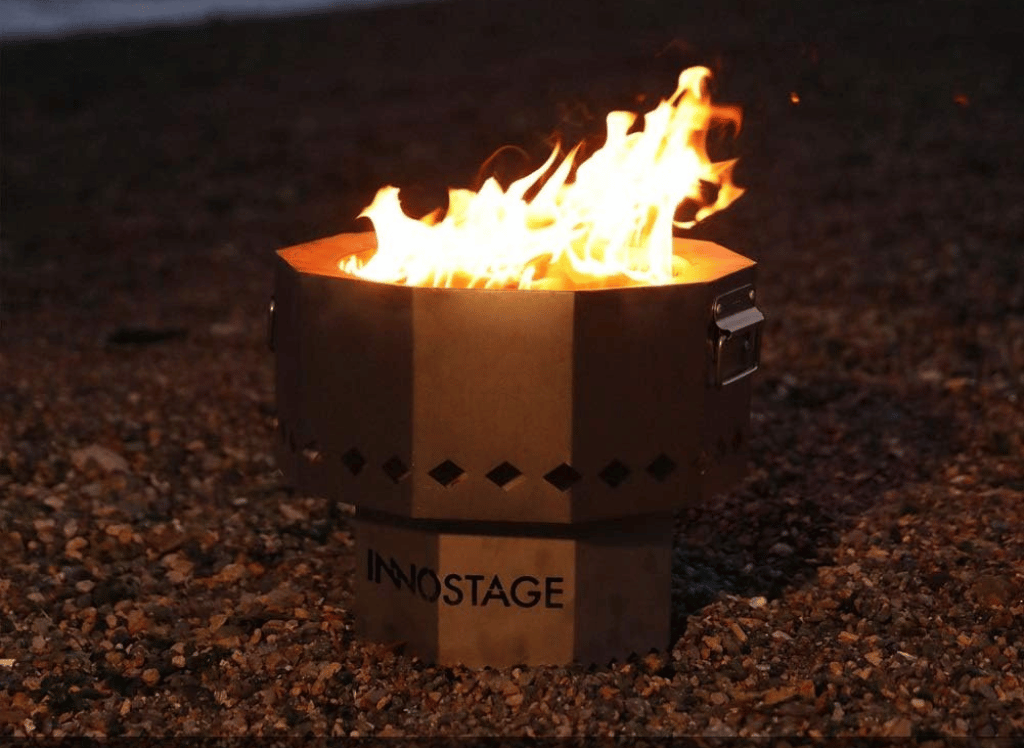 3. INNO STAGE Stainless Fire Pit with Portable Carrying Storage Bag
Check Price on Amazon
Why We Pack It
This innovative design maximizes airflow, reducing smoke and producing more flame. Say goodbye to smoky clothes and fabric holes from sparks. With its practical two-tier structure and added handle, it's perfect for campfires. Setting it up is a breeze - just put the two parts together. The portable handles allow for easy ash shaking to keep the air flowing. And when it's cold, simply lift it up and dump the ash using the bottom tray. Crafted from solid 304 stainless steel, it's not only beautiful but also resistant to high temperatures and rust. It's long-lasting, safe, and durable for years of use. With its handy size and portable carrying bag, you can take it anywhere - from small spaces to car camping or deck picnics.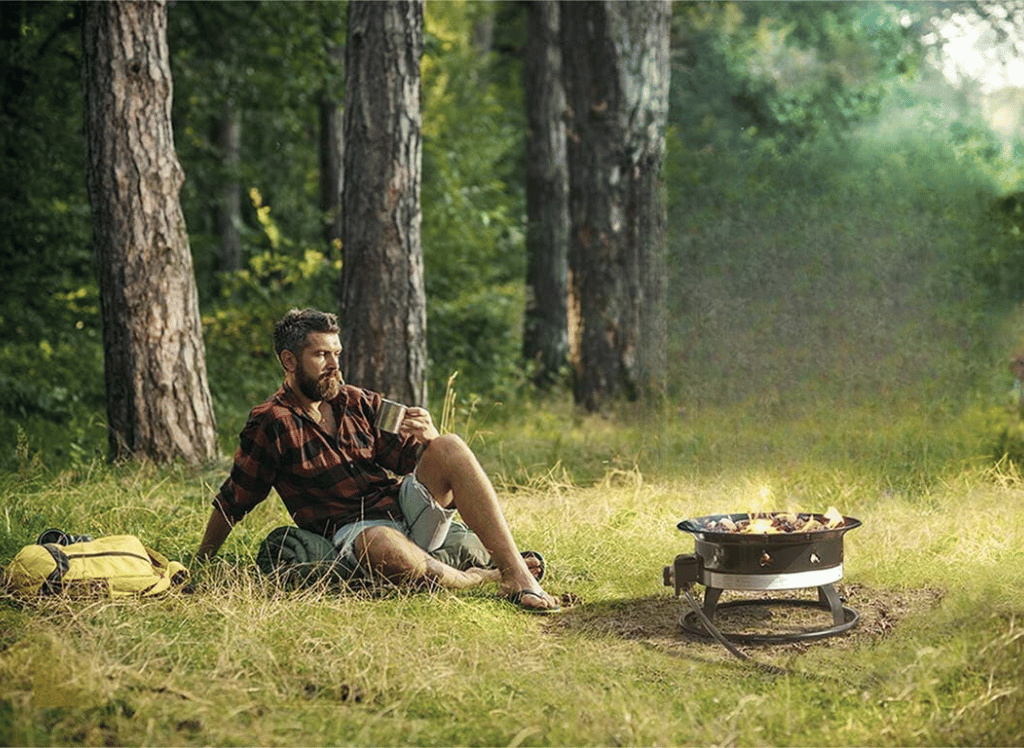 4. Outland Living Firebowl 893 Deluxe Outdoor Portable Propane Gas Fire Pit
Check Price on Amazon
Why We Pack It
This lightweight and portable travel-size fire pit is the perfect outdoor centerpiece for all your adventures. Whether you're camping, RV traveling, tailgating, or enjoying a beach party or family evening on the backyard patio, this all-weather fire bowl delivers a clean and smokeless flame with cozy warmth and beautiful ambiance. With easy setup in minutes and no tools required, you can enjoy a spark-free propane campfire hassle-free. The included Cover & Carry Kit and pre-attached 10-Ft hose keep your standard 20-Lb propane tank cylinder (not included) safely out of sight. Plus, the fully adjustable regulator with chrome valve knob allows you to vary the flame height for your desired ambiance!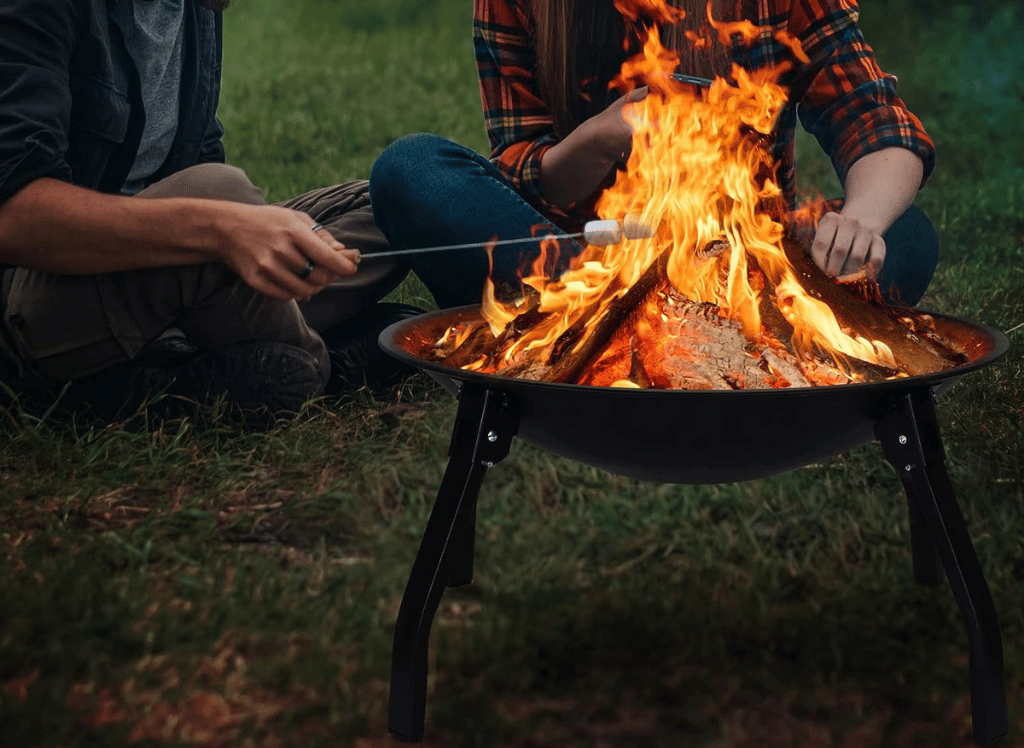 5. Cogesu 22in Wood Burning Fire Pit
Check Price on Amazon
Why We Pack It
Cogesu portable fire pits are designed with folding legs and comes with a convenient carry bag, making it incredibly space-saving. Perfect for family dinner events like camping, BBQs, and picnics. Setting it up is a breeze with its minimalist installation method - just unroll the steel legs and follow the included instructions. Made of thick, coated steel for durability and weather resistance, it's built to last. The stable leg structure ensures easy setup in any outdoor area. Stay safe with the spark screen and use the 17-inch poker to move wood and lift the lid.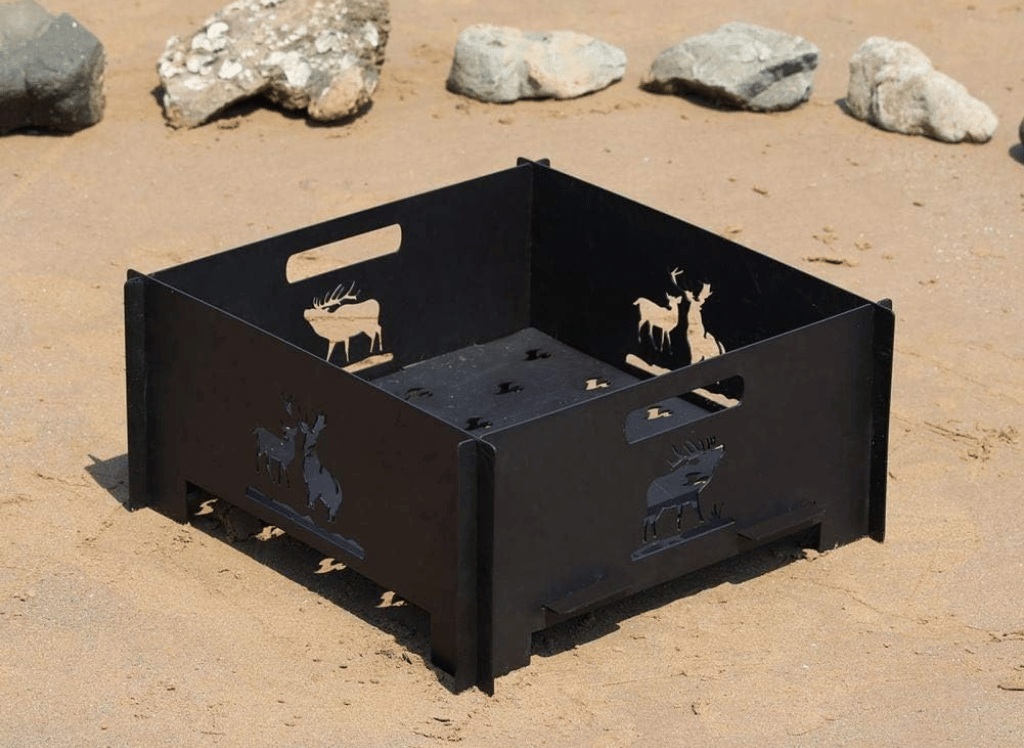 6. INNO STAGE 15.8 Inch Portable Plug Fire Pit
Check Price on Amazon
Why We Pack It
Crafted from heavy-duty iron with a high-temperature resistant black coating, this Fire Pit is perfect for unwinding and relaxing. Whether you're a seasoned hiker or just love camping, this fire pit will bring the warmth and coziness of a bonfire right to your backyard. With its exquisite design featuring a flame hole for efficient combustion and a spark screen surrounded by a hollow elk, you'll feel like you're in the heart of nature. Assembly is a breeze, and it comes with all the tools and accessories you need. Take it anywhere with its portable 15.8" diameter, making it ideal for bonfires, camping trips, parties, and outdoor picnics. Plus, it comes with a waterproof cover for easy storage.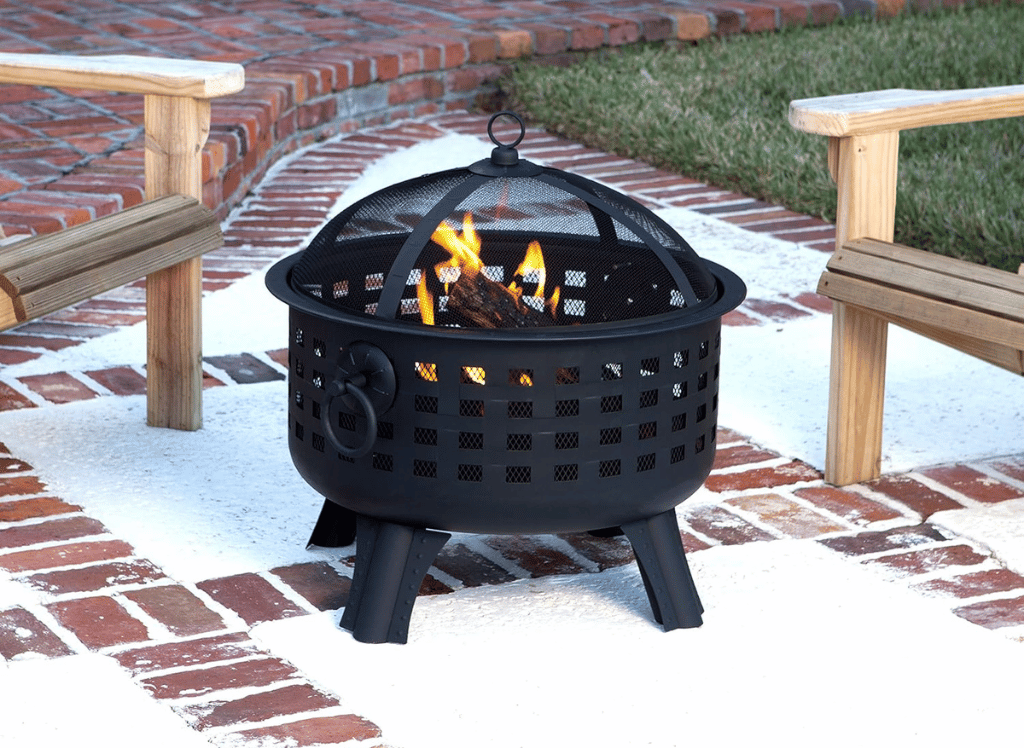 7. Amazon Basics 24 Inch Steel Round Lattice Fire Pit
Check Price on Amazon
Why We Pack It
With overall dimensions of 27.8" Diameter x 35" Height, this fire pit offers a spacious fire bowl measuring 23" in diameter. Made with sturdy steel construction, it's designed for easy assembly, so you can start enjoying the warmth and ambiance in no time. Plus, it comes with a spark screen and fire poker included for added convenience. Get ready for 360-degree viewing of the mesmerizing flames as you create unforgettable memories around this travel-friendly fire pit.
Camping Fire Pit FAQs
Are you unsure about the ins and outs of using a camping fire pit? With the array of options on the market, it can be overwhelming to understand which product is right for you, and how to use it safely and efficiently.
We understand the challenges. From figuring out which kind of fire pit is best for your specific needs, to understanding how to set them up, and even knowing how to maintain them for longevity — these questions can easily turn your exciting camping trip planning into a daunting task.
We've compiled the most frequently asked questions about camping fire pits and have provided straightforward, easy-to-understand answers. Whether you're an experienced camper or a novice looking forward to your first adventure, this comprehensive guide will empower you to select and use your camping fire pit with confidence. Let's allay those doubts and get you ready to enjoy the warm, inviting glow of a campfire under the beautiful starlit sky.
1. What should I look for in a camping fire pit?
When selecting a camping fire pit, it's important to consider various factors to ensure you make the right choice. Apart from portability, ease of use, heat output, safety features, and durability, think about the size of the fire pit and its cooking capabilities. Some fire pits come with adjustable grates that allow you to control the distance between the flames and your cooking surface, providing versatility for different types of outdoor cooking adventures.
2. Are camping fire pits safe?
Camping fire pits are generally safe as long as they are used properly and with caution. In addition to the safety features mentioned earlier, such as spark screens and heat shields, it's crucial to follow safety guidelines and regulations specific to your camping area. Always supervise the fire and keep a bucket of water or fire extinguisher nearby for added precaution.
3. Can I use a camping fire pit during a campfire ban?
During a campfire ban, regulations may vary depending on the area and the type of fire pit you have. Propane fire pits are often allowed during these bans because they can be easily controlled with an on/off switch and produce no sparks. However, it's crucial to check with local authorities or park officials to ensure compliance and avoid any potential fines or penalties.
4. How do I set up a portable fire pit?
Setting up a portable fire pit is usually a straightforward process. Most models come with clear instructions and require minimal assembly. Once you attach the legs, it's important to find a flat, non-flammable surface to place the fire pit on. This ensures stability and reduces the risk of accidental fire spread. Always double-check the manufacturer's instructions for the specific fuel source you're using, whether it's propane or wood, to ensure proper setup.
5. Can I cook on my camping fire pit?
Camping fire pits provide a wonderful opportunity for outdoor cooking. Many models come with cooking grates, allowing you to grill your favorite meals or roast marshmallows for delicious s'mores. It's important to choose a fire pit that is explicitly designed for cooking and has a sturdy cooking surface to ensure safety and optimal results.
6. How do I maintain my camping fire pit?
Proper maintenance of your camping fire pit is essential for its longevity and continued performance. After each use, it's important to clean out the ash and debris, as accumulated ash can hinder airflow and affect the fire's efficiency. Additionally, covering the fire pit when not in use helps protect it from the elements, prolonging its lifespan. Regularly inspecting the fire pit for any signs of wear or damage is also crucial. For propane fire pits, it's recommended to check the hoses and connections periodically for any leaks or damage.
7. What is the heat output of a typical camping fire pit?
The heat output of a camping fire pit can vary depending on its size and type. Portable propane fire pits typically range between 40,000 to 60,000 BTUs (British Thermal Units), providing ample heat for warmth and cooking. It's important to consider your specific heating needs and the size of your camping area when choosing a fire pit with the appropriate heat output.
8. Do I need a heat shield for my camping fire pit?
While not always necessary, a heat shield can be a valuable accessory for your camping fire pit, especially when using a wood-burning fire pit. A heat shield helps protect the ground or surface beneath the fire pit, preventing heat damage or scorch marks. It's particularly useful when camping in areas with sensitive ecosystems or on surfaces that may be more prone to heat-related damage.
9. Can I use a camping fire pit on my deck?
Using a camping fire pit on your deck is possible, but precautions should be taken to prevent any potential damage. It's recommended to use a heat shield or a fire-resistant mat underneath the fire pit to protect your deck from direct heat exposure. Additionally, ensure that there are no flammable materials or objects overhead, such as umbrellas or tree branches, that could pose a fire hazard. Following these precautions helps ensure a safe and enjoyable outdoor experience without any unwanted accidents.
10. What's the difference between a pop-up fire pit and a traditional camping fire pit?
The main difference between a pop-up fire pit and a traditional camping fire pit lies in their design and intended use. Pop-up fire pits are specifically engineered for easy setup and portability. They are typically lightweight, compact, and can be assembled or disassembled within minutes. These fire pits are perfect for backpackers or those who prioritize convenience and mobility. On the other hand, traditional camping fire pits are generally more substantial in size, offering greater heat output and durability. While they may be less portable, they are ideal for those seeking a more traditional campfire experience and prioritize long-lasting performance.
Final Thoughts About Camping Fire Pits
As we wrap up our campfire exploration, we hope this guide has illuminated your path to finding the best camping fire pit for your upcoming adventures. These seven handpicked models offer different styles, sizes, and features to cater to a variety of outdoor scenarios. Whether you're a solo traveler seeking a compact fire pit for warmth and cooking, or a family of campers looking to create lasting memories around a robust fire, there's something here for everyone. Remember, the perfect fire pit not only enhances your camping experience, but also provides a safe and controlled environment for those cherished fireside chats, meals, and moments of tranquility under the starry skies. Always prioritize safety and respect nature wherever your travels may take you.
Looking for a way to spice up your upcoming trip? Look no further than Amazon! With a free 30-day trial of Amazon Prime Music, you'll have access to over 2 million songs to soundtrack your adventure. Or, if audiobooks are more your speed, try out Audible Plus for two free books. And for those looking to streamline their packing process, a FREE 30-day trial of Amazon Prime ensures that everything will arrive in just two days - perfect for those last-minute additions. Don't miss out on these unbeatable offers and make your journey one that you'll never forget!
Happy Travels! :)