Discover the 6 Best Hotels in Portland, Maine: A Traveler's Dream for Ultimate Comfort!
Unearth Portland's hospitality gems amidst stunning coastal views. From boutique wonders to luxurious retreats, we've curated the top 5 hotels ensuring your stay in Maine is nothing short of dreamy. Explore now!
Journey Fanatics may earn a commission from qualifying purchases, but we promise the prices are still the same for you!

Have you ever wanted to explore the charming city of Portland, Maine, but unsure where to stay? Worry no more! We've done the legwork for you, painstakingly curating a list of the top 5 hotels in this seaside town that are as captivating as the city itself.
Imagine waking up to a breathtaking view of the Casco Bay or the historic Old Port, sipping your morning coffee at a rooftop bar, or unwinding in a whirlpool spa suite after a day of exploration. These luxurious and boutique hotels offer these experiences and more, guaranteeing a stay that's nothing short of extraordinary.
Discover the charm of Portland hotels, each one meticulously selected for their superior amenities, guest rooms that exude comfort and elegance, top-notch on-site restaurants, and of course, their exceptional customer service. Whether you're a budget traveler searching for a great deal or someone looking for an indulgent getaway, there's a Portland hotel on this list just for you.
Let your wanderlust guide you to the spectacular city of Portland, Maine. Your ultimate travel adventure awaits!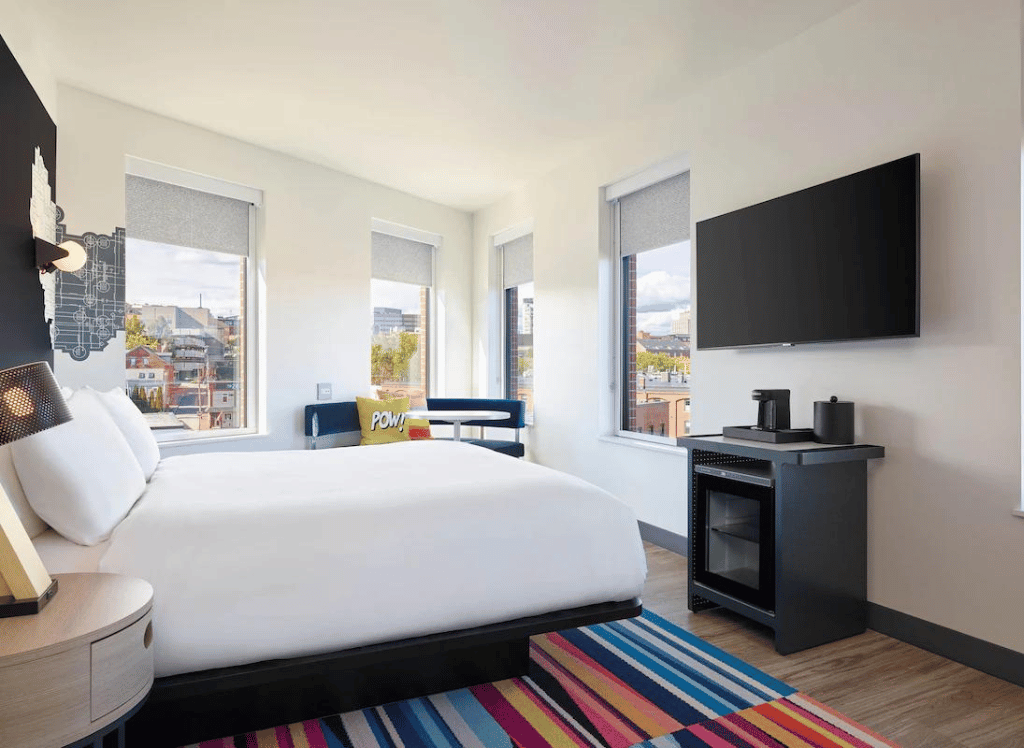 Check Price on Expedia
Why Stay Here
Welcome to Aloft Portland, Maine - one of the coolest boutique hotels in town! Get ready for a truly relaxing stay where everything you need is at your fingertips. And the best part? You'll be just a short stroll away from the city's top-notch bars, restaurants, and attractions. But that's not all - they're not only pet-friendly but also roll out the red carpet for your furry friend with a special check-in package. Bring them along and witness their warm welcome firsthand!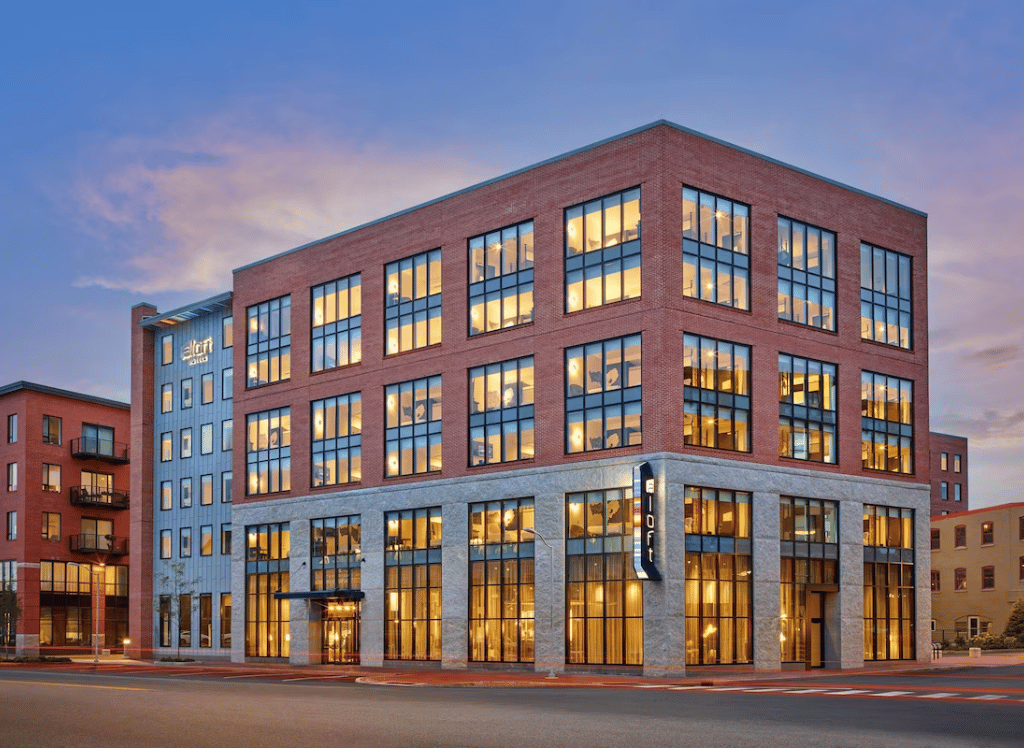 About The Hotel
This vibrant 3-star hotel is located in a bustling shopping district. Get ready to indulge in a delightful experience with a coffee shop/cafe, a bar, and a restaurant at your fingertips. Stay connected with free in-room WiFi and enjoy additional amenities including breakfast (surcharge), valet parking (surcharge), and a 24-hour front desk.
Relax and unwind with coffee/tea in the lobby, take advantage of concierge services, and travel effortlessly with the help of an elevator. The location has received rave reviews from guests, making it a top choice. Each of the 157 individually furnished rooms offers laptop-friendly workspaces, air conditioning, and complimentary amenities like free WiFi and bottled water. Experience the perfect blend of comfort and convenience during your stay at Aloft Portland ME!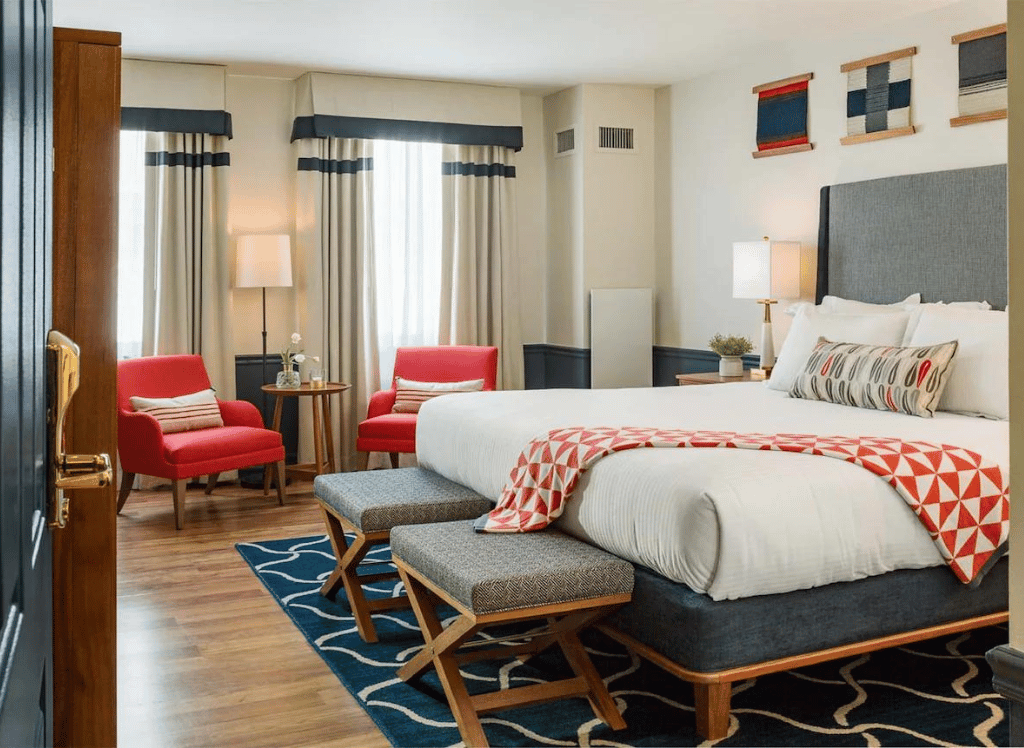 Check Price on Expedia
Why Stay Here
The recently renovated rooms are designed with sleek hardwood floors, coastal and nautical decor, and feature stunning artwork by local artists. Indulge in the luxury of separate glass showers and soaking tubs, perfect for unwinding after a long day of exploring. As you venture through the hotel, you'll discover a complimentary Starbucks touchscreen machine on each floor, a fitness center to keep you energized, and a charming outdoor area complete with cozy furniture and a fire pit!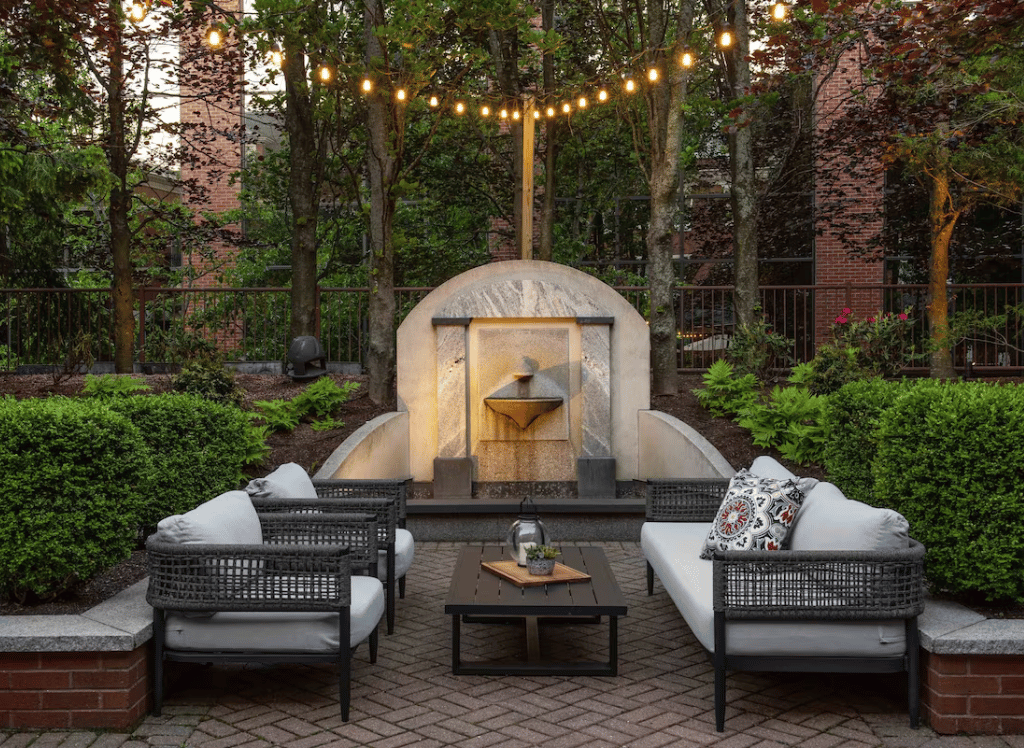 About The Hotel
Discover the Portland Harbor Hotel, a charming 4-star hotel nestled in Downtown Portland. With a delightful terrace and inviting firepit, this hotel offers a cozy and welcoming atmosphere. Indulge in delectable dining experiences at Harbor Bistro + Terrace, the on site restaurant. Stay connected with free in-room WiFi and take a moment to unwind in the serene garden or the library.
Enjoy a range of amenities, including a cooked-to-order breakfast, valet parking, and an electric car charging station. The hotel features 101 comfortable rooms, each adorned with premium bedding and equipped with modern conveniences like free WiFi and flat-screen TVs. Experience a memorable stay at Portland Harbor Hotel, where friendly service and exceptional comfort await.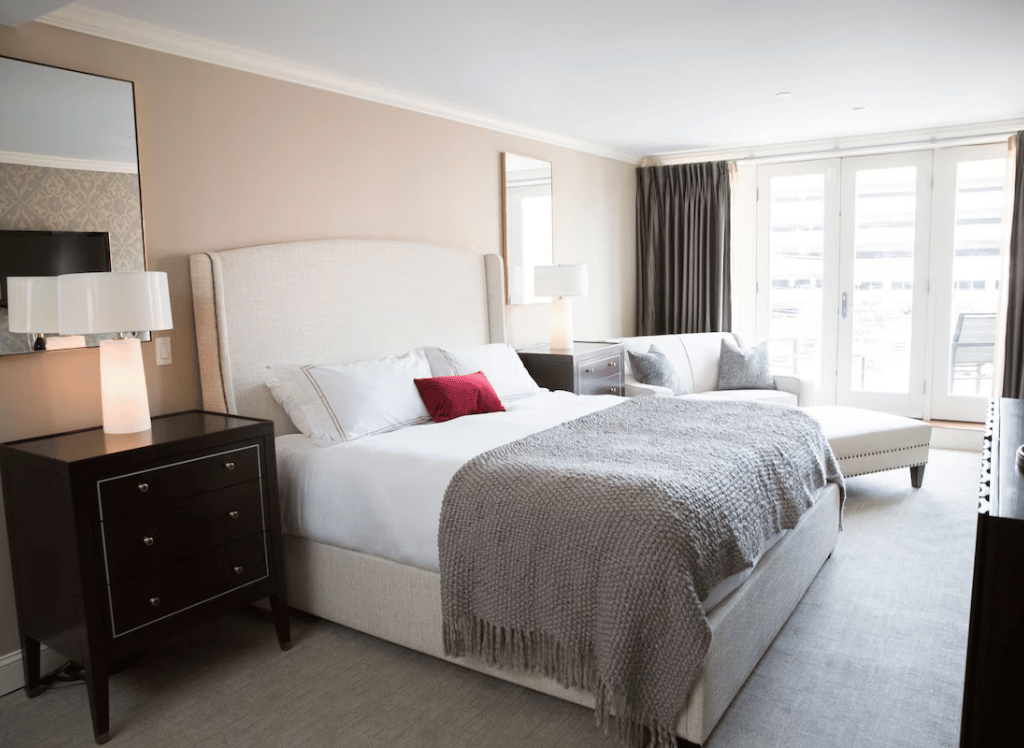 3. Portland Regency Hotel & Spa
Check Price on Expedia
Why Stay Here
Experience the perfect blend of history and luxury at the Portland Regency Hotel & Spa in Portland, Maine. Nestled in the heart of the Old Port historic district, this charming hotel is housed in an 1895 armory, exuding a unique character. Immerse yourself in the epitome of luxury with guest rooms featuring classic decor, original architectural details, and delightful touches like Molton & Brown bath amenities and nightly turn-down service. Get ready to indulge in a delightful stay that combines history, comfort, and exceptional service.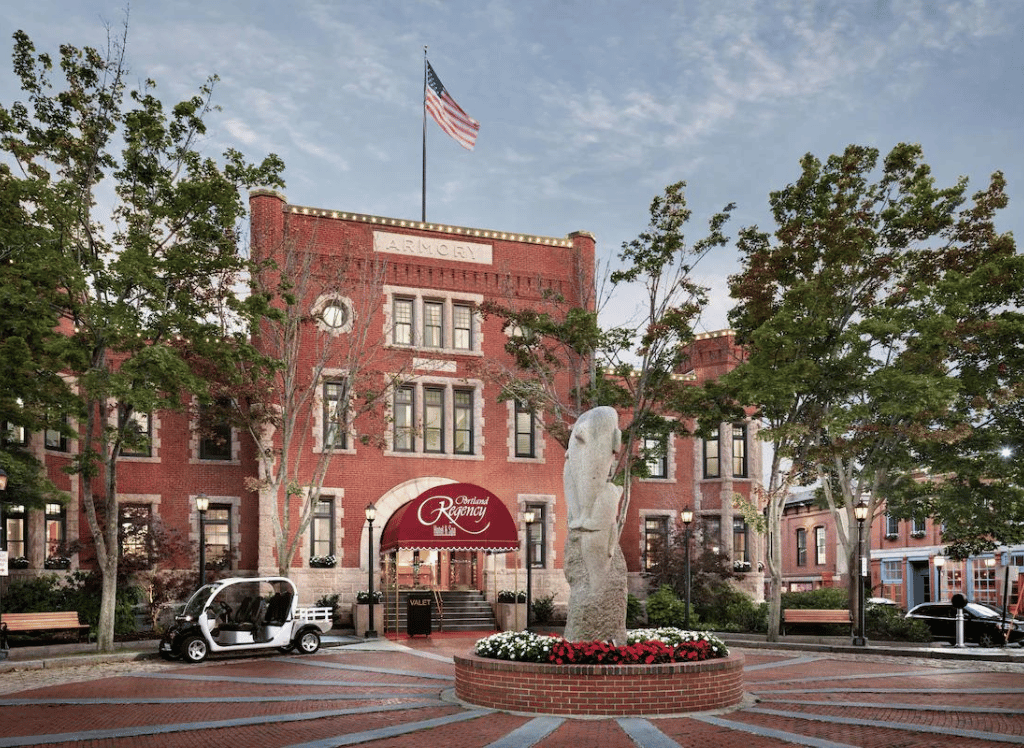 About The Hotel
Welcome to the Portland Regency Hotel & Spa, a charming 3.5-star historic hotel located in Downtown Portland. Treat your taste buds to a delightful meal at Eighteen95, the onsite restaurant. Wake up to a delicious full breakfast (surcharge), take advantage of the free area shuttle, and enjoy the convenience of valet parking (surcharge).
This hotel also offers express check-out, a 24-hour front desk, luggage storage, and smoke-free premises. The 95 individually furnished rooms provide a comfortable stay with amenities such as laptop-compatible safes, air conditioning, free WiFi, and bathrobes.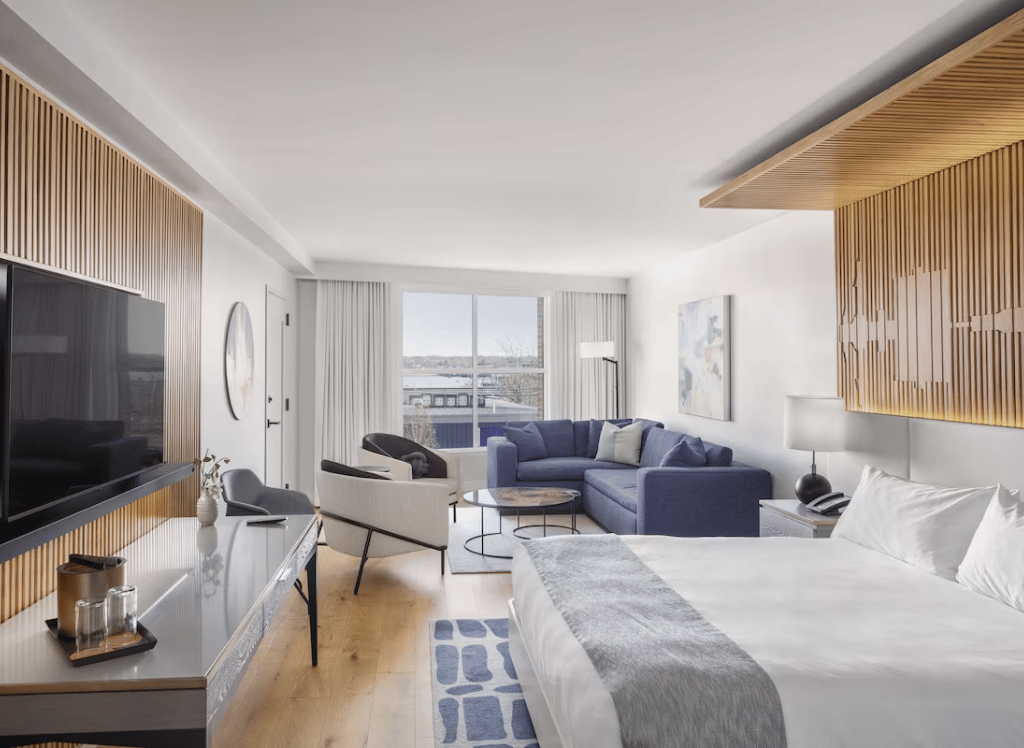 4. Canopy by Hilton Portland Waterfront
Check Price on Expedia
Why Stay Here
Guests choose to stay at Canopy by Hilton Portland Waterfront for several reasons. Firstly, the hotel offers a prime location with stunning views of the waterfront. Additionally, the hotel provides comfortable and stylish accommodations, along with exceptional amenities and services. The Canopy brand is known for its commitment to creating a welcoming and enriching experience for guests, making it a top choice for travelers seeking a memorable stay in Portland.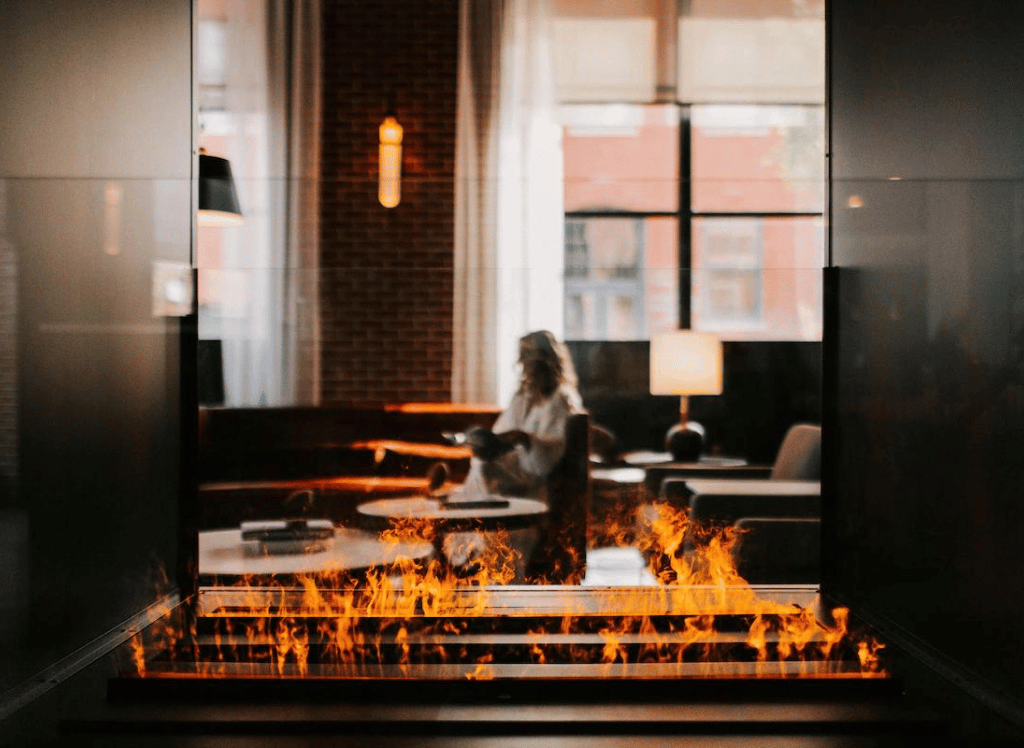 About The Hotel
Canopy by Hilton Portland Waterfront is a 4-star hotel located in Downtown Portland. Experience the inviting atmosphere and indulge in the comforts of the 135 rooms, each thoughtfully designed with premium bedding, laptop-compatible safes, and laptop-friendly workspaces.
Unwind in the lobby with a cozy fireplace or explore the two onsite restaurants offering delightful American cuisine and ocean views. Stay connected with free in-room WiFi and take advantage of additional perks like a complimentary manager's reception, gym, and bar. Start your day with a delicious cooked-to-order breakfast (surcharge) and enjoy the convenience of free bicycle rentals and valet parking (surcharge).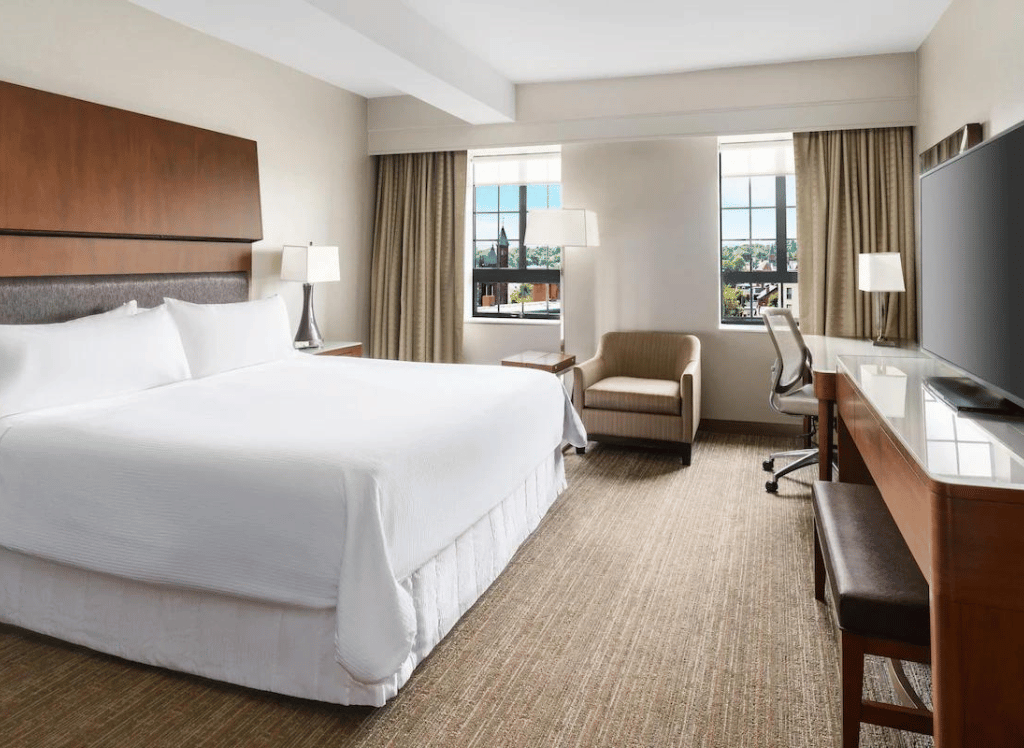 5. The Westin Portland Harborview
Check Price on Expedia
Why Stay Here
With sweeping harbor views and a prime location just steps away from major attractions like the Portland Museum of Art, this place has it all. The contemporary rooms feature plush beds, ergonomic workstations, and extra-large windows offering stunning city or harbor views.
Treat yourself to the ultimate indulgence by booking the Presidential Suite, complete with a swanky living room and a deluxe bathroom featuring a deep soaking tub. Hungry? Savor small plates and handcrafted cocktails at the rooftop bar and lounge, or head downstairs to Congress Squared Restaurant for delicious New England-style dishes and Maine classics!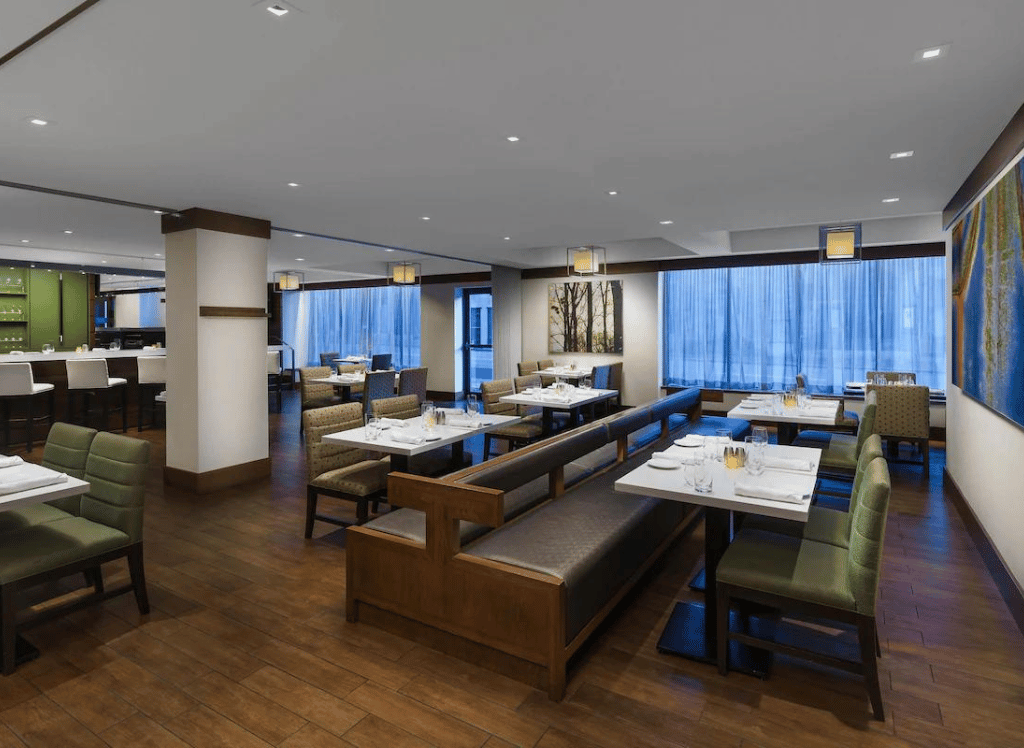 About The Hotel
The Westin Portland Harborview is a 4-star hotel conveniently located near the Portland Museum of Art. Immerse yourself in a world of luxury and relaxation, with designer stores on-site, a rejuvenating spa, and exceptional dining experiences. Indulge in a massage, pamper yourself with a manicure/pedicure, or revitalize your skin with a facial at Artne Spa.
Savor delectable American cuisine at C2 (Congress Squared), which offers a delightful brunch and happy hour. Unwind at the bar, stay active at the 24-hour gym, and stay connected with in-room WiFi. Enjoy additional amenities such as continental breakfast, valet parking, and express check-out.
With 289 rooms featuring premium bedding, spacious bathrooms with showers and free toiletries, 42-inch LCD TVs with premium channels, and convenient amenities like refrigerators and coffee/tea makers, your stay at The Westin Portland Harborview will be nothing short of exceptional.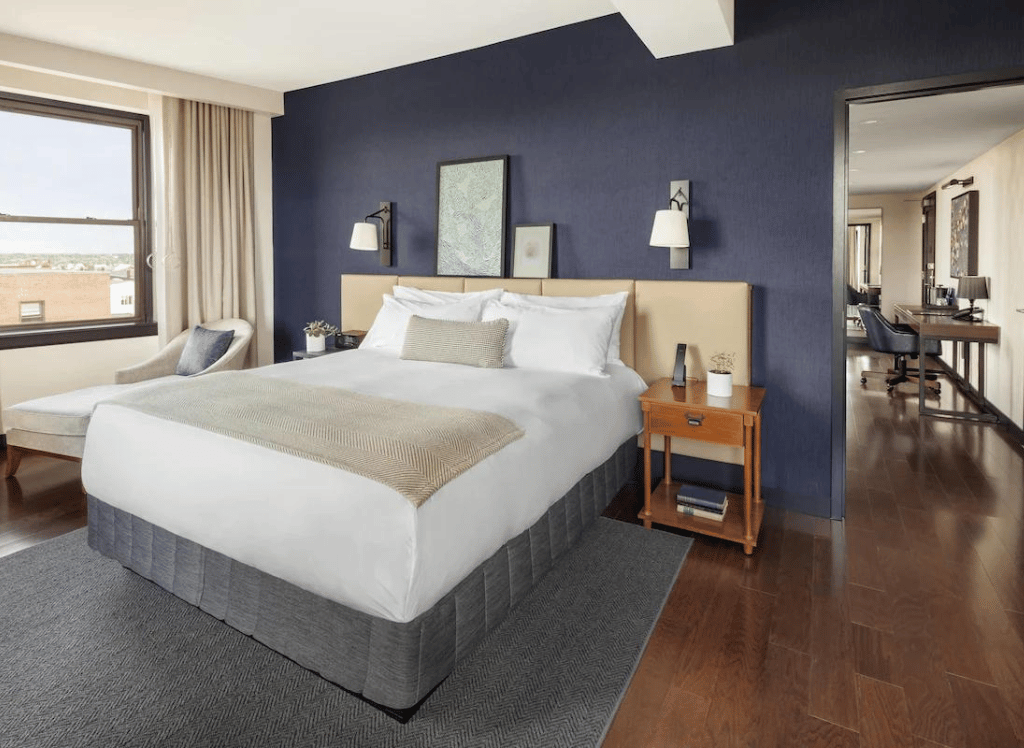 6. The Press Hotel, Marriott Autograph Collection
Check Price on Expedia
Why Stay Here
People choose to stay at The Press Hotel for several reasons. First, it is one of the best Portland hotels, offering a unique experience. The hotel is housed in the historic Gannett Building, the former headquarters of the Portland Press Herald, and pays homage to its newspaper-themed past. Guests can expect to find vintage typewriters, quotes from iconic Maine writers, and Scrabble boards throughout the building. Additionally, the rooms are inspired by 1920s writers' offices, adding to the charm and appeal of the hotel.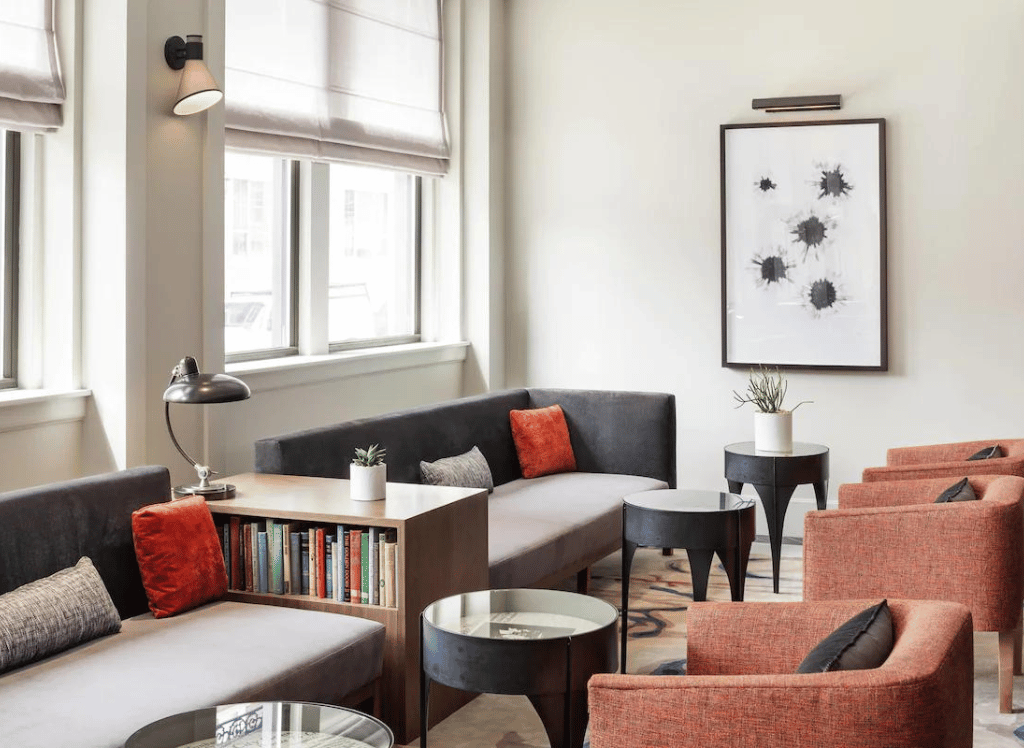 About The Hotel
This 4-star hotel is located in Downtown Portland, offering a delightful blend of art, comfort, and exceptional service. Discover the on-site art gallery, enjoy a cup of coffee at the cozy café, and take advantage of the convenient dry cleaning and laundry services. Indulge in a delectable American cuisine experience at UNION, the restaurant featuring delightful brunch options and a lively happy hour.
Unwind and socialize at the two vibrant bars, or explore the city with our complimentary bicycle rentals. Each of the 110 rooms features luxurious amenities such as pillow menus, air conditioning, and free WiFi. Enjoy a restful sleep on plush pillowtop mattresses with Frette Italian sheets, and rejuvenate in the modern bathrooms with rainfall showers and designer toiletries.
Best Hotels in Portland Maine FAQs
We know planning a trip can be as exciting as it can be overwhelming. To make your journey to Portland, Maine a breeze, we've created a guide to the most frequently asked questions about this charming city. Trust us, these tips will make your trip nothing short of amazing!
1. What is the best time to visit Portland, Maine?
The best time to visit Portland, Maine is from June to October. During these months, the weather is warm and pleasant, making it perfect for exploring the city's numerous outdoor activities. From hiking and biking to kayaking and whale watching, there are endless opportunities to immerse yourself in nature and enjoy the scenic beauty of the area.
Additionally, this period is when the city is bustling with events and festivals, offering a vibrant and lively atmosphere. However, it's important to note that this is also the busiest and most expensive time of the year, so it's advisable to plan your trip in advance and book accommodations and activities ahead of time.
2. What are the must-see attractions in Portland?
When visiting Portland, there are several must-see attractions that you shouldn't miss out on. One of these is the Portland Museum of Art, which showcases a diverse collection of contemporary and traditional artwork. Another must-visit spot is the historic Old Port, known for its charming cobblestone streets, unique shops, and vibrant waterfront ambiance.
Make sure to also check out the iconic Portland Head Light, a picturesque lighthouse that offers breathtaking views of the rugged coastline. If you're looking for a relaxing outdoor experience, the Eastern Promenade is the perfect place to go. This beautiful park offers stunning views of Casco Bay and is ideal for a leisurely stroll or a picnic.
And don't forget to explore Congress Street, a bustling hub of activity in the heart of downtown Portland. Here, you'll find an array of shops, boutiques, art galleries, and restaurants, making it the ideal spot for shopping and dining.
With these must-see attractions, your visit to Portland is bound to be filled with memorable experiences and fascinating discoveries.
3. Where should I eat in Portland?
When it comes to dining in Portland, you're in for a treat! The city boasts an incredible food scene that will satisfy all your cravings. For delectable seafood, make sure to visit Eventide Oyster Co., where you can indulge in the freshest catches of the day.
If you're a fan of fries, Duckfat is a must-visit spot known for their mouthwatering Belgian fries cooked to perfection. And for an unforgettable farm-to-table experience, Fore Street is the place to be, offering a diverse menu showcasing the best of local ingredients. Oh, and don't leave without trying their legendary lobster roll – it's simply divine!
4. Is Portland, Maine a walkable city?
Absolutely! With its charming streets and vibrant atmosphere, Portland offers a delightful walking experience. Whether you're strolling through the historic Old Port district or exploring the bustling Downtown area, you'll find an abundance of key attractions, renowned restaurants, and unique shops all conveniently within walking distance.
From the picturesque waterfront views to the inviting local boutiques, there's something to discover at every turn. So put on your most comfortable shoes and get ready to immerse yourself in the delightful walkability of Portland, Maine!
5. What outdoor activities are available in Portland?
In Portland, there is a wide range of outdoor activities to explore and enjoy. You can immerse yourself in the breathtaking beauty of nature by embarking on scenic hikes through the lush forests and picturesque trails.
For those who prefer a faster pace, biking along the scenic routes and cycling paths offers an exhilarating experience. If you're drawn to the sea, sailing adventures await you, along with the opportunity to witness majestic whales in their natural habitat.
Additionally, don't miss the chance to relax and unwind at the local beaches, where the soothing sounds of crashing waves and the soft sand beneath your feet create a serene atmosphere. Make sure to visit prominent parks like Deering Oaks and Eastern Prom, where you can bask in the tranquility and lush greenery surrounding you.
Portland truly offers an abundance of outdoor activities that cater to every adventurer's interest and preference.
6. Can I take public transportation in Portland?
Yes, you can. Public transportation in Portland is easily accessible and convenient. The METRO bus service operates throughout the city, offering a reliable way to get around. In addition to buses, you can also take advantage of the city's bike-sharing program, which provides another eco-friendly and efficient option for transportation. If you prefer, you can even rent a bike for a day to explore the city at your own pace. With these options available, navigating Portland has never been easier!
7. How many days should I spend in Portland, Maine?
To fully experience the charm of Portland, Maine, it is recommended to spend at least 2-3 days exploring the main highlights of the town. During this time, you can immerse yourself in the vibrant local culture, indulge in fresh seafood delicacies, and take in the picturesque coastal views.
However, if you wish to delve deeper into the beauty of the town and its surroundings, consider planning a week-long trip. This will allow you to venture beyond the city limits and discover the hidden gems of the region. From scenic lighthouses and breathtaking nature trails to charming coastal towns and quaint fishing villages, there is so much more to explore and cherish in and around Portland, Maine.
8. Is Portland family-friendly?
With its numerous parks, including the beautiful Forest Park and the scenic East End Beach, there are plenty of outdoor spaces for families to explore and enjoy. In addition, the city offers a variety of family-friendly attractions such as the interactive exhibits at the Children's Museum & Theatre and the opportunity to see local wildlife up close at the Maine Wildlife Park. Whether you're looking to spend a day at the beach, take a hike through nature, or engage in educational activities, Portland has something for everyone in the family to create lasting memories.
9. What local products should I try or bring home from Portland?
When visiting Portland, indulge in the culinary delights of Maine by trying their famous blueberries, which are known for their sweet and juicy flavor. Don't forget to savor the succulent lobster, a local specialty that will surely satisfy your taste buds. As you explore the city, immerse yourself in the vibrant craft beer scene, where you can discover unique and refreshing brews crafted with passion and creativity.
When it comes to souvenirs, consider bringing home a taste of Maine with locally sourced sea salt, harvested from the pristine waters of the Atlantic Ocean. For a piece of wearable art, explore the selection of handcrafted jewelry created by talented local artisans, showcasing the beauty and essence of the region. And if you're looking to adorn your home with a piece of Maine's artistic heritage, consider investing in an artwork created by one of the many talented Maine artists, capturing the essence of the landscape and culture in breathtaking detail.
10. How's the nightlife in Portland, Maine?
Looking for a lively nightlife experience in Portland, Maine? You're in for a treat! The city boasts a vibrant and diverse nightlife scene, offering an abundance of options for entertainment after dark. From trendy bars serving craft cocktails to cozy pubs with a wide selection of local brews, there's something to suit every taste. And if you're a fan of live music, you'll be delighted by the thriving music scene in Portland, with talented artists and bands performing across various venues almost every night. So, whether you're in the mood for a night of dancing, socializing, or simply enjoying some fantastic live performances, Portland has got you covered!
Final Thoughts About Best Hotels in Portland Maine
In conclusion, finding that perfect home away from home in Portland, Maine is easier than ever with these six top-rated hotels. Whether you're drawn to the historic charm of The Press Hotel, the luxurious amenities at The Westin Portland Harborview, or the unique features of other impressive accommodations in the city, you're guaranteed a memorable stay. As you explore the picturesque streets, local hospitality, and vibrant culture of Portland, these hotels provide the comfort, style, and authenticity that every traveler seeks!
Happy Travels! :)
💡
Looking for a way to spice up your upcoming trip? Look no further than Amazon! With a free
30-day trial of Amazon Prime Music
, you'll have access to over 2 million songs to soundtrack your adventure. Or, if audiobooks are more your speed, try out Audible Plus for
two free books
. And for those looking to streamline their packing process, a
FREE 30-day trial
of Amazon Prime ensures that everything will arrive in just two days - perfect for those last-minute additions. Don't miss out on these unbeatable offers and make your journey one that you'll never forget!