Experience a Home Away From Home: The 6 Best Hotels in Philadelphia
Experience a home away from home with one of these top 6 hotels! From luxurious amenities to cozy rooms, you'll find something here for everyone. So let's get started on your journey towards finding the perfect place to stay in Philly!
Journey Fanatics may earn a commission from qualifying purchases, but we promise the prices are still the same for you. No matter what your travel needs are, our list has got you covered. So pack your bags and get ready for the adventure of a lifetime with the best travel products on the market!
Are you searching for the perfect place to stay in Philadelphia?
Look no further! We've got the scoop on some of the best hotels in Philly, from luxury accommodations to boutique options. Whether you're looking for a romantic getaway or just need a comfortable spot to rest your head during your travels, we have something that will fit your needs.
You can explore all that this amazing city has to offer without breaking the bank. From historic sites and museums to delicious restaurants and nightlife – there is something for everyone here! Plus, with our top picks of hotels in Philadelphia, you can be sure that you are getting an unbeatable deal on quality accommodation.
Read our blog post now and find out which hotel is right for you!
How Journey Fanatics Chooses the Best Hotels in Philadelphia
You want to find the best hotels in Philadelphia, but there are so many options out there.
With all of these choices, it can be overwhelming trying to decide which hotel is right for you. How do you know if a hotel is going to meet your needs and provide an enjoyable experience?
Journey Fanatics has got you covered! We have done the research for you and selected only the best hotels in Philadelphia that offer great amenities, comfortable rooms, and excellent customer service. Our team of experts will help make sure your stay in Philly is one to remember!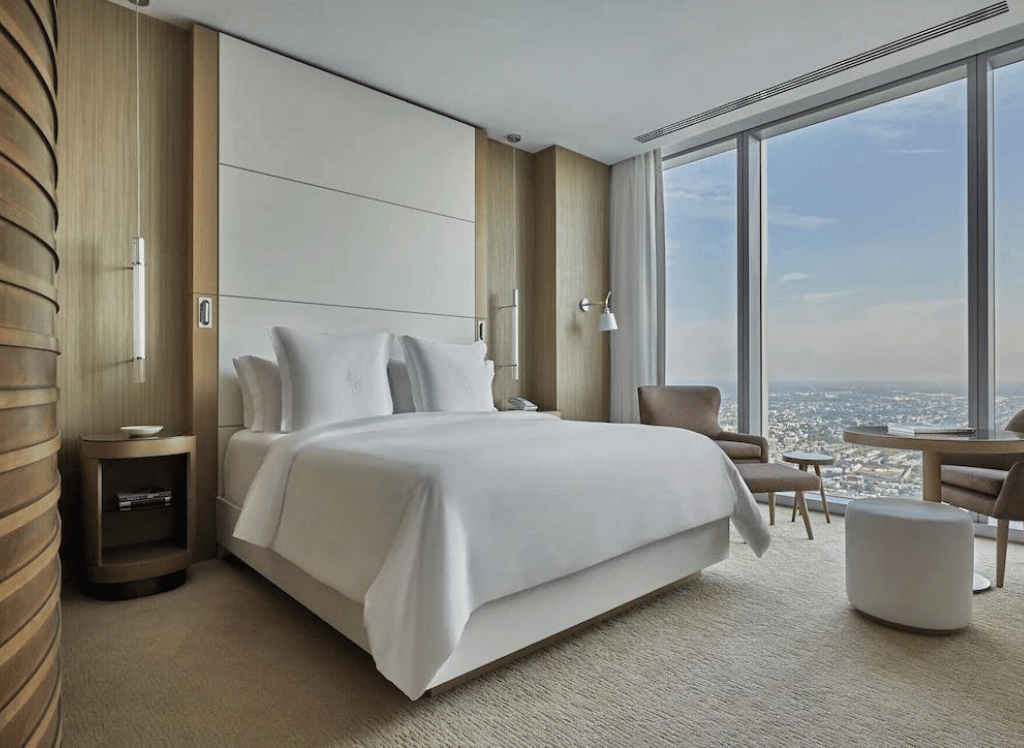 1. Four Seasons Hotel Philadelphia at Comcast Center
Check Hotel Prices on Expedia
Why We Love It
Experience the finest in luxury accommodation at Four Seasons Hotel Philadelphia, located at the magnificent Comcast Technology Center. Step into a sky lobby that will take your breath away, and choose from two stunning ballrooms for any event. Enjoy exquisite cuisine crafted by some of the world's top chefs, revitalize with treatments in our tranquil spa or take a refreshing swim in the pool overlooking incredible views of this great city - all while receiving renowned personalized hospitality from our friendly staff.
About The Hotel
Four Seasons Hotel Philadelphia at Comcast Center is a luxurious 5-star hotel located in the heart of Center City. It offers guests a truly unique experience with convenient access to Rittenhouse Square and The Franklin Institute, as well as many onsite amenities such as a coffee shop/cafe, dry cleaning/laundry services, 2 bars, an onsite spa offering manicure/pedicures and massages, two restaurants serving seafood and more, free in-room WiFi connectivity, 24-hour gym access and conference space.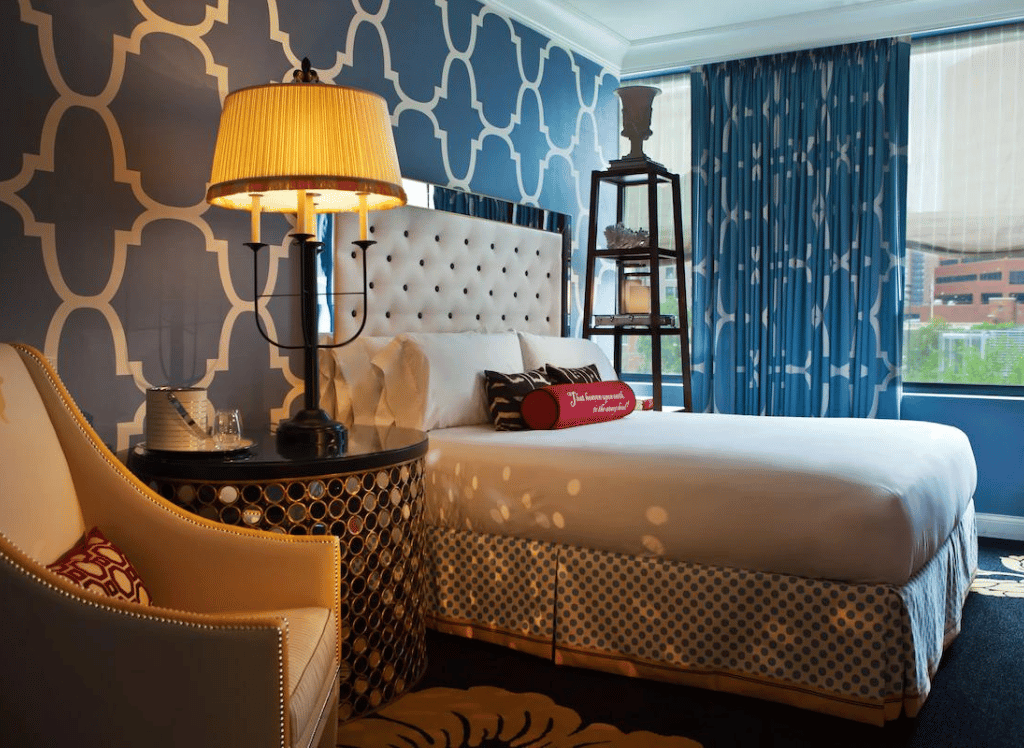 2. Kimpton Hotel Monaco Philadelphia
Check Price on Amazon
Why We Love It
This stunning hotel is nestled in the heart of Philly's historic district, with the world-famous Liberty Bell just one block away. Step inside and be impressed by its lavish lobby with whimsical decor, period furnishings, and antique touches. Need a place to hang out? Head up to the rooftop lounge for curated cocktails, small plates, and live music! Whether you're in town for business or pleasure, Kimpton Hotel Monaco Philadelphia promises an unforgettable experience that will keep you coming back again and again.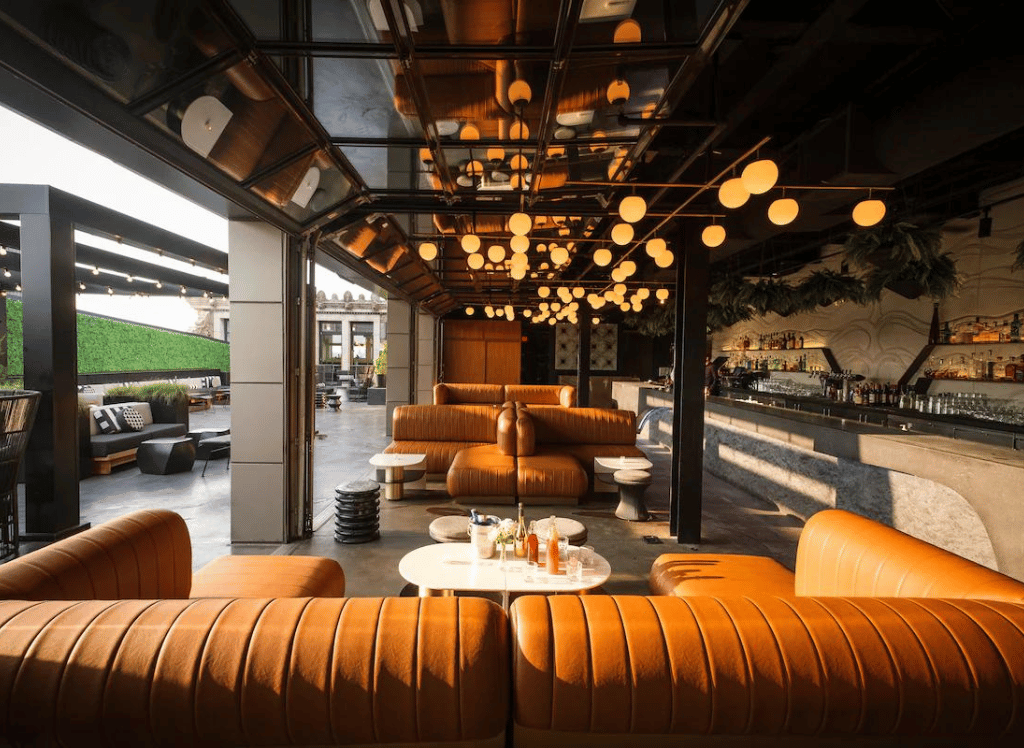 About The Hotel
Located in the heart of Center City, Kimpton Hotel Monaco Philadelphia, an IHG hotel, is a 4.5-star luxury destination for business and leisure travelers alike. The property offers amenities such as a rooftop terrace with stunning views of the city skyline, dry cleaning/laundry services, massage and spa services, and a 24-hour business center. Guests can also enjoy delicious American cuisine from the onsite restaurant Red Owl Tavern or indulge in room service while luxuriating in their impeccably decorated rooms featuring plush beds with leather tufted headboards and oversized writing desks.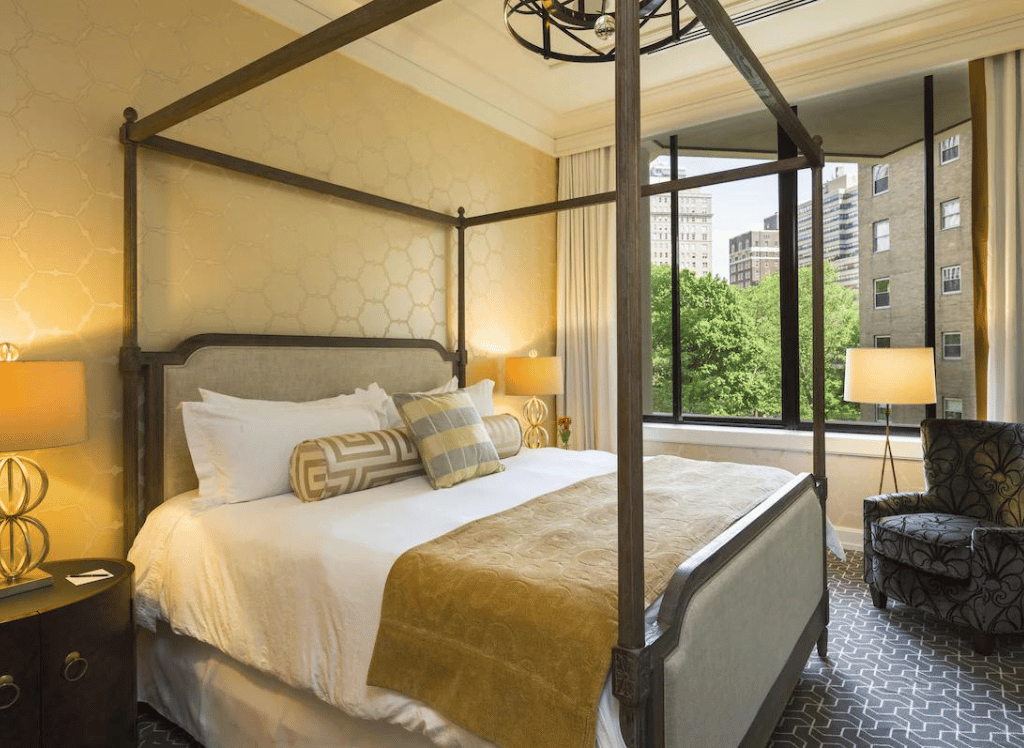 3. The Rittenhouse Hotel
Check Hotel Prices on Expedia
Why We Love It
Experience true Philadelphia hospitality by staying at The Rittenhouse Hotel. Nestled in the heart of bustling downtown Philly and right at the entrance of beautiful Rittenhouse Square, this 12-story historic landmark offers 78 inviting suites from studios to two-bedroom apartments, each with fully-equipped kitchens. Here you'll find luxury living with a modern touch that will make your stay memorable and comfortable. Perfect for both short getaways or extended stays, boutique style meets elegance when you check into The Rittenhouse Hotel!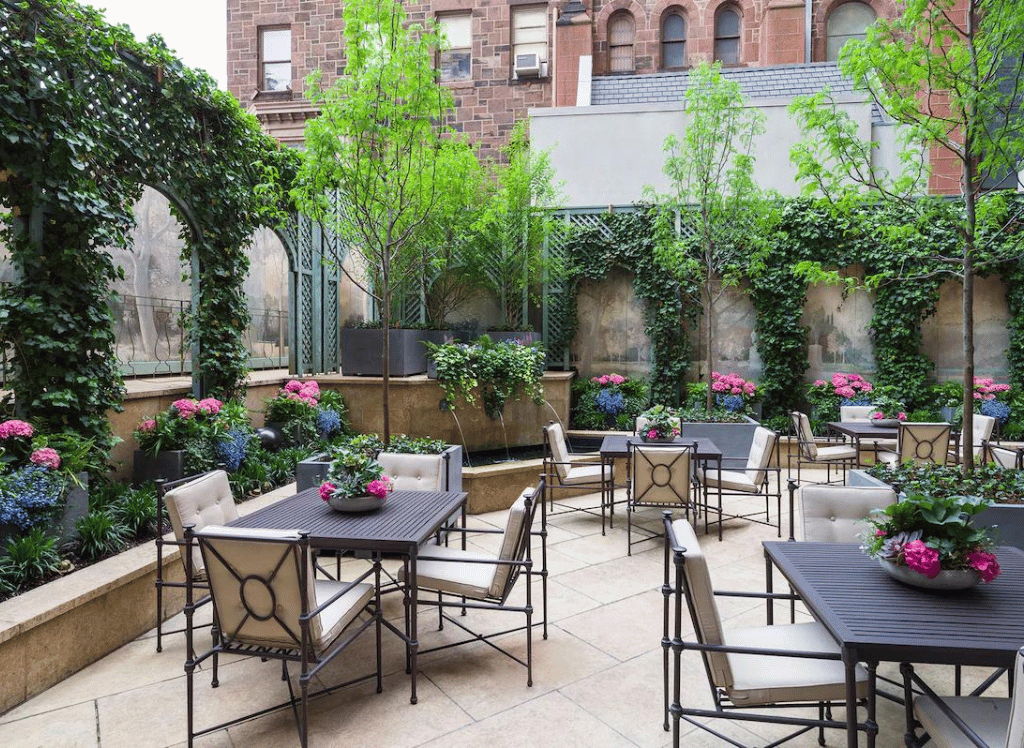 About The Hotel
Located in the heart of Philadelphia, this boutique hotel offers guests an unparalleled experience with its luxurious accommodations and amenities. From large guest rooms featuring comfy pillow-top beds, marble baths with massage showerheads, and carefully curated minibars to twice-daily housekeeping service and 24-hour room service, every detail has been thoughtfully considered for the ultimate comfort. In addition to their lodging options, The Rittenhouse also boasts a variety of amenities such as award winning restaurants, chic lounge areas, elegant libraries, a fully outfitted gym, a heated indoor pool and a luxury spa – all within walking distance from beautiful Rittenhouse Square. Whether you're looking for an extended stay or just passing through for the night – The Rittenhouse will provide everything you need for an unforgettable time in Philadelphia!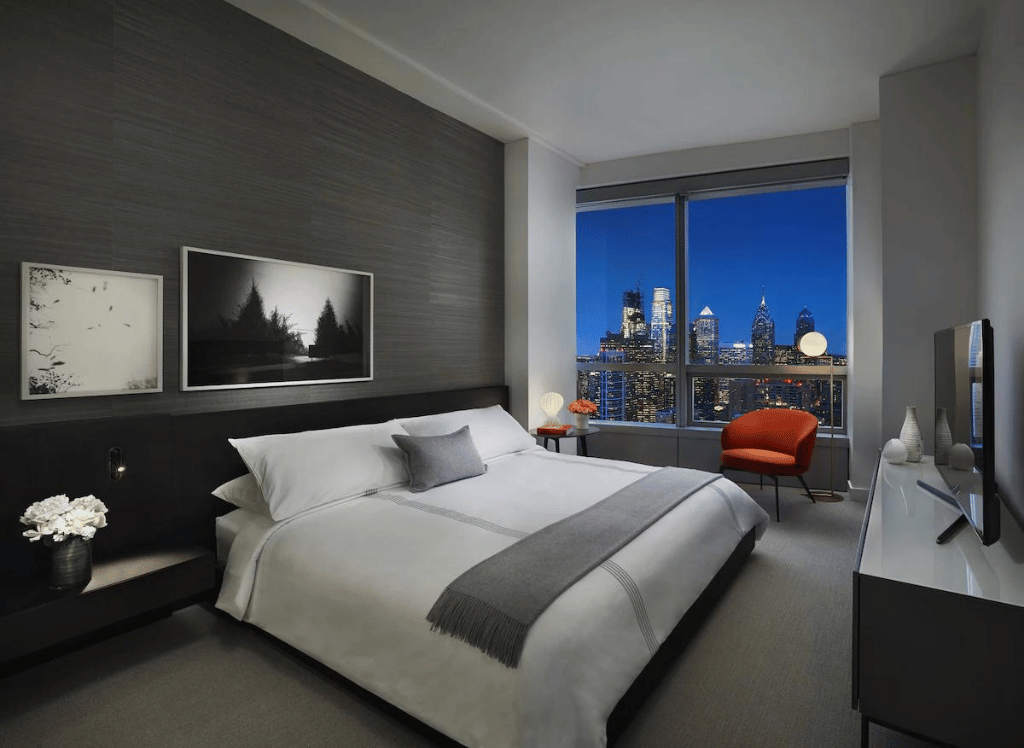 4. AKA University City
Check Hotel Prices on Expedia
Why We Love It
AKA University City is the perfect place to stay for an extended visit or a short holiday. With 268 extraordinary residences, including 30 serviced and furnished apartments and 105 long-term apartment residences, you'll have plenty of room to make yourself at home. Not to mention, Level 28 offers luxury amenities like a lap pool, fitness center, yoga area, 3D golf simulator and outdoor terrace with fire pits that can be enjoyed during your stay! To top it off there's also the private theater complete with its own film library so you can pick out your favorite movie for some entertainment.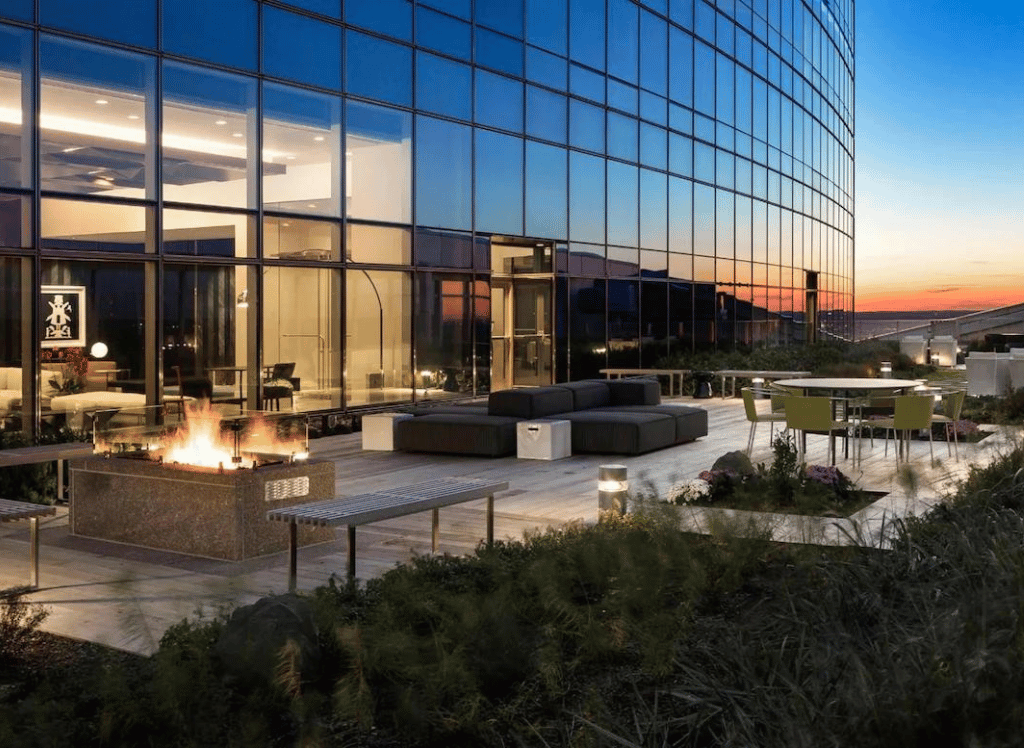 About The Hotel
AKA University City is an exceptional apart-hotel located in the thriving neighborhood of University City. This luxurious property offers a wide range of amenities and services to ensure guests have everything they need for a comfortable stay. From its 28th floor lounge, state-of-the-art gym, 75 foot Olympic size pool, bar and restaurant to its contemporary apartments with custom furniture, Italian white oak flooring and stunning city views - this hotel has it all! Guests can also take advantage of Circa Green park or explore the city with the TESLA house car service.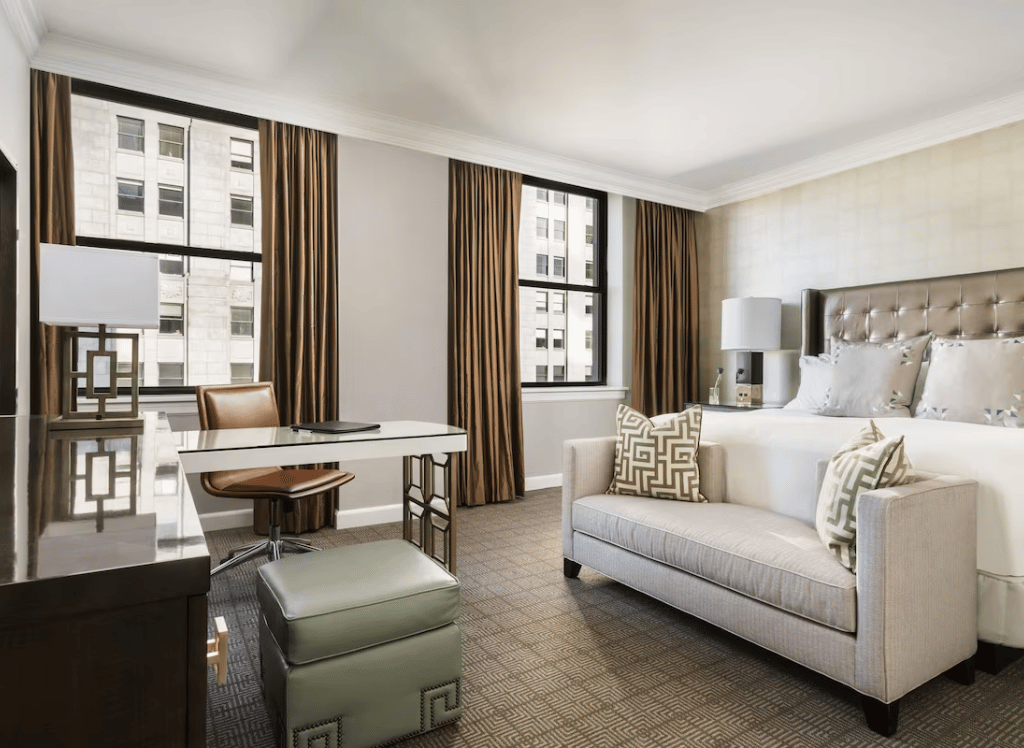 5. The Ritz-Carlton
Check Hotel Prices on Expedia
Why We Love It
This beautiful property is a must-see gem on Philly's Avenue of the Arts, boasting an impressive marble lobby that will leave you breathless. Each of its 300+ rooms offers top-notch amenities for your comfort and relaxation. If you're looking for something special, don't miss out on booking the incredible Ritz Carlton Suite—accessible via your own private elevator—and offering spectacular views of Philadelphia City Hall! Of course, guests can also enjoy modern Latin American fusion cuisine at Aqimero and indulge in spa treatments at Richel D'Ambra Salon & Spa including massage, reflexology and more.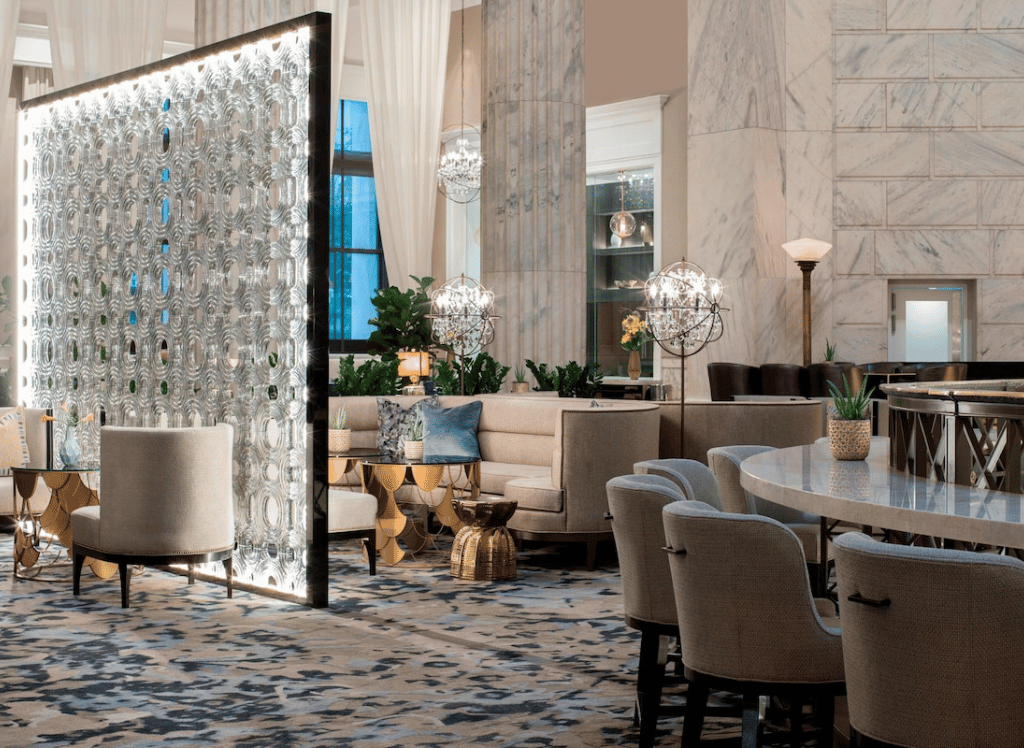 About The Hotel
The Ritz-Carlton Philadelphia is the perfect place for a luxurious stay in the City of Brotherly Love. Situated in an iconic 1908 neoclassical bank building, it's just steps away from popular attractions like Rittenhouse Row, Market Street and the Philadelphia Art Museum. The hotel offers guests a range of amenities including plush Standard Rooms with spa-like bathrooms, Club Level rooms and suites with exclusive access to a 30th floor lounge, state-of-the-art fitness centre, spa treatments and salon services at Aqimero restaurant which serves up eclectic Latin American inspired dishes.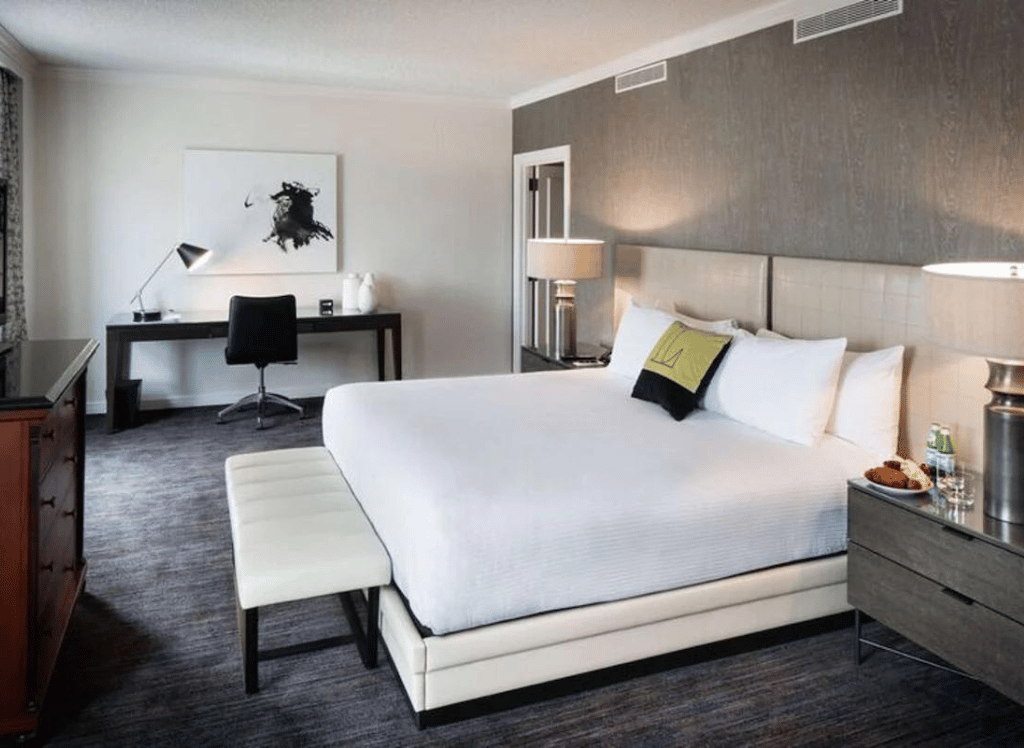 6. The Logan Philadelphia
Check Hotel Prices on Expedia
Why We Love It
This stunningly beautiful hotel is situated right across from the Swann Memorial Fountain and offers 391 luxurious rooms and suites. Have some unwinding time in our Presidential Suite, which includes a gorgeous balcony overlooking Logan Square. Enjoy drinks at Assembly Rooftop Lounge with its modern vibes, or dine in at urban Farmer steakhouse. For those looking for pampering treatments, visit Underground Spa & Wellness where you can get hydrafacials, massages, and more!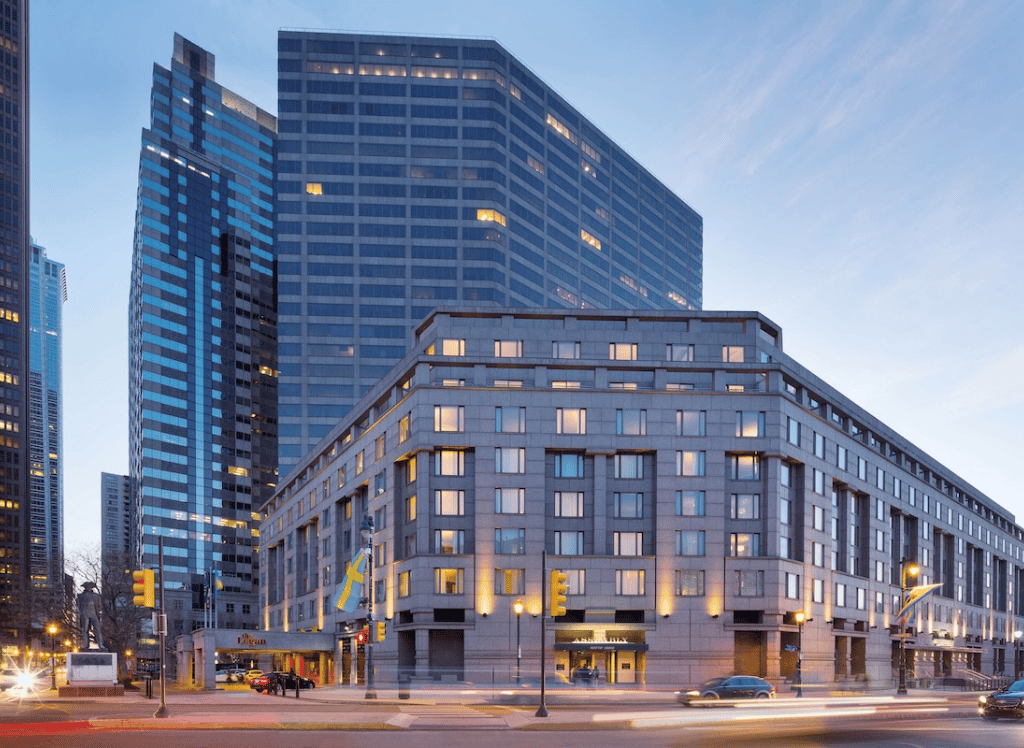 About The Hotel
The Logan Philadelphia, Curio Collection by Hilton is a 4.5-star luxury hotel located in Center City. This exquisite property offers guests the perfect blend of convenience and relaxation, with its close proximity to the Pennsylvania Convention Center and Rittenhouse Square as well as an array of amenities such as a terrace, coffee shop/cafe, garden, spa services like body wraps and hot stone massages, an American cuisine steakhouse offering brunch options called Urban Farmer, dry cleaning/laundry services and free WiFi access in public areas.
Best Hotels in Philadelphia FAQs
Are you looking for the best hotels in Philadelphia but don't know where to start?
With so many options, it's hard to narrow down your choices and find the perfect hotel that fits your needs. You want a place with great amenities, comfortable rooms, and an unbeatable location - but how do you make sure you get all of these things?
Look no further than Journey Fanatics! We've done the research for you and compiled a list of Frequently Asked Questions about Hotels in Philadelphia. Our FAQs will help guide you through the process of finding the perfect hotel for your next trip.
1. What are the best luxury hotels in Philadelphia?
Some of the top rated luxury Philadelphia hotels include The Rittenhouse, AKA University City and The Logan. Each of these hotels offer upscale amenities, like marble bathrooms, and plush bedding. Additionally, all three properties feature excellent onsite restaurants and bars as well as spas with rejuvenating treatments. Whether you're looking for a relaxing stay or an exciting night out in the city, these luxury hotels are sure to make your visit unforgettable.
2. Are there any boutique hotels located near Center City Philadelphia?
Yes! Kimpton Hotel Monaco is a popular boutique hotel located near Center City. It features wonderful windows with city views, plush bedding, and a 24-hour fitness center. The Independent Hotel is also located nearby and offers great amenities such as complimentary breakfast and Wi-Fi access. Both hotels provide an excellent luxury experience for travelers visiting Philadelphia.
3. Are there any luxury hotels with floor-to-ceiling windows in Philadelphia?
4. Where is City Center Philadelphia located?
City Center is an area of downtown Philly bounded by Market Street to the south, Arch Street to the north, Broad Street on its east side and 15th Street on its west side.
Final Thoughts About Best Hotels in Philadelphia
Philadelphia is an amazing city with plenty of lodging options. Whether you're looking for a luxurious stay or just somewhere to rest your head, there are six great hotels in the City of Brotherly Love that will make you feel right at home. Each hotel offers something unique and special.  Whether it's the the historic feel of the Rittenhouse Hotel or the classic elegance of The Logan Philadelphia, you'll get to experience a high-end stay with all of the comforts and conveniences that come along with being in one of America's great cities.
Looking for a way to spice up your upcoming trip? Look no further than Amazon! With a free 30-day trial of Amazon Prime Music, you'll have access to over 2 million songs to soundtrack your adventure. Or, if audiobooks are more your speed, try out Audible Plus for two free books. And for those looking to streamline their packing process, a FREE 30-day trial of Amazon Prime ensures that everything will arrive in just two days - perfect for those last-minute additions. Don't miss out on these unbeatable offers and make your journey one that you'll never forget!
Happy Travels! :)