7 Best Hotels in Amsterdam: Your Gateway to Dutch Majesty
Experience the true essence of the Dutch capital with our curated list of the 7 best hotels in Amsterdam! From luxury accommodations like Waldorf Astoria and Hotel Okura to boutique havens nestled within the city center, each offers a unique gateway to Amsterdam's majesty.
Journey Fanatics may earn a commission from qualifying purchases, but we promise the prices are still the same for you!
Welcome to the vibrant heart of the Netherlands, where timeless Dutch traditions blend seamlessly with cutting-edge modernity. Amsterdam, fondly known as the "Venice of the North," offers enchanting canals, delightful art galleries, history-rich museums, and a lively nightlife scene that will leave you wanting for more. Did you know that Amsterdam is home to more than 1500 bridges, outshining even Venice in its number of crossings?
As your travel companion, we're here to help you navigate this city's unique charm and vibrancy with our meticulously curated list of the top 7 hotels. From the opulent Waldorf Astoria to the conveniently located Grand Hotel Krasnapolsky, these accommodations promise not just a place to rest your head, but a quintessential Amsterdam experience. Pack your bags and let's embark on an unforgettable Dutch adventure together!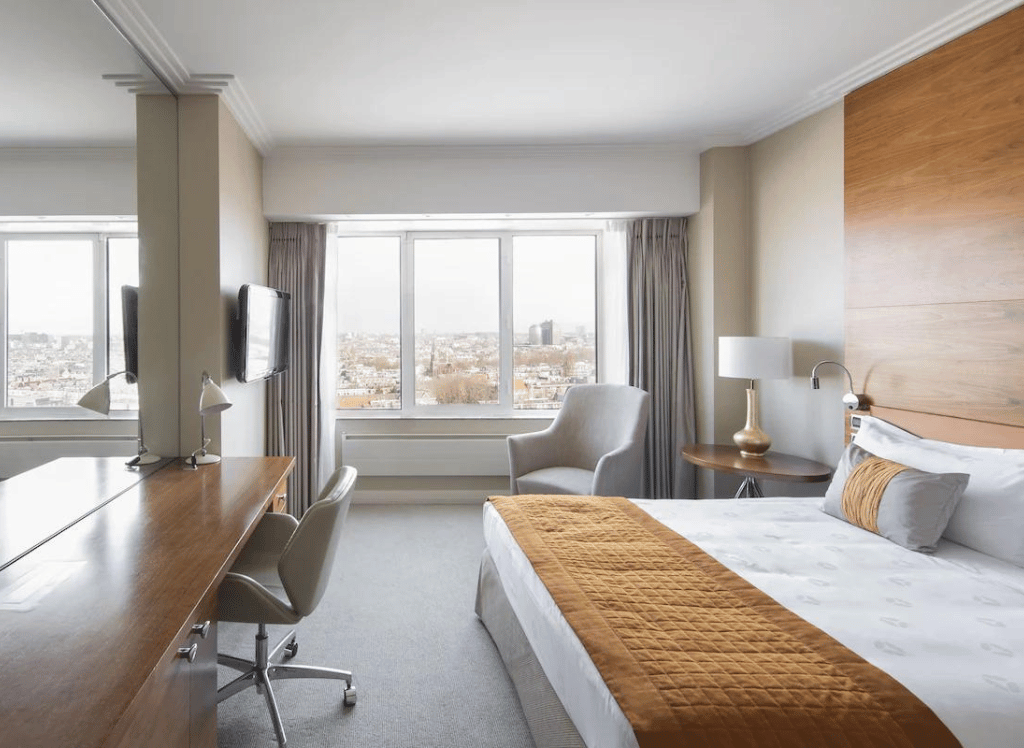 Check Price on Expedia
Why Stay Here
This luxury eco-certified hotel offers a prime location near the Heineken Experience, Rijksmuseum, and Van Gogh Museum. With a variety of onsite amenities, including a spa, 4 restaurants with stunning garden views, and aerobics classes at the gym, there is something for everyone.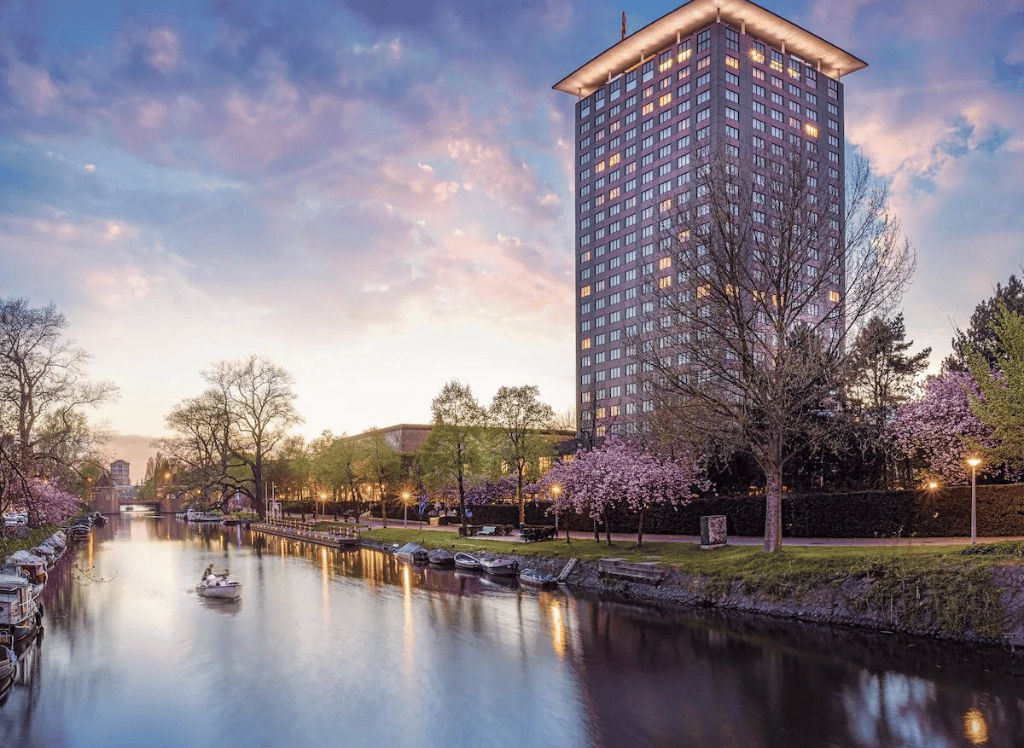 Enjoy perks like an indoor pool with sun loungers, limo service, and buffet breakfast. The helpful staff and thoughtful room features, such as pillow menus and laptop-friendly workspaces, ensure a comfortable stay. Plus, the hotel's commitment to sustainability with recycling, LED light bulbs, and eco-friendly cleaning products adds an extra touch.
Hotel Features You'll Love
Hotel Okura Amsterdam is committed to sustainability, featuring recycling initiatives, LED light bulbs, and eco-friendly cleaning products.
Situated conveniently close to the Heineken Experience, Rijksmuseum, and Van Gogh Museum, the hotel offers easy access to some of Amsterdam's top tourist spots.
With an indoor pool, a spa, four restaurants offering garden views, and aerobics classes at the gym, guests have a wide range of facilities to enjoy without leaving the hotel premises.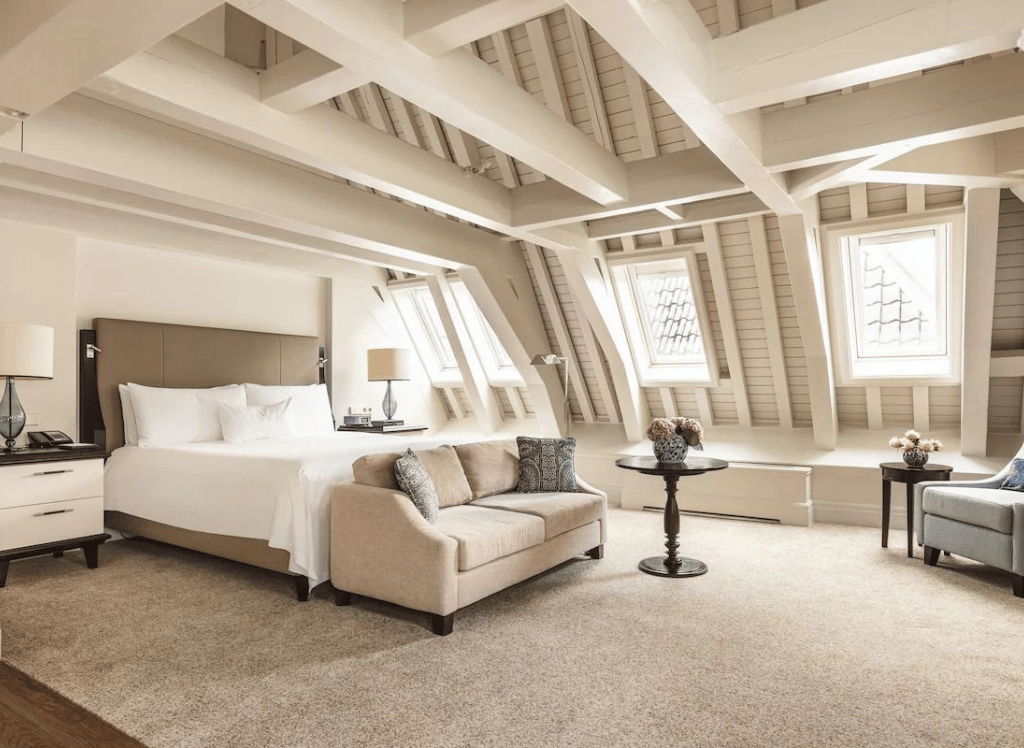 2. Waldorf Astoria Amsterdam
Check Price on Expedia
Why Stay Here
People choose to stay at the Waldorf Astoria Amsterdam for the unrivaled luxury and the top-notch services it provides, making every guest feel like royalty. Set in the heart of the city, this hotel combines timeless elegance, rich history, and modern comfort, all backed by the renowned Waldorf Astoria service.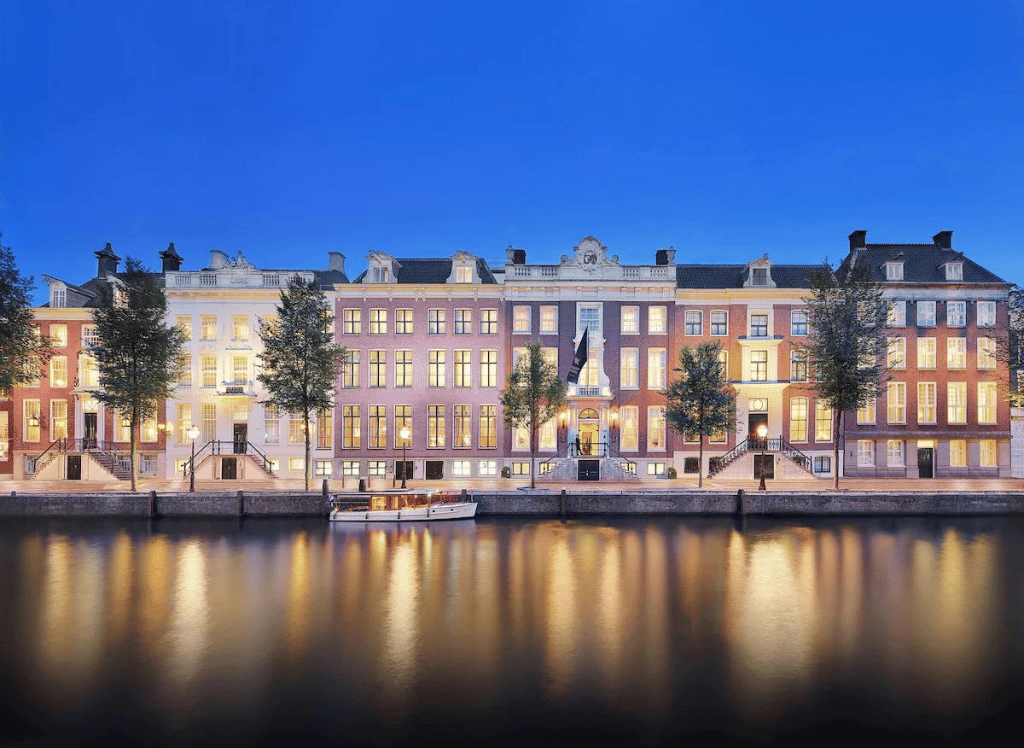 Each visit to this grand hotel promises an unforgettable experience, from the exquisite dining at the Spectrum Restaurant to the tranquility offered by the Guerlain Spa. Not to mention, its ideal location places you within walking distance of Amsterdam's must-visit attractions like the Willet-Holthuysen Museum.
Hotel Features You'll Love
Waldorf Astoria Amsterdam is well-known for its timeless elegance and rich history, providing unrivaled luxury in the heart of the city. Each visit promises an unforgettable experience enveloped in the renowned Waldorf Astoria service.
The hotel features an onsite spa, the Guerlain Spa, offering a range of body treatments, body scrubs, or wraps, bringing tranquility and relaxation to every guest.
The hotel is centrally situated, just a short walk from top attractions like the Willet-Holthuysen Museum, giving guests easy access to the best of Amsterdam.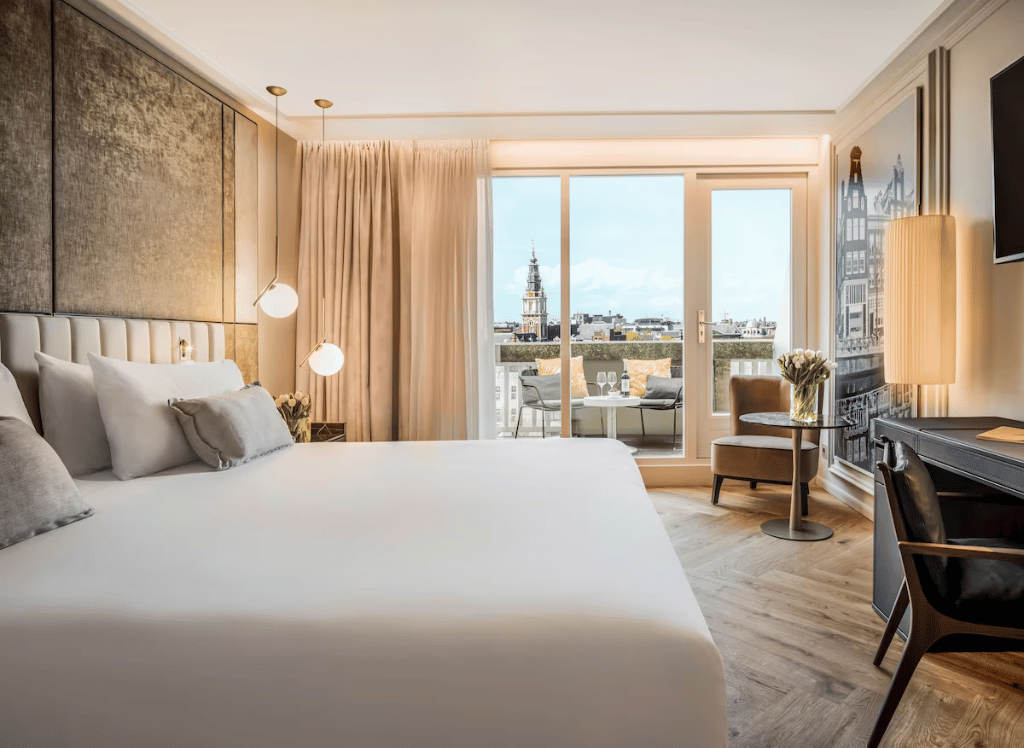 3. Anantara Grand Hotel Krasnapolsky Amsterdam
Check Price on Expedia
Why Stay Here
This luxury eco-certified hotel is not only conveniently located near the Flower Market, but also within close proximity to the Anne Frank House and Rijksmuseum. With a terrace, garden, and dry cleaning/laundry services, your comfort is their top priority.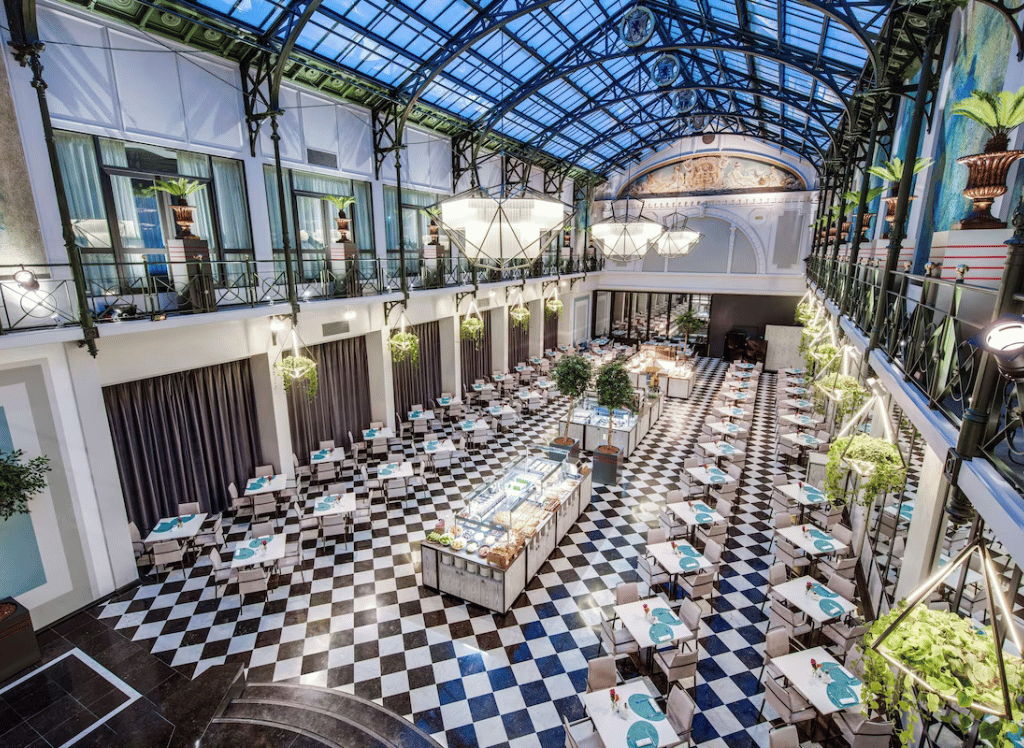 Indulge in a delightful meal at Restaurant The White Room, the exquisite fine-dining restaurant. Stay connected with free WiFi in public areas and take advantage of the bar and 24-hour gym. All 402 rooms are designed for your utmost comfort, featuring amenities such as air conditioning, bathrobes, and safes.
Hotel Features You'll Love
Luxury eco-certified hotel nestled near the vibrant Flower Market and within close proximity to notable attractions like the Anne Frank House and Rijksmuseum.
Onsite amenities including a fine-dining restaurant, the Restaurant The White Room, a round-the-clock fitness center, and free WiFi connectivity in public areas.
402 well-appointed rooms equipped with air conditioning, bathrobes, safes for valuables, and sound-insulated walls, all designed for ultimate guest comfort and convenience.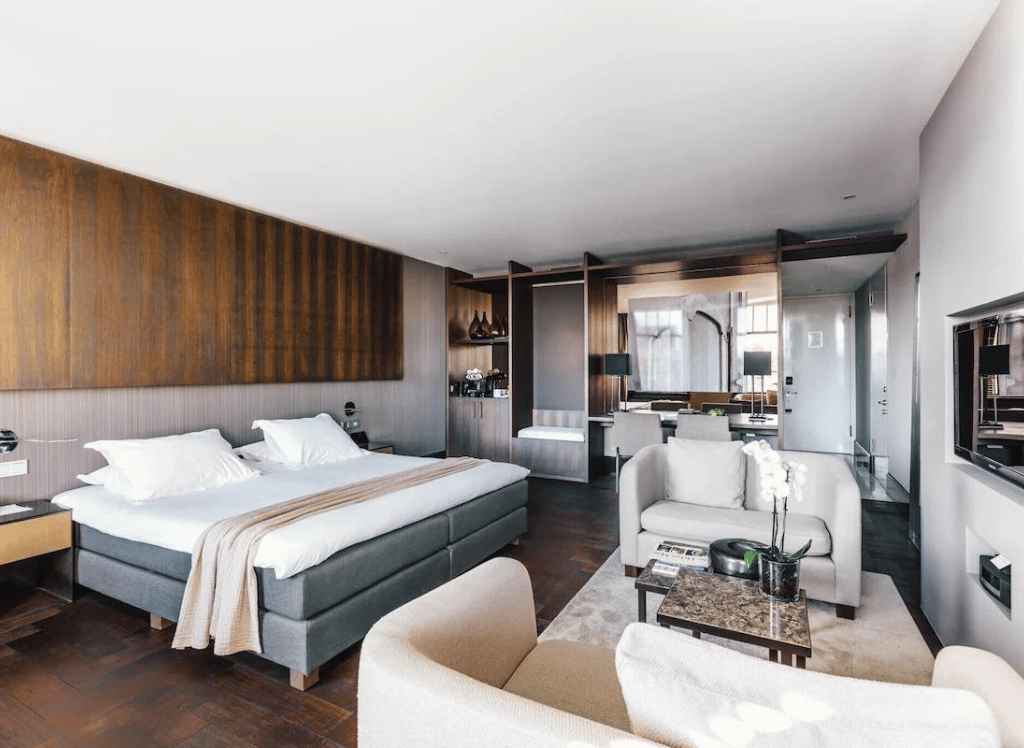 Check Price on Expedia
Why Stay Here
People choose The Dylan Amsterdam for its unique amalgamation of heritage charm and contemporary comfort. This luxury boutique hotel is a veritable oasis in the heart of Amsterdam, tucked away within the 'Nine Streets'. Guests are drawn to its tranquil courtyard and stylish, individually furnished rooms, each boasting a distinct character of its own.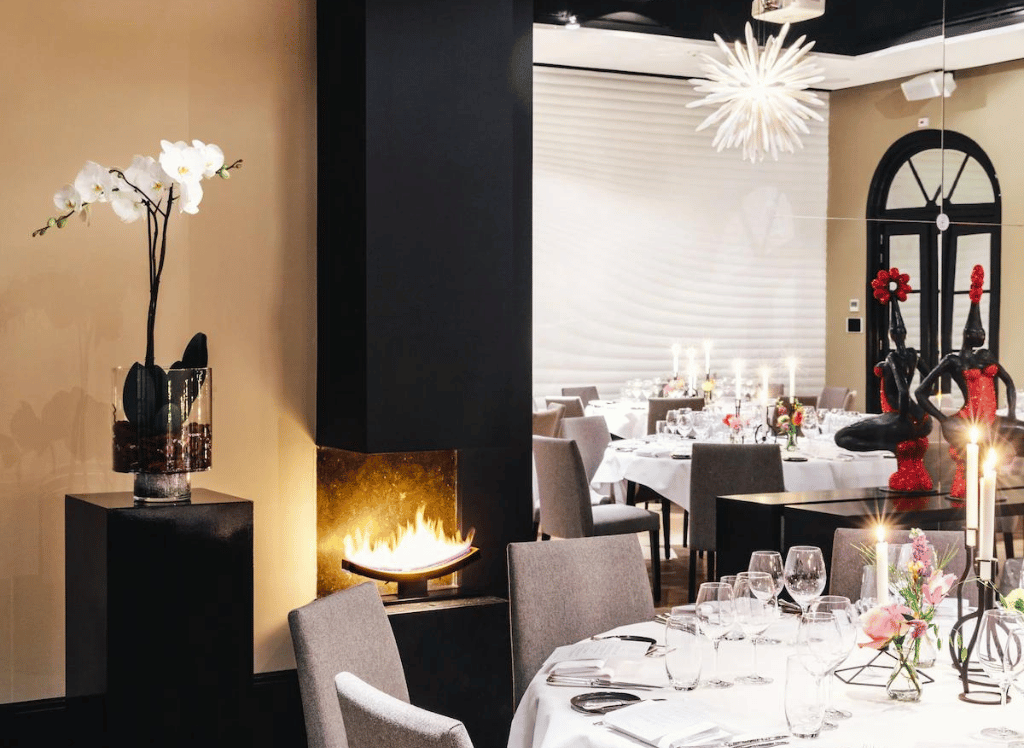 The prime location within strolling distance of the Anne Frank's House and Rijksmuseum, makes it a luring choice for culture enthusiasts. Gastronomes will delight in their Michelin-starred restaurant Vinkeles, where every dish tells a story. Another bonus is the genuine and warm service that rings true to Dutch hospitality.
Hotel Features You'll Love
The Dylan Amsterdam offers an ideal location near key attractions such as Dam Square and Rijksmuseum, providing an easy access to the city's cultural and historical landmarks.
It houses Michelin-starred restaurant Vinkeles, which serves exquisite cuisines, adding a unique gastronomic experience to your stay.
The hotel boasts individually furnished rooms and a tranquil courtyard, offering an elegant blend of heritage charm and modern comfort.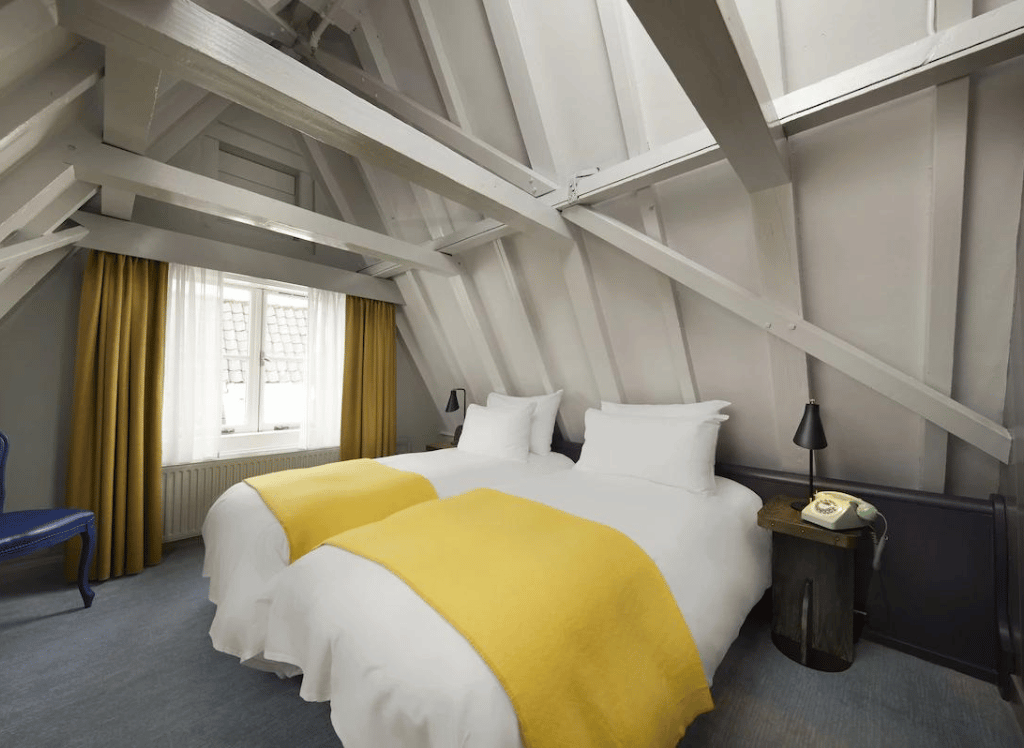 Check Price on Expedia
Why Stay Here
Guests are drawn to the Pulitzer Amsterdam for its rich historical charm seamlessly blending with modern luxury. It is a historic hotel situated close to Dam Square and is a walking distance to key attractions like the Anne Frank House and Leidseplein.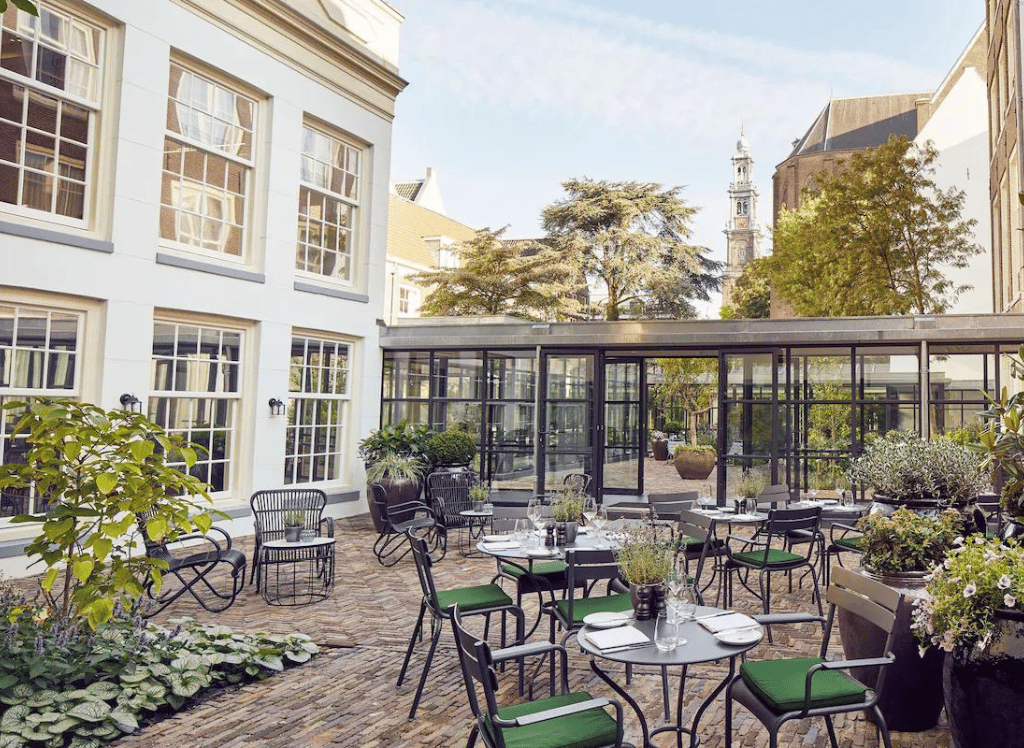 The Pulitzer isn't just a place to sleep; it's an experience in itself. With an on-site art gallery, a shopping mall, two restaurants serving delectable international cuisine, and a gym available round the clock, there is never a dull moment. Additionally, guests can immerse themselves in Amsterdam's vibrant culture by renting a bike or partaking in motor-boating activities.
Hotel Features You'll Love
Pulitzer Amsterdam is housed within 25 interlinked 17th and 18th-century canal houses, offering guests a unique blend of historical charm and modern luxury.
The hotel features an art-filled garden, providing a serene space for guests to relax amidst remarkable sculptures and installations.
Pulitzer Amsterdam is the only hotel with a classic salon boat from 1909, which guests can rent for a unique and luxurious way to explore Amsterdam's iconic canals.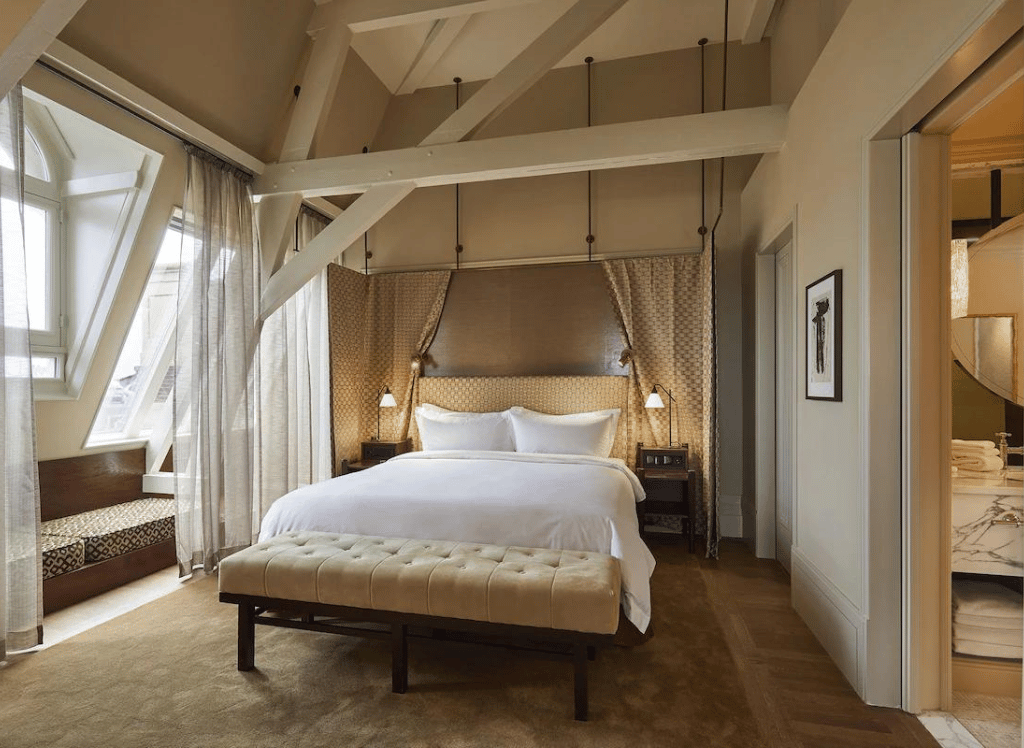 Check Price on Expedia
Why Stay Here
Travelers from around the globe gravitate towards De L'Europe Amsterdam for its incredible blend of historic charm and luxurious comfort. This iconic hotel, nestled close to the vibrant Flower Market and the renowned Museum Van Loon, offers an unparalleled Amsterdam experience.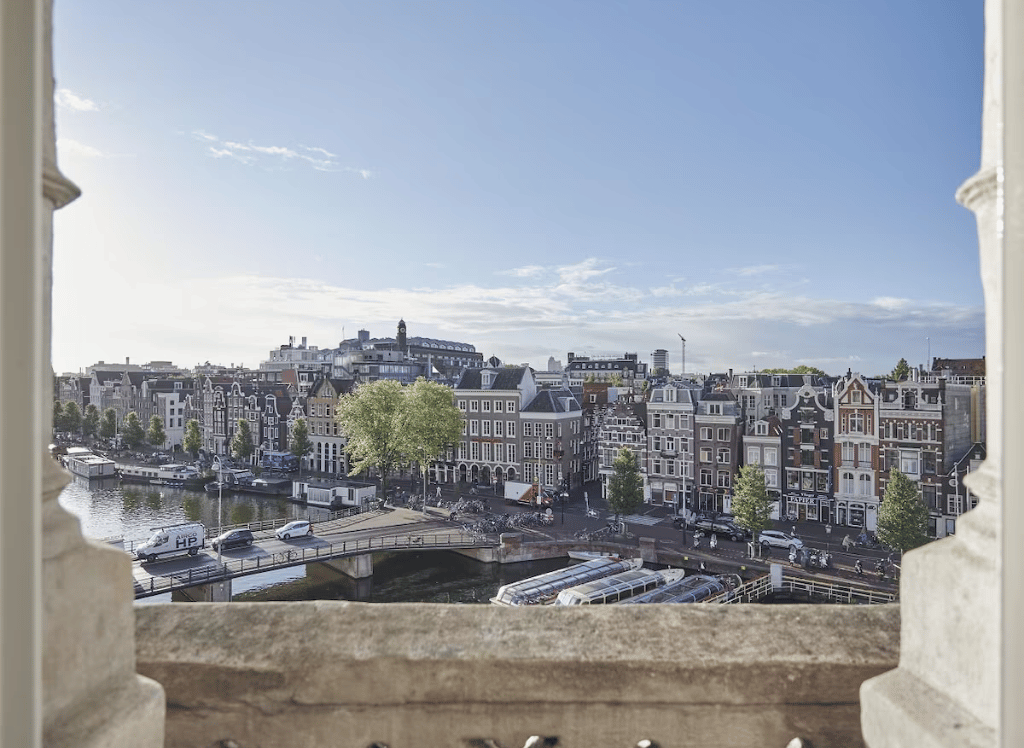 Imagine starting your day with a cup of coffee on the terrace, gazing out at the marina and planning your adventures in the Dutch capital. You can indulge in spa treatments at the Skins Institute Spa, savor al fresco dining at one of the three on-site restaurants, or venture out on a rented bike to explore the city, all while knowing that a cosy and lavishly appointed room awaits your return.
Hotel Features You'll Love
De L'Europe Amsterdam is located near popular attractions including the Flower Market and Museum Van Loon, and also provides a marina and a terrace for guests to enjoy.
The hotel houses the Skins Institute Spa offering indulgent treatments such as manicures/pedicures, facials, and body scrubs, in addition to three onsite restaurants featuring al fresco dining and brunch options.
All 111 rooms at the hotel are designed for comfort, offering features such as 24-hour room service, pillow menus, laptop-compatible safes, and air conditioning, ensuring a luxurious stay for all guests.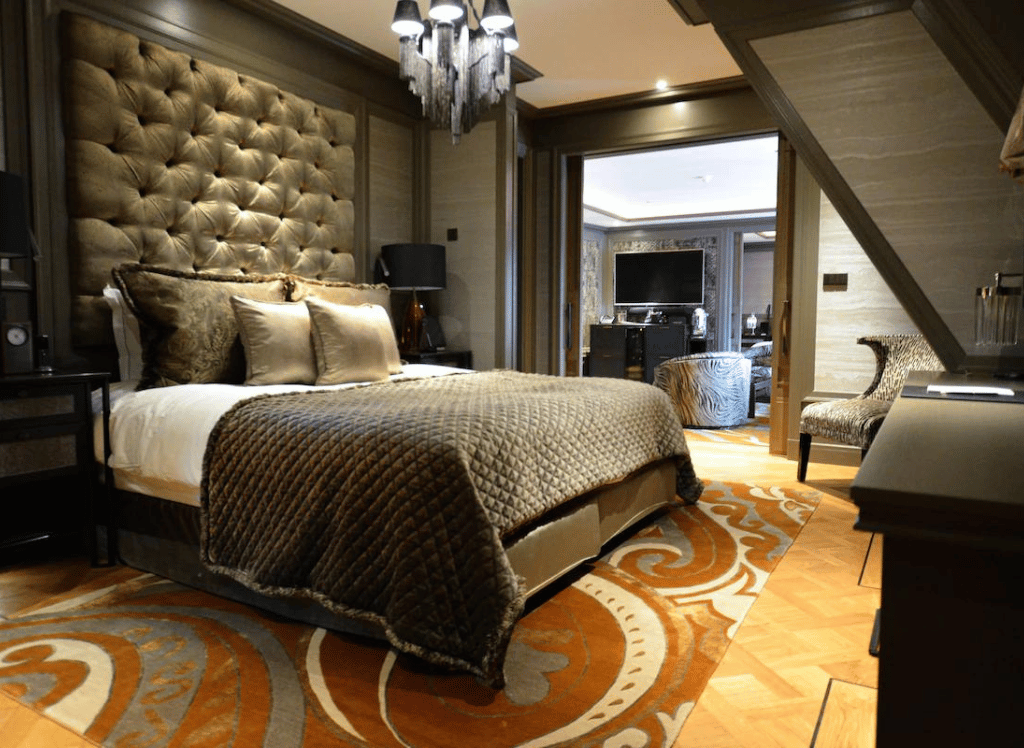 Check Price on Expedia
Why Stay Here
Guests are drawn to Hotel TwentySeven for the sheer luxury it provides, right in the heart of the bustling city. Breathtakingly close to Dam Square and a short walk from the historic Anne Frank House and lively Leidseplein, this boutique hotel invites you into a world of unprecedented service and comfort. From the moment you step into their individually furnished rooms, you're greeted with a fusion of opulence and homeliness, complete with jetted bathtubs and the plushiest of beddings.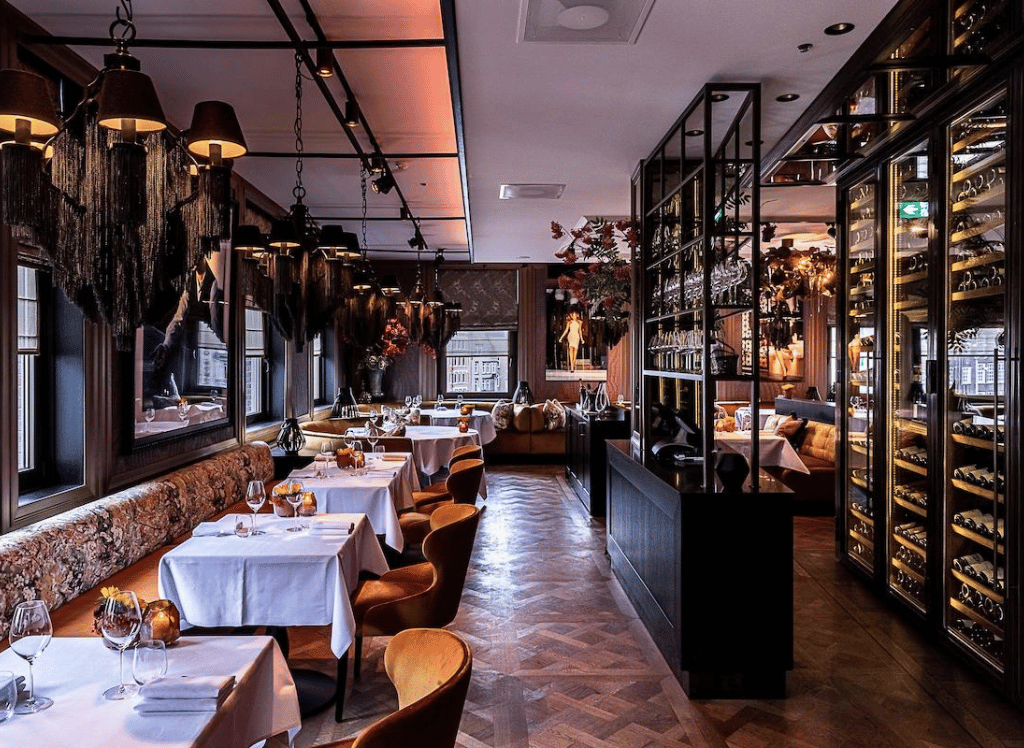 Whether you're indulging in their spa services, savoring a meal at the on-site restaurant, or simply enjoying the free WiFi, every moment at Hotel TwentySeven feels like a special occasion. Plus, their superb staff are always on hand to assist, making your Amsterdam adventure as carefree and enjoyable as possible. You're not just staying at a hotel - you're stepping into a lifestyle of elegance and ease.
Hotel Features You'll Love
Hotel TwentySeven features 16 individually furnished rooms, each providing a unique ambience and equipped with modern amenities such as jetted bathtubs, smart TVs with digital channels, and hypo-allergenic bedding for a luxurious and comfortable stay.
The hotel offers a range of spa services, including manicures and pedicures, ensuring a relaxing and pampering experience for guests amidst their bustling city adventures.
Strategically located near Dam Square and within walking distance to Anne Frank House and Leidseplein, Hotel TwentySeven provides guests easy access to key city attractions while also offering conveniences such as dry cleaning/laundry services and babysitting.
Amsterdam Hotel FAQs
Whether you're planning a solo adventure or a cozy family vacation in picturesque Amsterdam, we know you have questions. After all, choosing the perfect hotel is a pivotal part of the journey, right?
So, we've gone ahead and compiled the most frequently asked questions about Amsterdam's top-tier hotels. From location quirks to the finest dining spots, we've got you covered. Read on to find answers to your burning questions and kick-start your Dutch escapade with confidence and ease.
1. Is Amsterdam a good place for a family vacation?
Yes, absolutely! Amsterdam is a fantastic destination for a family getaway. With its rich cultural heritage, vibrant atmosphere, and picturesque canals, there are endless opportunities for exploration and fun. Families can immerse themselves in the city's wealth of museums, such as the Van Gogh Museum and the Anne Frank House, where children can learn about art and history in an interactive and engaging way. The city is also home to numerous parks and green spaces, providing ample opportunities for outdoor activities and picnics. Moreover, Amsterdam offers a wide range of kid-friendly attractions, including the NEMO Science Museum and the Artis Royal Zoo, ensuring that there is always something exciting and educational for children of all ages. So pack your bags and get ready for an unforgettable family adventure in Amsterdam!
2. What are some must-visit attractions in Amsterdam?
When exploring Amsterdam, there are several must-visit attractions that should be on your list. One of them is the Anne Frank House, where you can delve into the inspiring story of Anne Frank and gain a deeper understanding of the historical significance of her diary. Another must-visit is the Van Gogh Museum, which houses an extensive collection of artworks by the renowned Dutch painter, allowing you to immerse yourself in his brilliant masterpieces. The Rijksmuseum is also worth a visit, showcasing an impressive collection of Dutch art and history, including iconic works by Rembrandt and Vermeer. Lastly, don't miss the Heineken Experience, an interactive journey that offers a fascinating glimpse into the world of this famous Dutch beer brand.
3. Are Amsterdam hotels eco-friendly?
Many hotels in Amsterdam are deeply committed to sustainability and take pride in their environmentally friendly practices. Not only do they have recycling programs in place, but they also prioritize the use of energy-efficient LED light bulbs and eco-friendly cleaning products. Furthermore, some hotels even go the extra mile by implementing water-saving measures and offering organic and locally sourced food options. By choosing to stay at these eco-friendly hotels, you can enjoy your visit to Amsterdam while minimizing your environmental impact.
4. How are the restaurants in Amsterdam hotels?
When it comes to the restaurants in Amsterdam hotels, you can expect nothing short of excellence. From luxurious accommodations to exquisite dining experiences, these hotels truly have it all. Many of them boast on-site restaurants that cater to a diverse range of tastes and preferences. Whether you're craving traditional Dutch delicacies or international flavors, you'll find a culinary haven within the walls of these hotels. In fact, some of them even house Michelin-starred establishments, such as the renowned Restaurant Vinkeles at The Dylan Amsterdam. So, whether you're a guest at one of these hotels or simply looking for an unforgettable dining experience, Amsterdam's hotel restaurants are sure to leave a lasting impression.
5. Is it easy to get around Amsterdam?
Getting around Amsterdam is incredibly convenient and hassle-free. The city's excellent public transport system, including buses, trams, and trains, makes exploring the city a breeze. Moreover, Amsterdam is renowned for its extensive network of bike lanes, making cycling a popular and efficient mode of transportation. With its compact size and well-connected infrastructure, you'll find that many of Amsterdam's iconic attractions, such as the Anne Frank House, Van Gogh Museum, and the picturesque canals, are conveniently located within walking distance of each other. So, whether you prefer strolling along the charming streets or hopping on a bike or public transport, getting around Amsterdam is a delightful experience that allows you to effortlessly immerse yourself in the city's vibrant culture and history.
6. Do Amsterdam hotels offer any unique features?
Certainly! Amsterdam hotels are known for offering an array of unique features that cater to every traveler's taste. One such example is Pulitzer Amsterdam, a distinguished hotel that stands out with its classic salon boat from 1909. This charming boat can be rented by guests, allowing them to embark on an unforgettable journey through the picturesque canals of the city, immersing themselves in the rich history and beauty that Amsterdam has to offer. Whether it's exploring the iconic waterways or simply indulging in the tranquility of the boat's elegant interiors, this distinctive feature adds an extra touch of luxury and sophistication to the hotel experience.
7. Are there luxury hotels in Amsterdam?
Amsterdam boasts a wide array of the best luxury hotels that cater to the discerning traveler. From the opulent Hotel TwentySeven, known for its exquisite design and impeccable service, to the iconic De L'Europe Amsterdam, which offers a blend of timeless elegance and modern luxury, you'll find an impressive selection of upscale hotels. And let's not forget the prestigious Waldorf Astoria Amsterdam, where guests can indulge in the finest amenities and enjoy unparalleled views of the city. With such exceptional options, your stay in Amsterdam is bound to be nothing short of extraordinary.
8. What are the room amenities like in Amsterdam hotels?
When it comes to ensuring the utmost comfort and convenience for guests, Amsterdam hotels leave no stone unturned. You can expect a range of top-notch amenities, including individually controlled air conditioning to create the perfect ambiance, premium bedding to guarantee a restful sleep, laptop-compatible safes for added security, and in some luxury hotels, even the indulgence of jetted bathtubs. With these thoughtful touches, Amsterdam hotels strive to provide a truly exceptional stay for every guest.
9. Do Amsterdam hotels have fitness facilities?
Yes, many Amsterdam hotels have fitness facilities, some even offering 24-hour access. They may also offer additional health and wellness amenities like spas and aerobics classes.
10. Are there shopping opportunities close to Amsterdam hotels?
Yes, many hotels in Amsterdam are located near shopping districts or even have on-site shopping facilities. The Pulitzer Amsterdam, for instance, has its own shopping mall.
11. Is it possible to rent a bike in Amsterdam?
Yes, bike rental is a popular and convenient way to get around in Amsterdam. Many hotels even offer bike rental services for their guests.
12. Are there hotels in Amsterdam with views of the canals?
You'll be delighted to know that many hotels in Amsterdam boast stunning vistas of the city's iconic waterways. One such example is De L'Europe Amsterdam, which not only provides panoramic canal views but also offers a marina for guests to indulge in a truly immersive experience. So, whether you're seeking a tranquil retreat or simply want to soak in the beauty of Amsterdam's canals, there are plenty of options to choose from!
13. Do Amsterdam hotels offer services for families with children?
Many hotels in Amsterdam are specifically designed to be family-friendly and provide a range of services to make your stay comfortable. These services include babysitting facilities, spacious family rooms with ample space for everyone to relax, and even special menus tailored to the tastes and preferences of children. You can rest assured knowing that Amsterdam hotels prioritize the needs and preferences of families, ensuring a memorable and enjoyable experience for all.
14. Are hotels in Amsterdam close to the airport?
While most hotels in the city center are about a 20-minute drive from Amsterdam Airport Schiphol, there are also several hotels located closer to the airport for those prioritizing proximity to their arrival and departure point.
Final Thoughts About Hotels in Amsterdam
Amsterdam, with its charming canals, iconic windmills, and rich heritage, is a city that never fails to captivate. Choosing the right hotel can truly accentuate your Amsterdam experience, transforming it from just another trip into an unforgettable adventure. With options ranging from the tranquil oasis of The Dylan Amsterdam to the historic charm of Pulitzer Amsterdam, you're spoilt for choice. Each hotel is a unique blend of comfort, luxury, and a promise of an immersive immersion into Amsterdam's vibrant culture and lifestyle. They're not just places to rest after a day of exploration. They're experiences in themselves, mini-Amsterdams where you can indulge in gastronomic delights, relax in spa treatments, and even explore the city from a unique perspective - be it by bike, boat, or just a leisurely stroll!
Happy Travels! :)