Welcome to Paradise: Your Guide to the 10 Best Cancun Resorts!
Dive into paradise! Explore our top picks for all-inclusive Cancun resorts. From private plunge pools at Haven Riviera to the full-service spa at Hyatt Ziva, discover your perfect tropical getaway!
As an Amazon Associate, Journey Fanatics may earn a commission from qualifying purchases, but we promise the prices are still the same for you!
Imagine this - you're lounging on a pristine, white sand beach, sipping a tropical cocktail as the warm, Caribbean sea laps gently at your feet. Sounds dreamy, right? That's what awaits you at Cancun's best all inclusive resorts.
We've meticulously combed through the stunning beaches of Cancun, venturing from the bustling Hotel Zone to the serene Isla Mujeres, to bring you a definitive list of the top nine resorts that guarantee an unforgettable vacation experience.
Whether you're seeking the luxury of private plunge pools, the decadence of a full-service spa, or the alluring views from terrace swimming pools dotted along the coast, we've got it all. So let's dive in and explore these tropical havens that offer more than just a holiday - they promise a slice of paradise!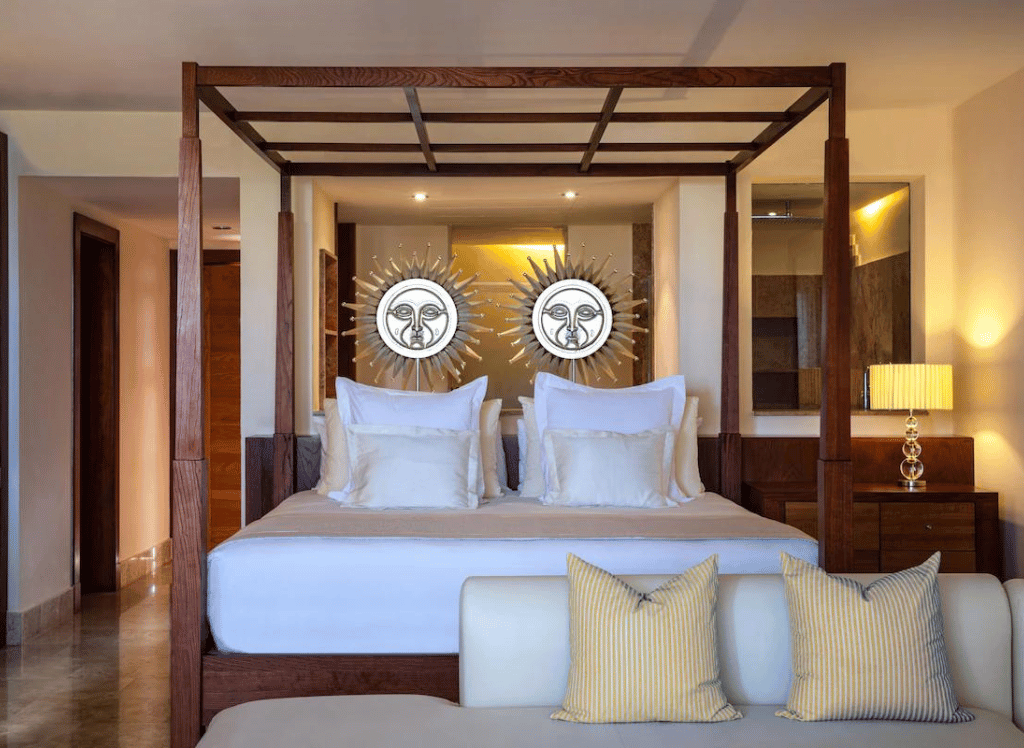 1. Excellence Playa Mujeres - All Inclusive - Adults Only
Check Price on Expedia
Why Stay Here
Excellence Playa Mujeres is a tropical paradise where luxury meets leisure in a blissful, all-inclusive resort experience. Nestled in the pristine beaches of Cancun, Mexico, every suite provides you with an intimate retreat filled with deluxe amenities, including an in-suite jacuzzi, a private balcony with a lounge bed, and an espresso coffee machine.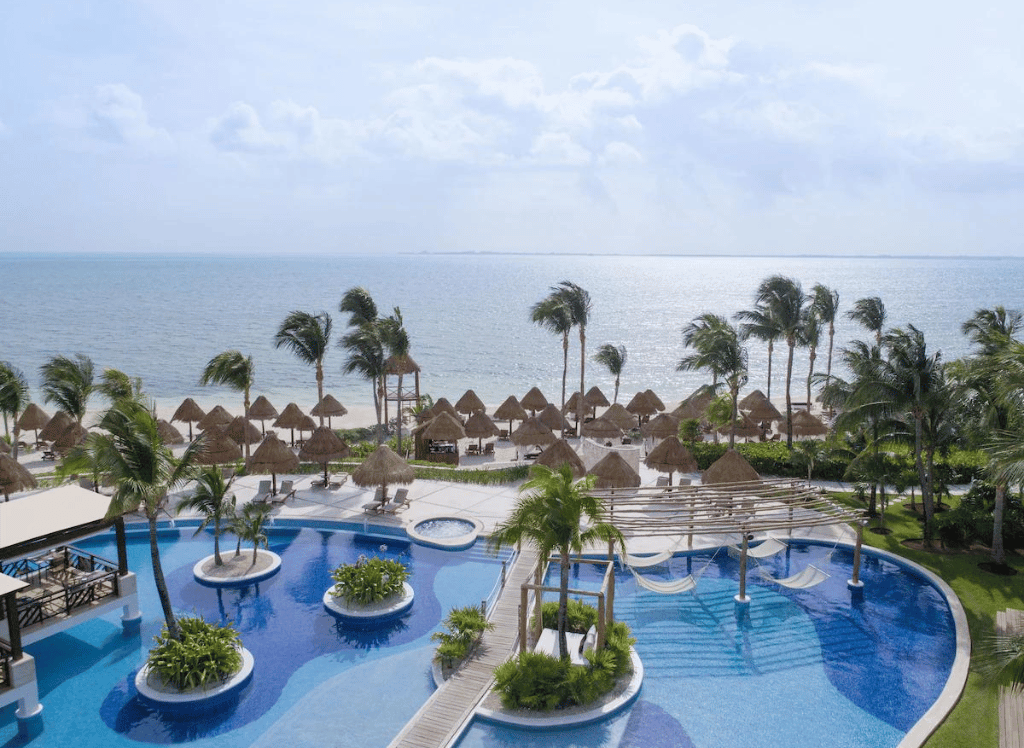 Adventurous guests can partake in exhilarating water activities like snorkeling and kayaking, or simply unwind in one of the seven outdoor pools.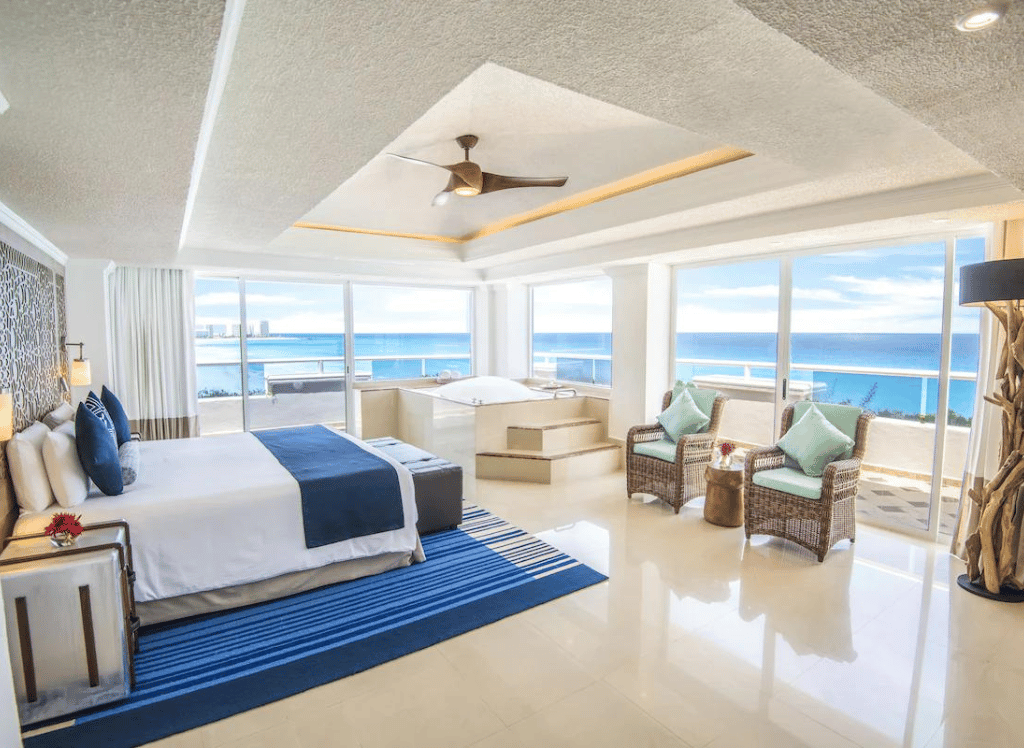 2. Wyndham Alltra Cancun - All Inclusive Resort
Check Price on Expedia
Why Stay Here
Immerse yourself in the luxurious Wyndham Alltra Cancun All Inclusive Resort, where the dazzling Caribbean Sea meets the vibrant Mexican culture. With direct beach access, two revitalizing outdoor pools, and an extensive full-service spa, the resort is an oasis of relaxation and leisure.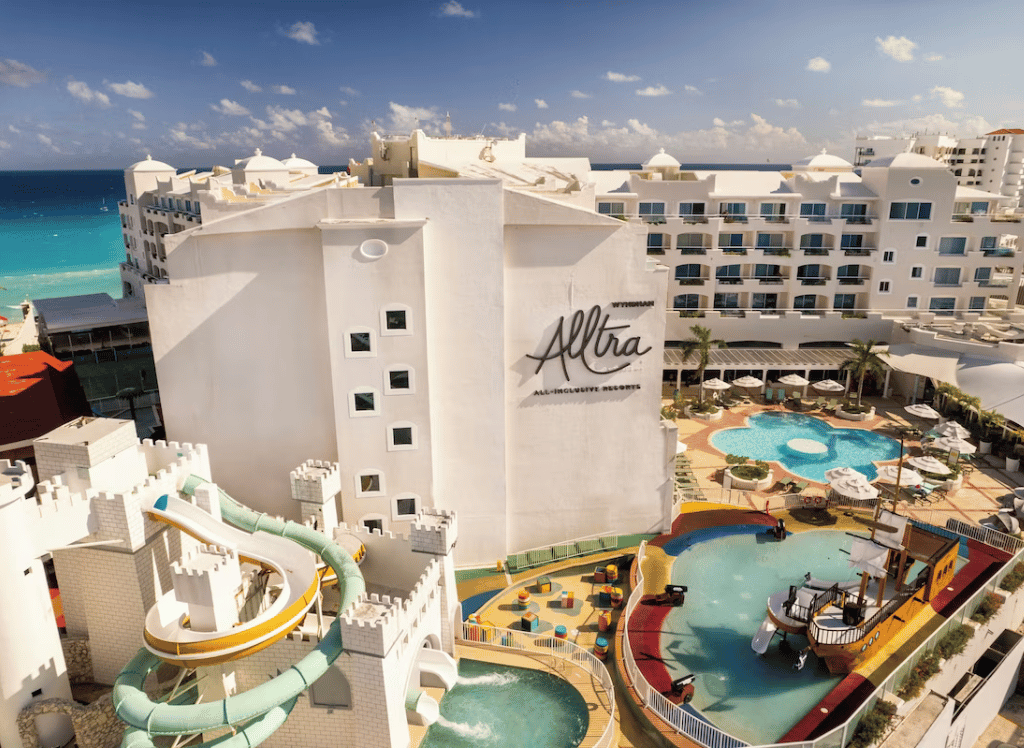 Each apartment not only offers modern amenities and comfort but also promises magnificent sea views from private balconies or patios. As for gastronomy, your palate will dance with delight at the diverse culinary offerings from seven on-site restaurants. Whether you're seeking adventurous water activities or simply longing for serene sunbathing, this resort has every ingredient for your perfect Cancun getaway.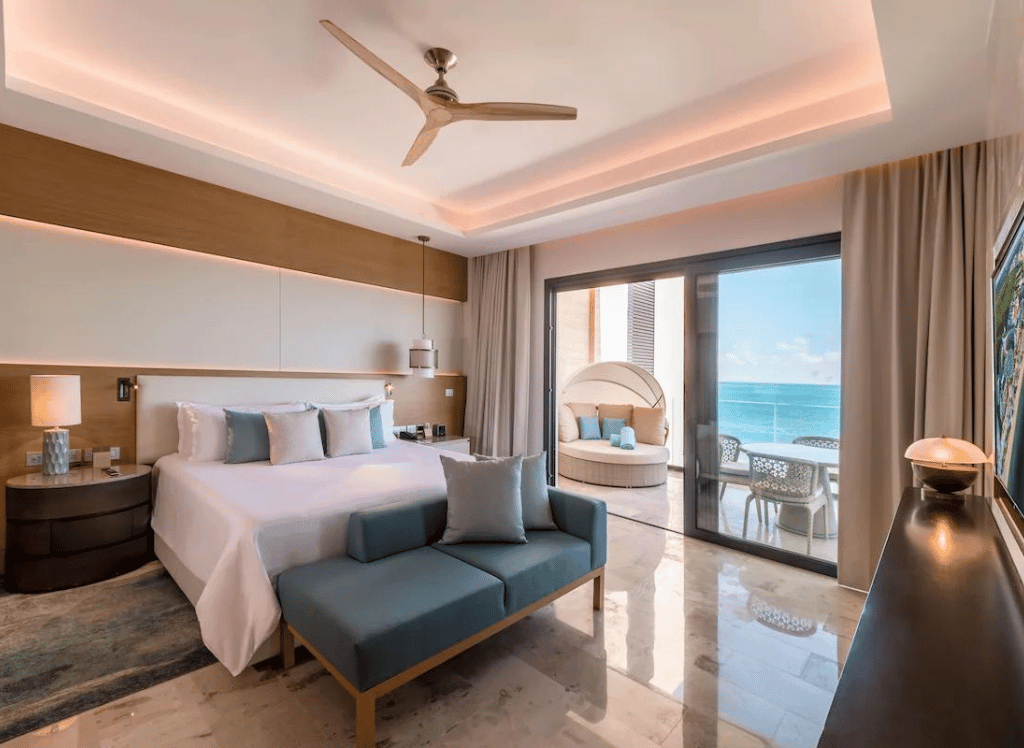 3. Haven Riviera Cancun - All Inclusive Resort - Adults Only
Check Price on Expedia
Why Stay Here
Escape to the adults-only haven of Haven Riviera Cancun, a luxurious all-inclusive resort tucked against the stunning backdrop of the Caribbean Sea. Designed for ultimate relaxation and entertainment, this resort is a paradise of opulence and tranquility, complete with three inviting swim-up bars, four outdoor pools, and a full-service spa that offers a selection of revitalizing treatments.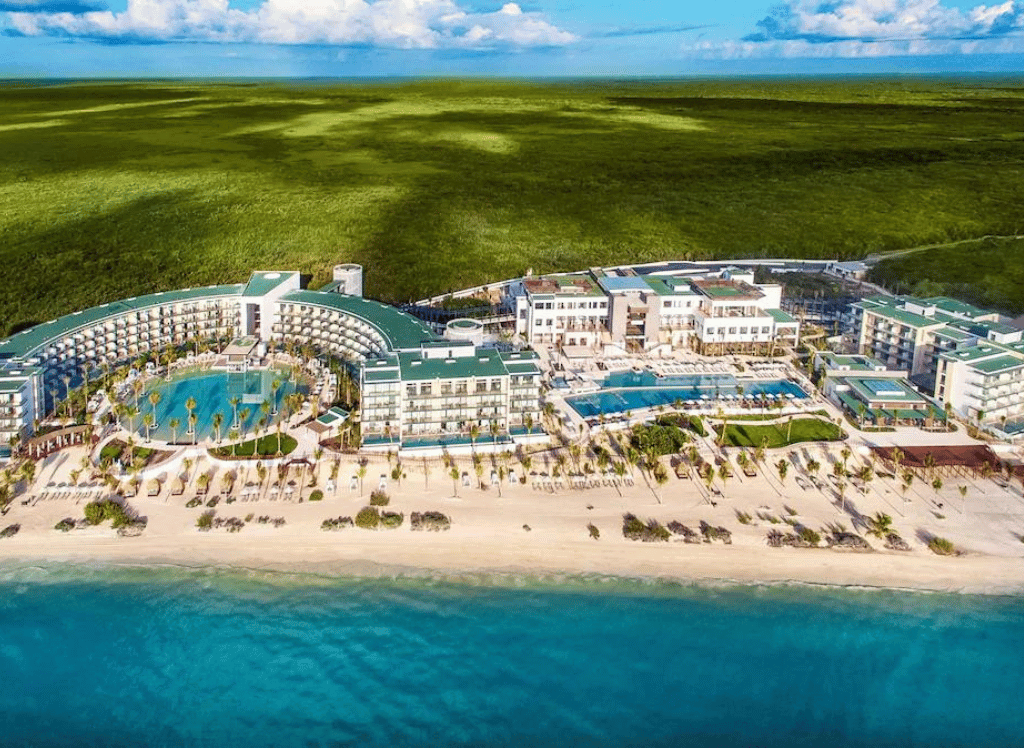 Golf enthusiasts will relish the 18-hole course, while foodies can delight in the culinary masterpieces from seven on-site restaurants. From the moment you step into this tropical retreat, you'll find everything you need to create memories that will last a lifetime.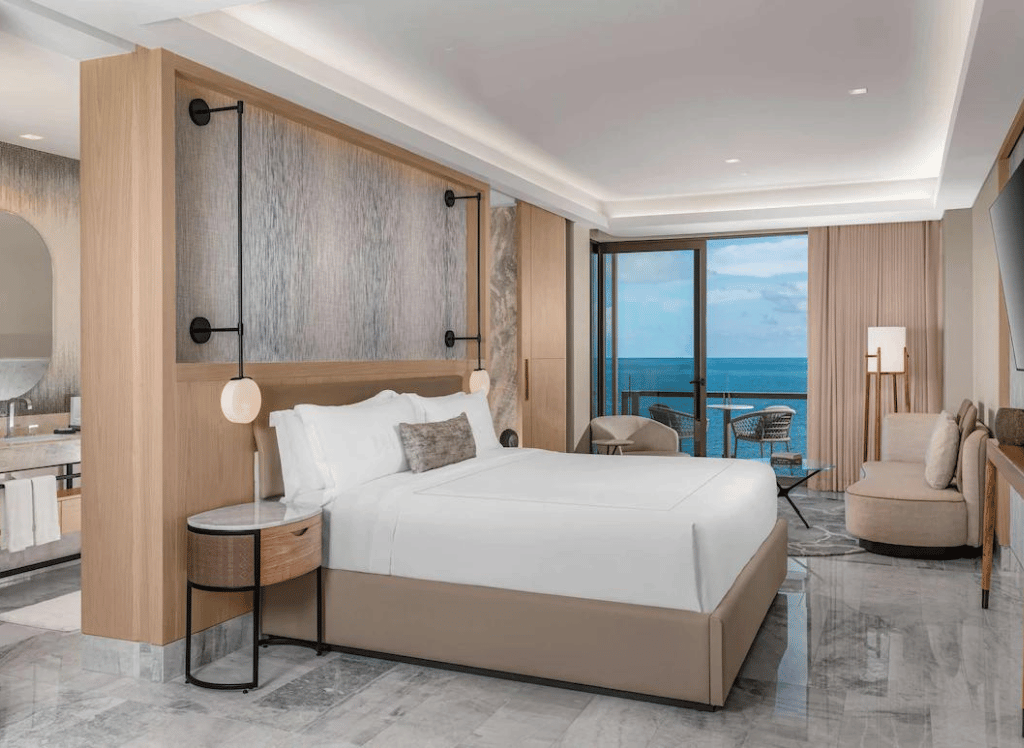 4. Waldorf Astoria Cancun
Check Price on Expedia
Why Stay Here
This oceanfront resort offers an unrivaled experience with its private plunge pools, panoramic ocean views, and top-notch 24/7 room service, promising a stay of unparalleled comfort and indulgence. The on-site spa invites you to rejuvenate, while the three exquisite restaurants serve culinary delights that will tantalize your taste buds.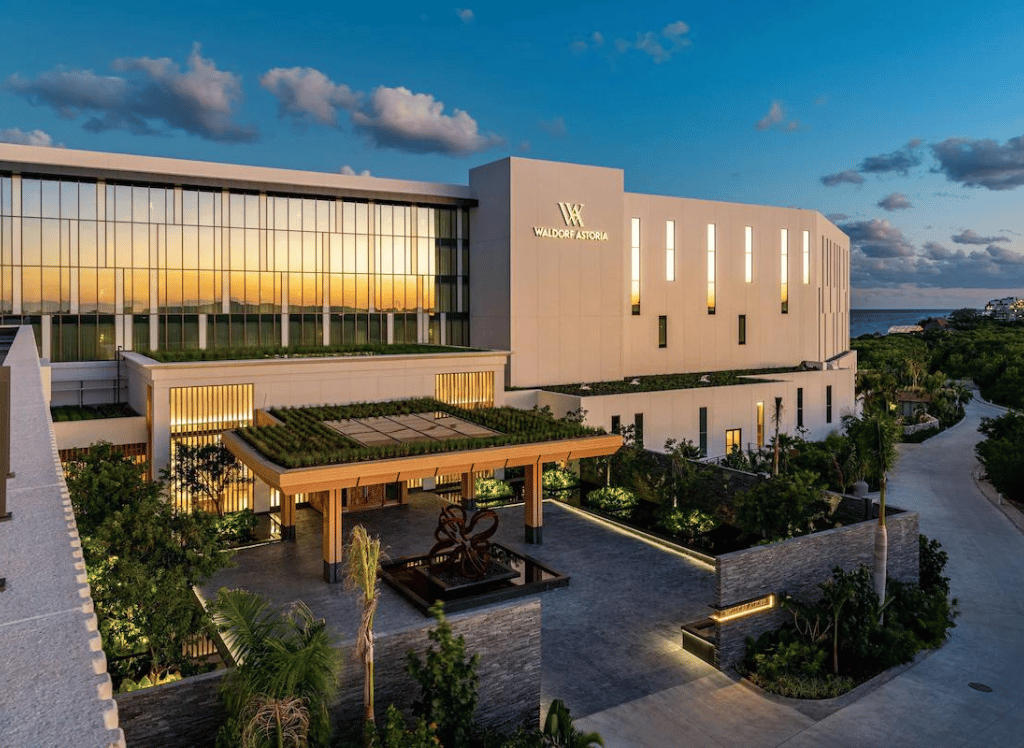 With a 24-hour gym, business center, and high-speed WiFi, Waldorf Astoria Cancun seamlessly blends leisure and convenience, ensuring a memorable vacation in this tropical paradise.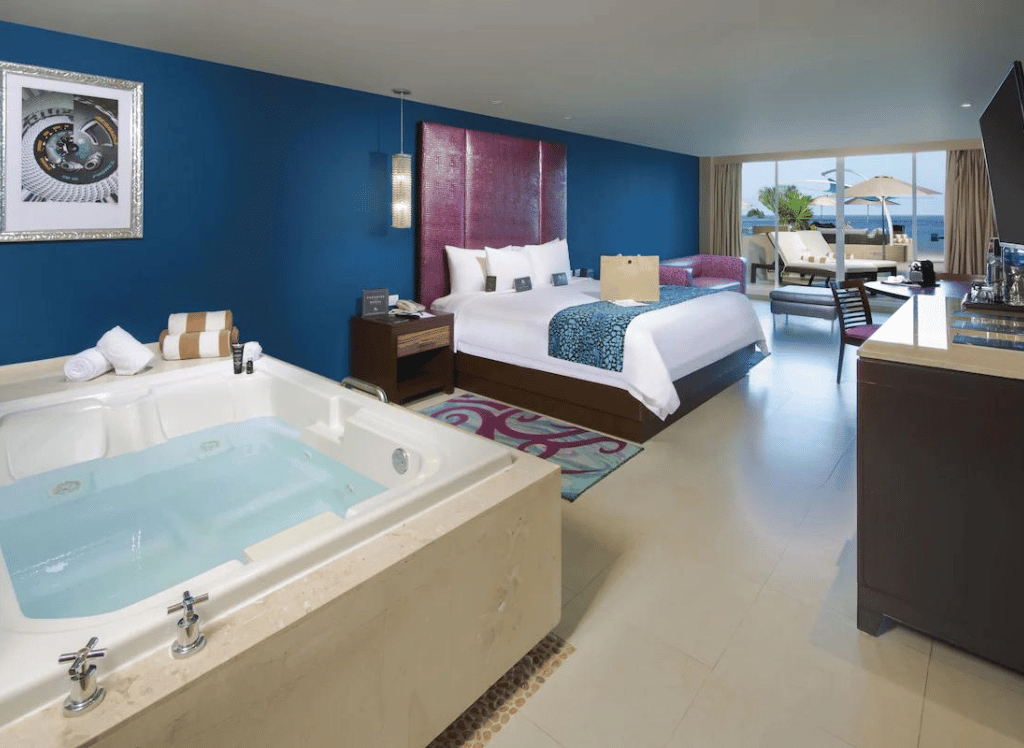 5. Hard Rock Hotel Cancun - All Inclusive
Check Price on Expedia
Why Stay Here
Get ready to rock your vacation at the Hard Rock Hotel Cancun, an electrifying haven of luxury and entertainment. Perfectly situated near the vibrant Aquaworld and the bustling La Isla Shopping Mall, this resort turns up the volume on your Cancun getaway with a stunning white-sand beach, a sun-drenched terrace, and a brilliant 18-hole golf course.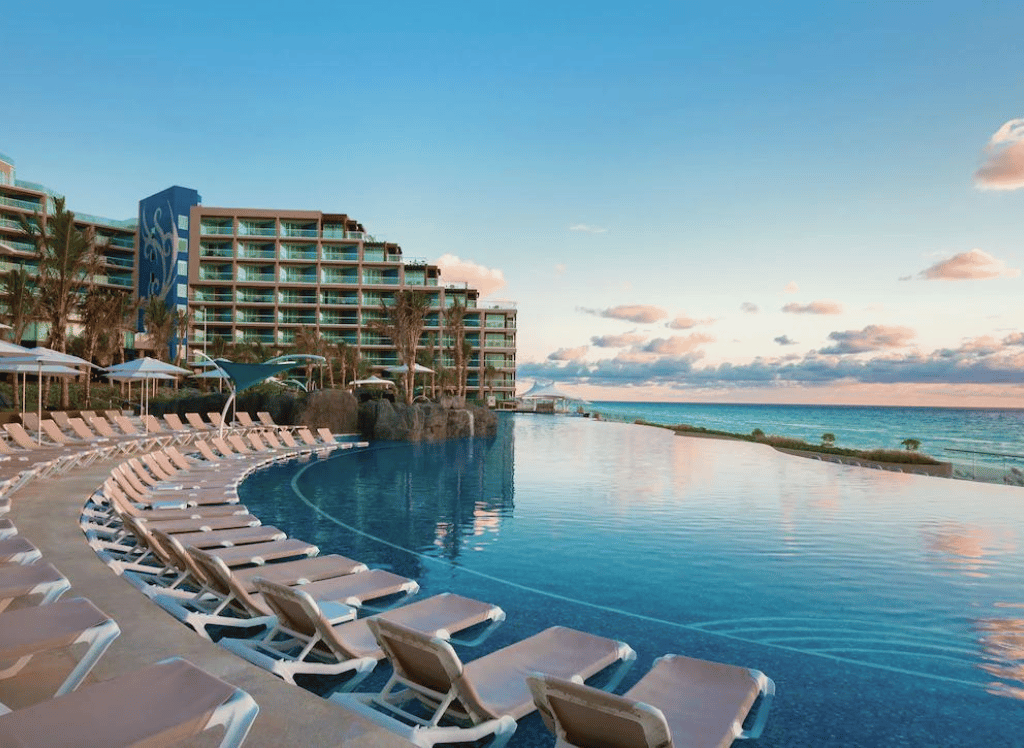 Indulge in the decadence of the Rock Spa, delight in the culinary variety of the five on-site restaurants, and get in tune with your inner yogi at the health club. With its lavish accommodations, complete with private indoor hot tubs and 24/7 room service, the Hard Rock Hotel Cancun is your ticket to a memory-making, rock and roll infused vacation in paradise.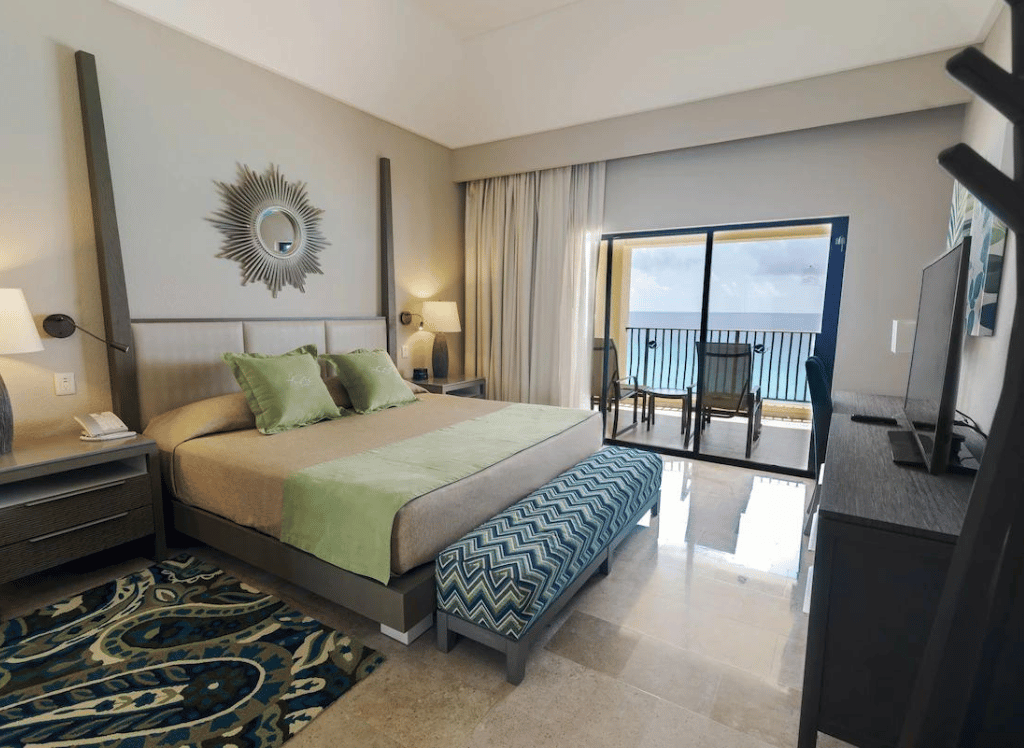 6. The Royal Sands Resort & Spa All Inclusive
Check Price on Expedia
Why Stay Here
Set in the heart of Zona Hotelera, this family-friendly resort promises an unforgettable beachfront adventure. Spend your days lounging on the pristine white sands, or dive into one of the four outdoor swimming pools. Fitness enthusiasts can get their heart pumping with beach volleyball, basketball, or tennis, while relaxation-seekers will find their bliss in the spa's rejuvenating facials and body treatments.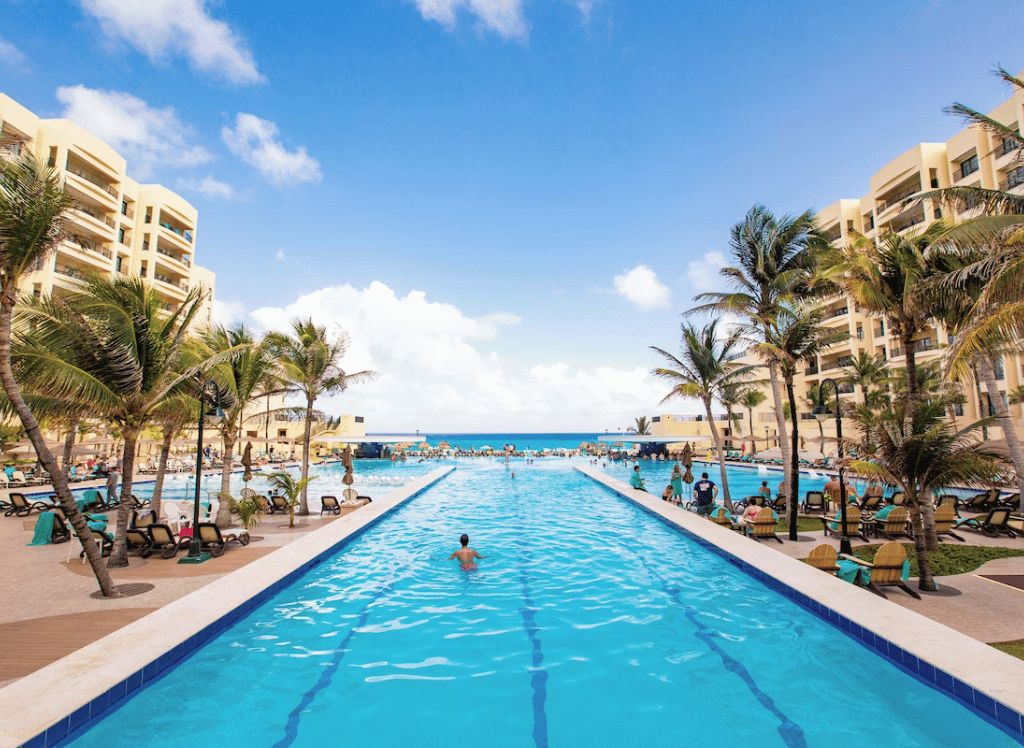 Feast on international cuisine at any of the four on-site restaurants, and don't forget to take advantage of the complimentary self-serve breakfast and 24-hour room service. Trust us, there's never a dull moment at The Royal Sands Resort & Spa All Inclusive!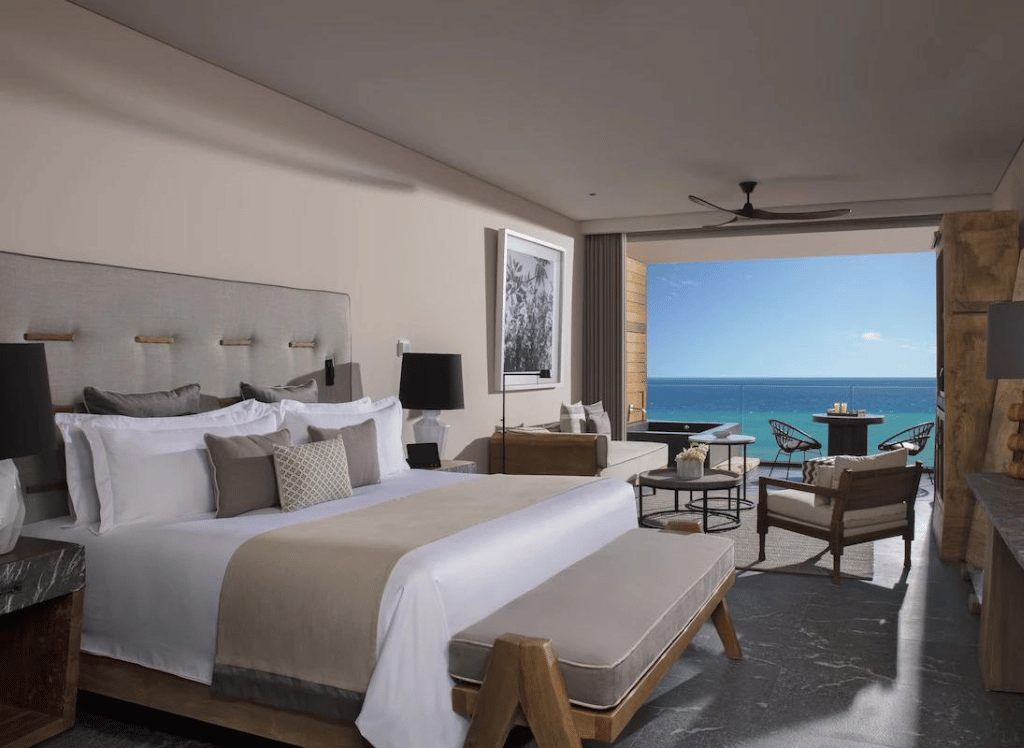 7. Secrets Moxché Playa del Carmen - Adults Only - All Inclusive
Check Price on Expedia
Why Stay Here
Discover the allure of Secrets Moxché Playa del Carmen, an adults-only, all-inclusive resort that marries luxury with the vibrant spirit of the tropics. Nestled near the azure Mamitas Beach and surrounded by premier golf courses, this resort is a paradise of relaxation and entertainment. Enjoy a day at the beach, complete with beachfront dining and cabanas, or challenge yourself with some golf.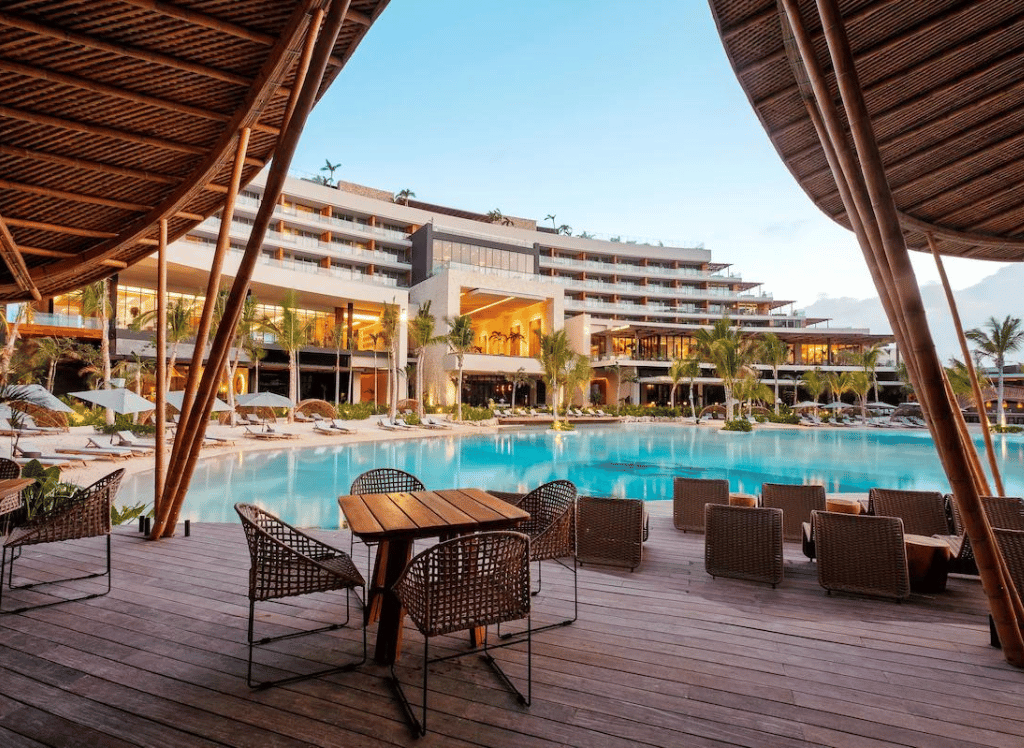 Indulge your senses in the pampering spa treatments or savor a feast of international cuisine from the 10 on-site restaurants. With seven outdoor pools, a buzzing nightclub, and a variety of fitness amenities including beach yoga and volleyball, Secrets Moxché Playa del Carmen promises an unforgettable Caribbean getaway.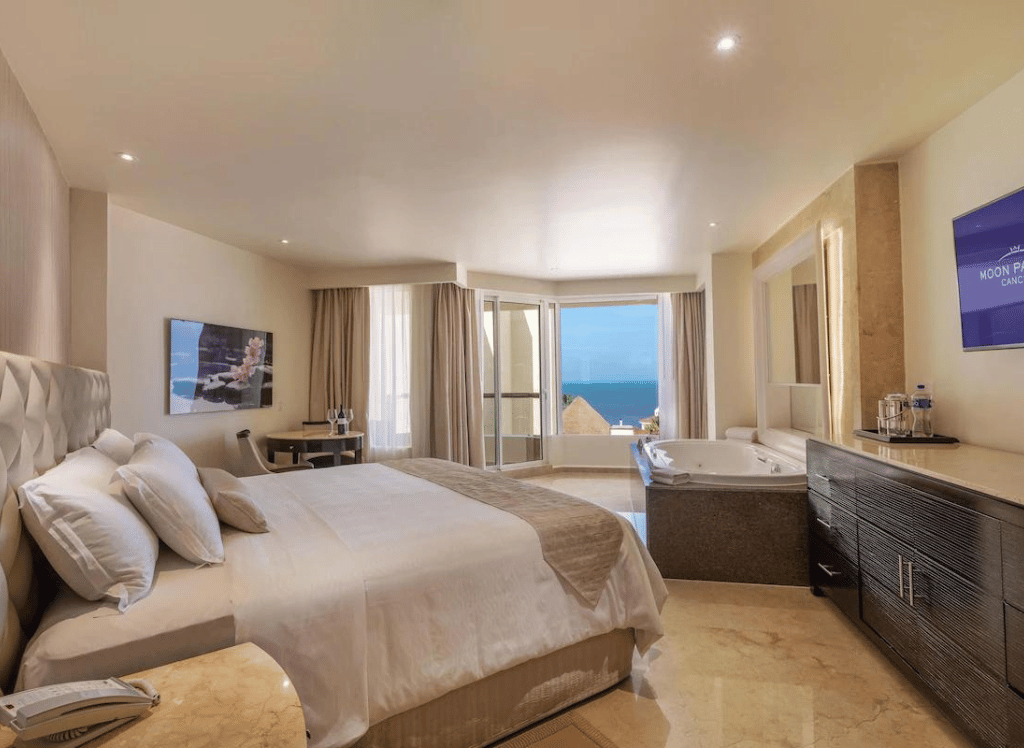 8. Moon Palace Cancún - All Inclusive
Check Price on Expedia
Why Stay Here
Nestled on Cancun's sun-kissed shores, Moon Palace Cancún - All Inclusive is your gateway to an unforgettable tropical getaway. This luxurious resort, refurbished in 2020, showcases the perfect blend of comfort and splendor, with amenities designed to pamper every guest. Spend your days perfecting your swing on the 27-hole golf course or embarking on a marine adventure from the marina.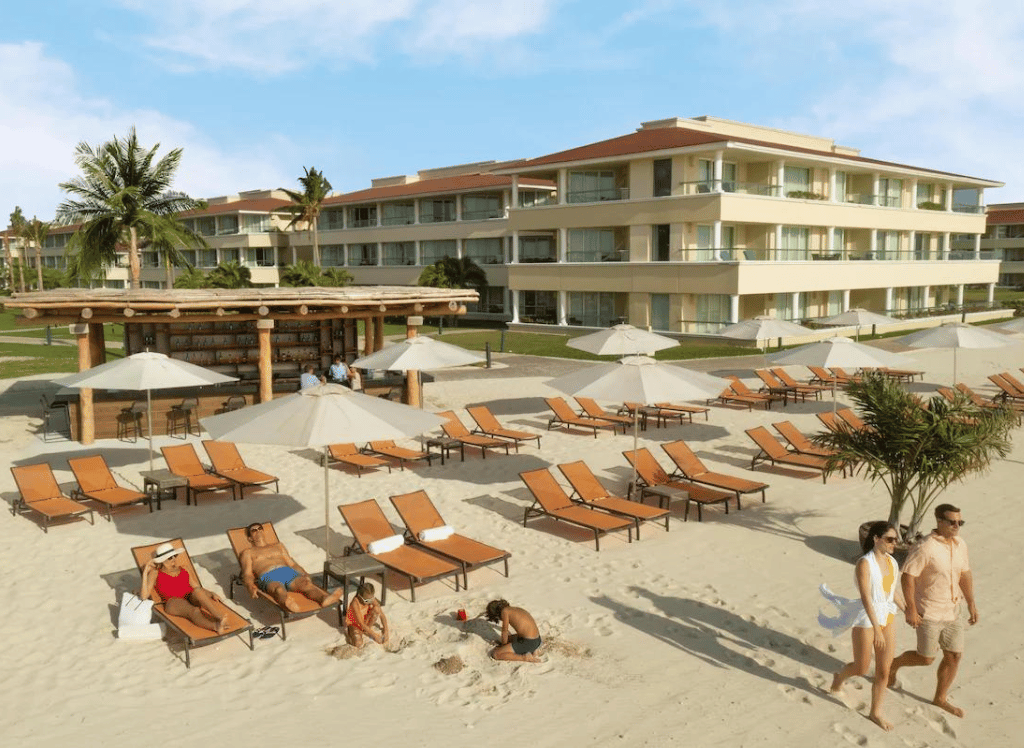 Relax and rejuvenate with a hot stone massage or detox wrap at the spa before satiating your culinary desires at one of the 16 on-site restaurants. With 7 outdoor pools, a buzzing nightclub, and a dedicated children's pool, Moon Palace Cancún ensures fun for every member of the family.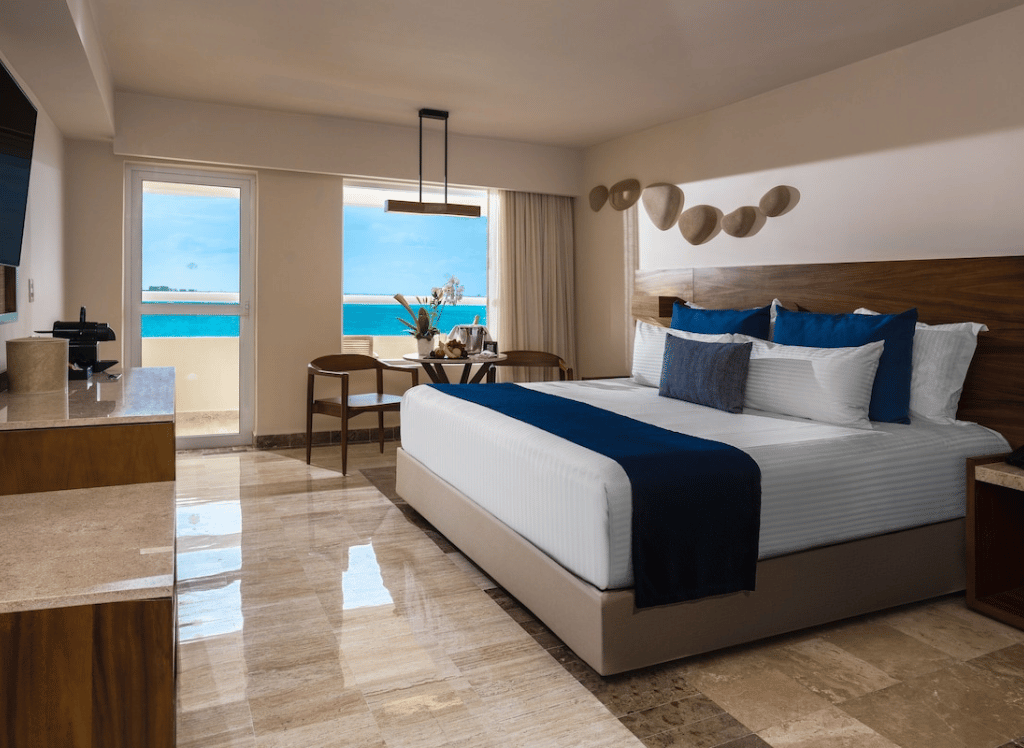 9. Dreams Sands Cancun Resort & Spa - All Inclusive
Check Price on Expedia
Why Stay Here
This enchanting haven is nestled on its own private white-sand beach, where azure waters meet shimmering sands, creating a mesmerizing panorama. The resort offers a diverse array of activities, from energizing water sports like kayaking and sailing to fitness classes, ensuring an endless supply of excitement for everyone.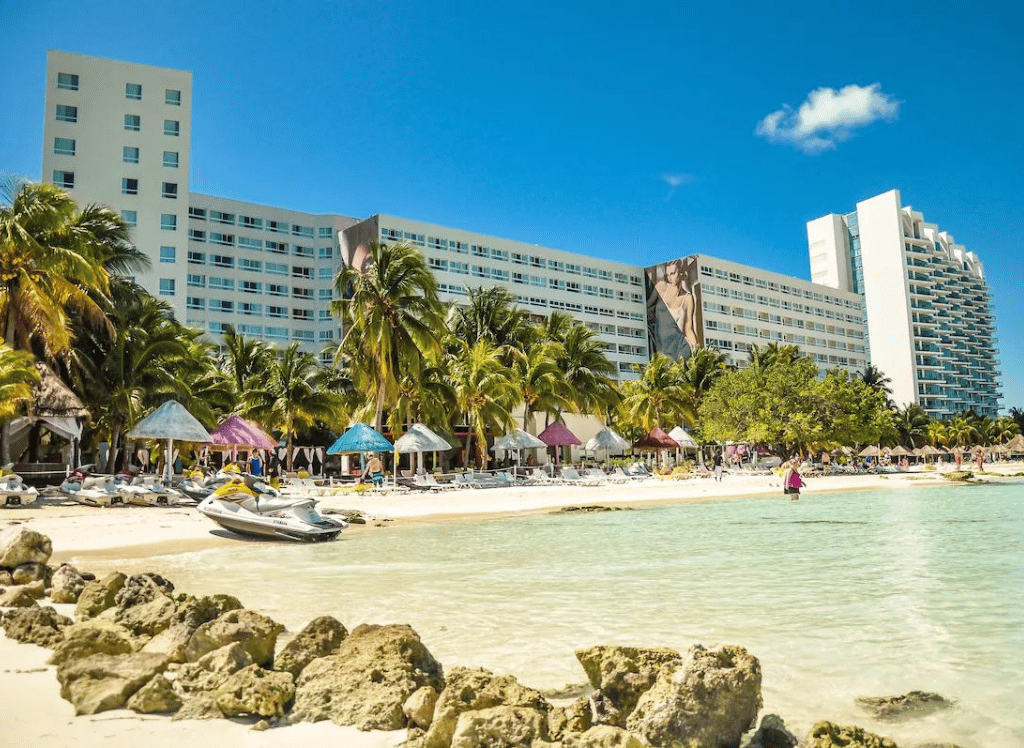 The well-equipped apartments, filled with thoughtful amenities and the promise of 24-hour room service, offer a unique blend of comfort and luxury. For those seeking tranquility, a day spent at its full-service spa is sure to rejuvenate your senses. With six exquisite dining options to choose from, you'll embark on a culinary journey like no other.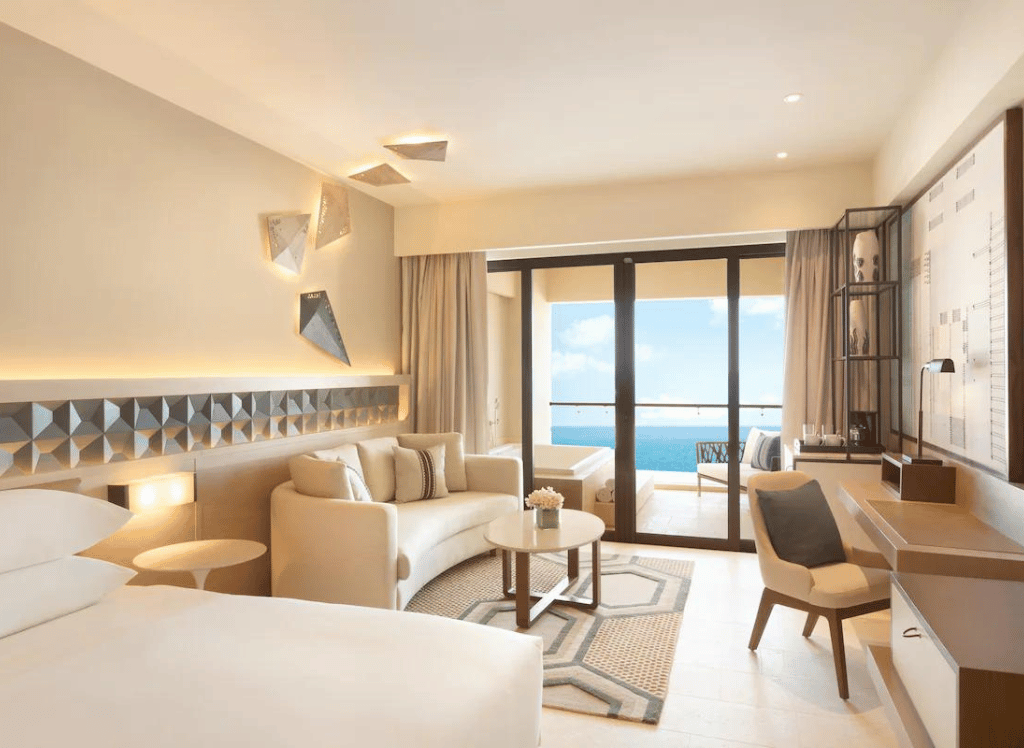 10. Hyatt Ziva Cancun All Inclusive
Check Price on Expedia
Why Stay Here
Welcome to the Hyatt Ziva Cancun All Inclusive, where luxury meets tropical paradise. Imagine a vacation where every detail has been considered from the eco-friendly toiletries to the free fully-stocked minibar in your room, this resort has it all. Take a dip in one of the three outdoor pools, challenge your partner to a game of tennis on the outdoor court, or simply relax with a rejuvenating facial at the on-site spa.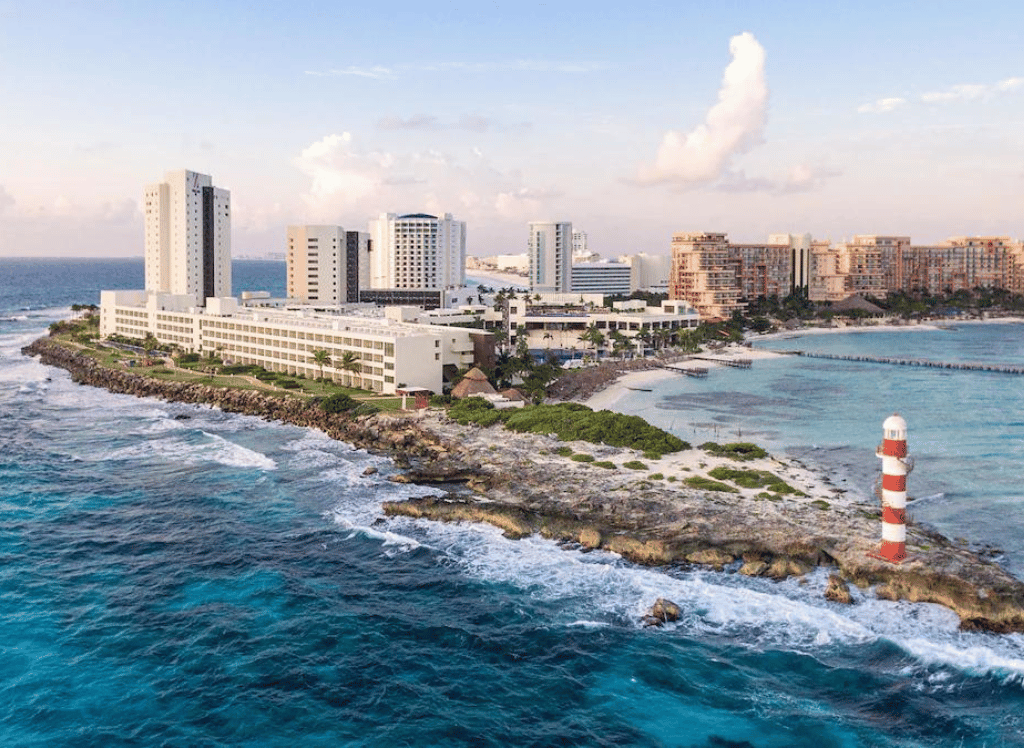 With eight on-site restaurants serving everything from Asian to local cuisine, every meal is a culinary adventure. And with activities like basketball and snorkeling on offer, you'll never be short of things to do. The family-friendly amenities, helpful staff, and commitment to sustainability at the Hyatt Ziva Cancun All Inclusive truly set it apart, ensuring an unforgettable vacation experience.
Cancun Resorts FAQs
Planning a trip to Cancun can feel overwhelming. With a variety of resorts offering unique features and amenities, you might find yourself unsure of what to expect, how to budget, or where to begin.
Trust us, we've been there too. The stress of planning, the anxiety of leaving something out, the fear of unforeseen expenses - all these can take the fun out of what should be an exciting experience.
That's why we've compiled this comprehensive FAQ section, answering the most common questions travelers have about Cancun resorts. From understanding what 'all-inclusive' truly means, to knowing the best time of year to visit, we've got you covered. We'll guide you through the planning process so that you can focus on what really matters – enjoying your dream vacation. Let's dive into the world of Cancun resorts, and together, make your travel dreams a reality.
1. What does "all-inclusive" mean in a resort context?
All-inclusive typically means that your accommodation, meals, drinks (both alcoholic and non-alcoholic), and certain activities are included in the price of your stay. However, the specifics can vary from resort to resort, so it's worth checking the details before you book.
2. What is the best time of year to visit Cancun?
The best time to visit Cancun is from December to April when the weather is near-perfect with less rain and comfortable temperatures. During this period, you can expect clear blue skies, gentle sea breezes, and temperatures ranging from the mid-70s to the low 90s Fahrenheit. Not only is the weather ideal, but the water is also warm and inviting, making it perfect for swimming and snorkeling. However, it's worth noting that this is also the peak tourist season, so resorts and beaches may be more crowded. Despite the higher number of visitors, the vibrant atmosphere, lively nightlife, and numerous events and festivals happening during this time make it an exciting and unforgettable experience.
3. Can I book activities outside the resort through the hotel?
Yes, absolutely! When staying at a resort in Cancun, you will find a dedicated concierge desk that offers a wide range of exciting excursions and activities to enhance your vacation experience. Whether you're interested in exploring the breathtaking Mayan ruins, embarking on thrilling water sports adventures, or indulging in a relaxing spa day, the knowledgeable concierge staff will be more than happy to assist you in booking these unforgettable experiences outside the resort. So go ahead and make the most of your stay by immersing yourself in the rich culture and natural wonders that await you beyond the resort's boundaries.
4. When do I need to tip at all-inclusive resorts?
When staying at all-inclusive resorts, it's important to note that while tipping is not obligatory, it is commonly welcomed and seen as a gesture of appreciation. If you encounter exceptional service from the waitstaff, housekeeping, or any other staff member, a gratuity can be given to express your gratitude. However, the decision to tip ultimately rests with you and should be based on your personal satisfaction with the service provided.
5. Does "all-inclusive" include airport transfers?
When it comes to the term "all-inclusive," it's important to note that not every resort includes airport transfers. While some resorts do offer this convenient service as part of their all-inclusive packages, there are others that may require an additional fee. To ensure you have all the necessary information, it is highly recommended to directly inquire with the resort regarding their specific policies and inclusions.
6. What water activities are typically offered at Cancun resorts?
Cancun resorts are renowned for their wide range of thrilling water activities that cater to all kinds of water enthusiasts. From the exhilarating experience of kayaking through crystal-clear turquoise waters to the tranquil art of paddleboarding along the picturesque coastline, there is something for everyone. Dive into the vibrant underwater world with snorkeling adventures, exploring the colorful coral reefs and encountering a myriad of marine life. For those seeking a more adventurous experience, some resorts even offer scuba diving lessons or organize guided diving trips to explore the captivating depths of the ocean. With these incredible water activities at your disposal, prepare to immerse yourself in a world of aquatic wonders during your stay in Cancun.
7. Are Cancun resorts kid-friendly?
Absolutely! There are numerous resorts in Cancun that go above and beyond to cater to families. These resorts offer a wide range of amenities specifically designed for children, including dedicated kids' clubs, children's pools with fun water features, and a variety of engaging family-friendly activities to keep the little ones entertained throughout their stay. Parents can have peace of mind knowing that their children are in a safe and welcoming environment, while also enjoying their own relaxation time. However, it's important to note that Cancun also offers adults-only resorts for those seeking a quieter and more serene vacation experience, ensuring that there is something for everyone in this tropical paradise.
8. Can I drink tap water in Cancun resorts?
When visiting Cancun resorts, it is generally recommended to avoid drinking tap water. Instead, most resorts provide bottled water in guest rooms, ensuring a safe and refreshing option for hydration. Furthermore, the resorts also use purified water for ice and cooking purposes, prioritizing the well-being and satisfaction of their guests. By taking these precautions, you can enjoy your stay in Cancun with peace of mind, knowing that your water needs are taken care of.
9. Are meals at all-inclusive resorts buffet-style or a la carte?
Most all-inclusive resorts in Cancun offer a mix of both buffet and a la carte dining options, providing a delightful culinary experience for guests. From decadent buffets featuring an array of international cuisines to intimate a la carte restaurants offering delectable gourmet dishes, there is something to satisfy every palate. The number and variety of restaurants can vary by resort, ensuring that guests have plenty of options to indulge in a wide range of flavors and culinary delights during their stay.
10. What kind of food can I expect at Cancun resorts?
When it comes to dining at Cancun resorts, you can expect a delightful culinary experience. From savoring the rich flavors of traditional Mexican dishes to indulging in delectable Italian classics, exploring the vibrant tastes of Asian cuisine, and so much more, there is something to satisfy every palate. Moreover, many Cancun resorts go the extra mile to cater to dietary needs or restrictions, ensuring that everyone can enjoy a memorable and satisfying dining experience. Get ready to embark on a gastronomic journey like no other!
11. What should I pack for a trip to Cancun?
When it comes to clothing, it's best to pack light and breathable options to stay comfortable in the tropical weather. Consider packing a variety of swimwear, including swimsuits and cover-ups, to make the most of Cancun's beautiful beaches. Don't forget to bring a hat and sunglasses to protect yourself from the sun's rays. Additionally, it's crucial to pack sunscreen to keep your skin safe and protected.
If you plan to experience the vibrant nightlife or indulge in fine dining at upscale restaurants, it's worth considering packing a few dressier outfits. This way, you'll be ready to explore the city's bustling nightclubs and enjoy the culinary delights that Cancun has to offer.
12. Are Cancun resorts wheelchair accessible?
Yes, indeed! Many Cancun resorts go above and beyond to ensure that all guests have a comfortable and inclusive experience. They offer rooms specially designed for guests with mobility challenges, equipped with accessible features and amenities. From spacious bathrooms with grab bars to wide doorways, these resorts prioritize accessibility. However, to get the most accurate information, it's always recommended to check directly with the resort to ensure your specific needs are met. So, go ahead and plan your trip knowing that Cancun resorts are committed to providing a welcoming environment for everyone!
13. Is it safe to leave the resort and explore Cancun?
Absolutely! Cancun is widely regarded as a safe destination for tourists. The city takes significant measures to ensure the safety of its visitors. However, as with any place you visit, it's always a good idea to exercise caution and be aware of your surroundings, especially in crowded areas. By being vigilant and following common safety practices, you can fully enjoy your exploration of this beautiful destination without any worries.
14. Do I need to exchange money before arriving in Cancun?
While some places in Cancun accept U.S. dollars, it's generally a good idea to have some Mexican Pesos on hand. This is especially true for smaller establishments, local markets, or in case of emergencies. Having local currency can make transactions smoother and ensure that you're prepared for any situation that may arise during your visit to Cancun.
15. Do Cancun resorts have Wi-Fi?
Yes, most Cancun resorts offer complimentary Wi-Fi to ensure that guests stay connected during their stay. Whether you want to catch up on work emails, share your vacation moments with friends and family, or simply browse the web, you can rely on the convenience of Wi-Fi access. However, it's worth noting that the speed and connectivity of the Wi-Fi may vary from resort to resort. Nevertheless, you can still enjoy the convenience of staying connected while enjoying your time in Cancun.
16. Is there a dress code at Cancun resorts?
The dress codes at these resorts can vary, depending on the specific resort and restaurant you are visiting. During the day, it is generally acceptable to wear beachwear, allowing you to fully enjoy the beautiful beaches and pools. However, when it comes to dining at certain restaurants in the evening, they may require a more casual or even formal attire to create a more elegant and sophisticated atmosphere for their guests. So, it is always a good idea to check with the resort or restaurant beforehand to ensure you are appropriately dressed for the occasion.
17. Can I make special requests for my room (e.g., location, bed size)?
When it comes to your room, you can definitely make special requests based on your preferences. For example, you can request a specific location within the resort or a particular bed size that suits your needs. Most resorts are more than happy to accommodate these special requests whenever possible, as they want to ensure your stay is as comfortable as possible. It's always a good idea to communicate these requests at the time of booking, so that the resort can make the necessary arrangements in advance and provide you with the best possible experience during your stay.
18. Is there medical assistance available at Cancun resorts?
Absolutely! Most Cancun resorts prioritize the well-being of their guests by offering on-site medical services. In the event of emergencies, they are also equipped to promptly arrange for necessary medical assistance. You can enjoy your vacation with peace of mind, knowing that your health and safety are well taken care of.
19. Can I arrange for a special occasion celebration at the resort?
Certainly! You can absolutely arrange for a memorable and enchanting celebration at our exquisite resort in Cancun. We offer a wide range of special packages tailored to suit various occasions such as birthdays, anniversaries, or even romantic honeymoons. Our dedicated team will ensure every detail is meticulously taken care of, from personalized decorations to exquisite dining experiences. Create unforgettable memories as you indulge in the luxurious amenities and breathtaking views that our resort has to offer. Let us make your special occasion truly extraordinary!
20. Do resorts in Cancun have fitness facilities?
Yes, most resorts in Cancun provide fitness facilities to cater to the health-conscious guests. These fitness centers are equipped with state-of-the-art equipment and offer a range of amenities for a complete workout experience. Additionally, many resorts also offer a variety of fitness classes like yoga, pilates, and aqua aerobics, allowing guests to stay active and indulge in their preferred exercise routines while enjoying their vacation in this tropical paradise.
21. What kind of entertainment can I expect at Cancun resorts?
Entertainment varies by resort, but often includes live music, dance performances, theme nights, and even cooking classes.
22. Are all drinks included at all-inclusive resorts?
Typically, soft drinks, juices, and alcoholic beverages are included in all-inclusive packages. However, premium or top-shelf alcohol may come at an additional cost.
23. Is there a minimum age for check-in at Cancun resorts?
The minimum age for check-in varies by resort, but most require guests to be 18 years old. Some resorts may have higher age restrictions and others may allow underage guests with adult supervision. It's best to check directly with the resort.
24. Are the beaches of Cancun safe for swimming?
Yes, Cancun's beaches are generally safe for swimming. The crystal-clear waters are pretty calm, especially around the North Beach area. However, it's important to heed any posted beach safety flags and avoid swimming during rough seas or in areas with strong currents.
25. Is it necessary to know Spanish to travel in Cancun?
While knowing some Spanish phrases can enhance your travel experience, it is not strictly necessary. Many employees in the tourism industry, including those at resorts, restaurants, and tourist attractions, are able to communicate in English. However, learning a little bit of Spanish can help you interact more authentically with locals.
26. What type of power plug is used in Cancun?
Mexico, including Cancun, uses type A and type B plugs, similar to those used in the United States and Canada. The standard voltage is 127 V, and the standard frequency is 60 Hz. If your devices use different plug types or can't handle this voltage, you may need a travel adapter or voltage converter.
27. Can you drink the tap water in Cancun?
It's generally recommended to avoid drinking tap water in Cancun. Most resorts provide bottled water for their guests, and many use purified water for ice and cooking. As a rule of thumb, it's best to stick to bottled or purified water during your trip.
Final Thoughts About Best Cancun Resorts
As we've journeyed through these nine spectacular Cancun resorts, it's clear that each offers its own unique allure, inviting travelers to experience the magic of Cancun in a way that aligns perfectly with their vacation dreams. From the pristine white sands of Dreams Sands Cancun Resort & Spa to the luxury of Secrets Moxché Playa del Carmen and the family-friendly atmosphere of Moon Palace Cancún, there's truly a corner of paradise for everyone. Each resort provides a blend of relaxation, adventure, and sumptuous cuisine, ensuring an unforgettable stay. And remember, no matter where you choose to call home during your Cancun getaway, the beauty of the Caribbean sea, the warmth of the Mexican sun, and the spirit of Cancun's vibrant culture are always at your doorstep. So pack your bags, and come experience the wonders of Cancun!
Looking for a way to spice up your upcoming trip? Look no further than Amazon! With a free 30-day trial of Amazon Prime Music, you'll have access to over 2 million songs to soundtrack your adventure. Or, if audiobooks are more your speed, try out Audible Plus for two free books. And for those looking to streamline their packing process, a FREE 30-day trial of Amazon Prime ensures that everything will arrive in just two days - perfect for those last-minute additions. Don't miss out on these unbeatable offers and make your journey one that you'll never forget!
Happy Travels! :)